Whitsundays resort Paradise Bay Island has reopened for business after a year-long refurbishment by its new owners.
Improvements to the resort include a new day spa, swimming pool and revamped beach bungalow accommodation.
The resort pitches at the eco and luxury market, with a maximum of just 18 guests staying at one time and no children, with the option to arrive by helicopter.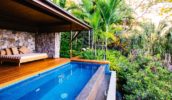 See paradisebay.com.au