A Detours & Diversions piece on opal mining and houses in Coober Pedy, SA.
Opal mining in Coober Pedy, SA
"And on Sunday, the whole family – the dad, the mum and the five-year-old kids – will all sit around making bombs."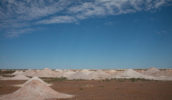 Now, before any ASIO agents start getting excited, it should be pointed out that this is, apparently, entirely normal practice in Coober Pedy, in the dead centre of South Australia. Well, as normal as anything can be in this bizarre desert town, anyway.
Round these parts, people don't buy houses. They don't even build their own houses. In summer it gets so hot and unbearable that the way forward is to buy some land, piece together a crude explosive device from ingredients found in the supermarket, and blast away so much rock that eventually a cave is created. Roughly 70 percent of the town's population lives underground, and many of that 70 percent created their own places from nothing. It goes without saying that it takes a peculiar type of person to live in Coober Pedy: the sort of person who's rough and ready, can do what needs to be done themselves and, more specifically, has a desire to mine opals.
Coober Pedy is routinely called the world's opal capital – and for good reason. In fact, the town simply wouldn't exist were it not for the unparalleled amount of opal that can be found in the surrounding desert.
Our tour leader is blithely reeling off facts. We're still in shock from the sheer volume of mod cons contained within the underground show home we're currently in – especially for something that looks like it's straight off the set of The Flintstones. That the size and height of the rooms are largely determined by whether any opal seams are found seems strange, but to the locals it's pure logic. Why would anyone waste perfectly good gelignite blasting away at the ceiling just so people can stand up straight?
More astonishing is that the home is directly above a mine. It may make for a short commute, but surely that's taking things a bit far. Apparently it's structurally fine – the odd explosion below makes little or no difference.
Along with the tour around the home and mine, we're also treated to a film about the history of opal mining in the region. If it hadn't been for a teenage boy named William Hutchison disobeying orders from his dad on a gold hunting expedition, those first opals would never have been found. The people who manufacture bomb ingredients should really make him their patron saint.
A tour of the Umoona Opal Mine and Museum (http://www.umoonaopalmine.com.au/ or [08] 8672 5288) costs $6 for adults and $3 for kids. If that sounds too cheap, don't worry: you'll be assertively encouraged at the end to buy as many opals as you can carry. If you fancy sampling the underground experience, rooms at the Desert Cave International Hotel (http://www.desertcave.com.au/ or 1800 088 521) will set you back from $192 a night.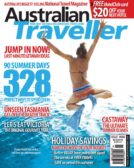 Enjoy this article?
You can find it in Issue 6 along with
loads of other great stories and tips.