Their plan was to scale the Flinders Ranges by bicycle: born-again pedallers Chris Ryan and his wife came, got sore, and got conquered.
 When my wife gave me a flash mountain bike for my 30th birthday, I was a little puzzled. The last time I'd ridden regularly was when I was going to and from school on my BMX, and I'd never even owned a bike with gears.
I should have realised it was part of a plan. Fiona had bought a bike for herself too. Together we would launch into my fourth decade embracing an active lifestyle and the Great Outdoors. We were going to tackle the Mawson Trail, a 900km bike ride from Adelaide to Blinman in the Flinders Ranges.
It was absurdly ambitious and we needed to prepare. In the month leading up to the trek we planned warm-up rides. We would build our fitness and our thighs. I'd read my new book on bicycle maintenance, and I'd even work out how to change gears without accidently braking.
The day before we were set to leave, we made a slight change to our plans: we bought a bike rack for our car, hitched the bikes on the back, and got ready to drive.
A Slow and Steady Start: Adelaide to Burra
At the Barossa Motor Lodge in Tanunda, half a day's cycling or an hour's drive from Adelaide, we finally fastened our helmets, pulled on our gloves and saddled up. We rode out of town on the road we drove in on, then headed back in on dirt roads marked as the Mawson Trail.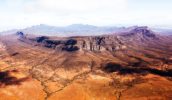 Our bikes bounced and shuddered along the corrugations until the road flattened out. It was beautiful riding through the farmland at dusk, with the road to ourselves. I enjoyed the long-forgotten thrill of racing full-pelt down a steep slope, then remembered the shame of getting off the bike halfway up a steep slope and having to push it the rest of the way.
The next morning, though, I was disappointed to find a flat tyre on my bike and concerned by my ridiculously sore bum. We spent most of the day buying wine and eating well, only riding long enough for me to get another flat tyre.
"Who would do this for fun?" I wondered.
The going got a lot easier when we joined the Riesling Trail, between Auburn and Clare, which runs the course of an abandoned rail track. The gravel trail is well maintained and relatively flat, through picturesque farmland and vineyards. All I needed was a basket and a baguette, and I could have been in France. We rode over 50km and crossed paths with other cyclists for the first time on our trip.
An extra day was spent on winding side trails in Clare before we drove on to Burra, a historic mining town that my grandfather's Cornish family settled in some six generations ago. We wandered the graveyard looking for dead relatives, while I imagined living ones in every stocky, bald-headed local I saw.
Out of Our Depth: Burra to Quorn
The living dead were with us at the Laura Brewery Bed & Breakfast, just south of the Flinders Ranges. The owner told us that a man who used to work at the brewery haunted the premises. He caused harmless mischief, such as switching on lights or hiding keys.
We went out for schnitzel night at the Laura Pub. We lingered for a few hours after eating, and avoided crossing paths with the resident ghost.
Riding around farmland near Laura, we were stupid enough to try to pedal along wet red-clay roads. The mud caked the tyres until they couldn't turn, and clogged the brakes and gears. We were forced to pick up our bikes and walk with them until we found drier ground.
That might have been the most trouble we got ourselves into, if we hadn't stopped in Melrose, at the foot of Mount Remarkable. The town is a magnet for mountain-bike riders who love the "single track" in the area. I didn't know what single track was, but I'd soon find out.
I was keen to settle in at the North Star Hotel, where we had a room, to enjoy a few beers. Fiona wanted to look at the local bike shop, disconcertingly named Over the Edge. Fiona was buying a pair of bike pants with a padded bottom when a bike-shop attendant asked her if we wanted to join them for an evening ride. He must have seen our quality bikes and confused us for people who knew what we were doing. My frantic hand-waving and head-shaking in the background was ignored, and the offer accepted.
As the locals took off, jumping off gutters like extras from BMX Bandits, I immediately got the feeling we were out of our depth. We headed away from the town into bushland. As the regulars disappeared ahead, Fiona's bike chain started slipping between gear changes.
I left her behind, hoping to catch the cyclists ahead and tell them we were dropping out of the ride. On a narrow goat track, the single track Melrose was famed for, I wobbled off course and fell down the hill. My bike flipped over me and I ended up sprawled in the bushes, relieved to escape with only my ego bruised.
A day later, with Fiona's bike serviced, we tried to follow the flying squadron again. This time it was her turn to tumble down the hillside. She was left with a badly corked thigh that would show up as an ugly black bruise over the next few days.
When we weren't falling off our bikes, the ride veered between exhilarating and frightening. Fifteen years ago I would have loved it, but sometime between then and now I lost my fearlessness: every awkward descent had me worrying about a broken collarbone or fractured skull.
Saddle Sore: Quorn to Blinman
It might have just been a coincidence, but after our tumbles in Melrose, the bikes stayed on the back of the car for a couple of days. Maybe because the sites around Quorn were just easier to reach by car or on foot.
At Dutchmans Stern Conservation Park we spotted brilliant parrots, goats and wallabies while hiking through a mist that killed the vista but made the walking comfortable. We stopped at the ruins of Kanyaka Station, our hatchback dwarfed by the campervans of grey nomads, and walked through the shell of a long-abandoned homestead. And we climbed to Yourambulla Caves to look at the Aboriginal art on the walls.
It wasn't until Wilpena Pound, in the heart of the Flinders Ranges, that we braved our bikes again. The track we found went up and down gentle slopes on a wide dirt road. Prehistoric-looking gnarled trees flanked the route. Recent rain had turned red dirt into a glossy green of fine grass shoots that looked almost like moss.
We rode in the shadow of great, jagged mountains. After an hour our own shadows lengthened, and the dropping sun warned it was time to turn back. On the homeward stretch a kangaroo bounded alongside us, and a pair of emus marched out of our path. Closer to the Wilpena Pound Resort, dozens of wallabies, some with joeys in their pouches, grazed and watched us pass.
On our second day in Wilpena Pound we scurried up rocky slopes and clambered over boulders in an exhausting climb to St Mary Peak – the highest point in the Flinders Ranges at 1170m above sea level. At the top we were treated to a spectacular view of the ring of mountains that form the Pound.
After the exertion of that climb, we didn't ride our bikes again until… well, until we got home. The beer at the Prairie Hotel in Parachilna went down well, even without a hard-earned thirst, and the quandong pies in Blinman were tasty enough without working up an appetite.
Yes, taking our car on a cycling tour was a soft option, and purists would shake their heads in disgust. Taking our bikes on a driving tour, on the other hand, was genius, and a great way to get the most out of our holiday in rural South Australia.
Where to stay
Chris took the affordable route when he hit the Mawson Trail. These stays are comfortable, clean and come highly recommended by Chris, who paid his own way and visited anonymously.
• Barossa Motor Lodge: 182 Murray St, Tanunda. Double rooms from $100 per night in an eco-friendly motel with swimming pool, in the heart of the Barossa Valley wine region. (08) 8563 2988; www.barossamotorlodge.com.au
• Birch Cottage Bed & Breakfast: 10 Thames Street, Burra. This quaint and cosy cottage was built in 1846 to house workers for the South Australian Mining Association. It accommodates five comfortably, and nightly rates start at
$135 per double, with port and a bowl of fruit included. (08) 8892 2210;
www.birchcottageburra.com
• Laura Brewery Bed & Breakfast: 8 West Terrace, Laura. A Victorian building with granny-esque antique furnishings, in a boutique property offering just eight rooms from $125 each. (08) 8663 2251; www.laurabrewery.com.au
• North Star Hotel: Nott St, Melrose. Stay in double rooms from $110 per night, or in a cottage built on the back of a truck (we're not joking) from $160 per night. (08) 8666 2110; www.northstarhotel.com.au
• Quandong Apartments: 31 First Street, Quorn. Well-appointed and modern apartments: the one-bedrooms cost $160 and the two-bedrooms cost $210.
0432 113 472; www.quandongapartments.com
• Wilpena Pound Resort: Wilpena Road, via Hawker. Stay on one of 46 powered campsites from $31 per night for a double; $16 for a single (children under five free of charge). Or stay in a standard room at the resort, with air-conditioning, from $108 per night (double room) until November 30, 2011. (08) 8648 0004; www.wilpenapound.com.au
The Details
Do it yourself
For info about cycling the Mawson Trail, go to Bike SA: www.bikesa.asn.au
Do it with others
Join a tour with the locals: Mawson Trail Bike Tours offers a four-day 'best of' tour through the Barossa and Clare Valley wine country from $1095 per person, which includes three-star to five-star accommodation along the way. www.mawsontrail biketours.com.au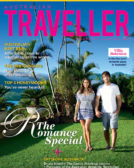 Enjoy this article?
You can find it in Issue 39 along with
loads of other great stories and tips.