L-plater MARK DAPIN tests his driving skills over the longest stretch of flat, straight road in the world – and finds he's still a menace to other vehicles.
Non-swimmers rarely attempt to swim across the Tasman, and people without hands and feet generally don't aspire to climb mountains. For much the same reason, it had never occurred to me to drive across the Nullarbor.
One year, I failed my driving test four times in five months. Examiners have variously told me that I drove too fast "with no regard for human life" (attempt 1), and too slowly "without regard for other road users" (attempt 3). I have been failed for failing to complete mandatory manoeuvres (usually the reverse park), but I have also satisfactorily performed these manoeuvres and still failed on points. A candidate is permitted to lose seven points during a test. I have dropped nine (attempt 2) and 11 (attempt 4). Sharp-eyed readers will notice that I got progressively worse.
Nonetheless, I find myself sharing the driving across the Nullarbor, from Perth to Port Lincoln, with partners who will remain nameless to protect the guilty.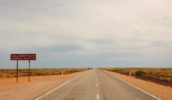 As we head east out of Perth, we cruise through heaps of nothing. This gives way to heaps more nothing, marked by road signs as the "Golden Pipeline Trail."
The "Golden Pipeline" carries water from Perth to Kalgoorlie, and it follows the highway through most of the journey. It is not, however, golden. It's mainly cream, partly white, and – for one memorable stretch – a sort of retro-fashionable beige. It is probably a source of feverish delight for pipeline buffs, but seems unlikely ever to become a tourist trap.
When it's my turn to drive, we plaster the car with L-Plates, and I attempt to stay true to the learners' speed limit of 80km/h. I seem to have been behind the wheel for several days, and the sun is about to set when a mate says: "You can keep on driving if you want, but we've only got an hour to do the next 300 kilometres."She then makes a courageous and highly skilled attempt to hurtle into Kalgoorlie at 300km/h. Strangely, we get pulled over by the local cops.
More strangely, they let us off with a caution, and don't even ask to see her licence.
Kalgoorlie is a town that celebrates the things other places pretend don't exist. It advertises its "skimpy" barmaids, who dress in lingerie to pour beer for the men who work the gold mines, and makes a tourist attraction of its brothels.
Kalgoorlie's famous bordellos are illegal but "tolerated." Only three remain on Hay Street, sitting in a row like containers unloaded from a ship. At Langtrees, which moonlights as a museum to pay the bills, the guide shows off a succession of oddly themed rooms, including one that features a bed made out of an EK Holden signed by Peter Brock. If you shout into the dashboard, it makes car noises.
Another room has a bed like a boxing ring. The sporting motif extends to the brothel's public areas, which are incongruously decorated with vintage cricket caps and signed willow bats. In the Alan Bond Cigar Lounge hang several Alan Bond original artworks – including a famous portrait of Peter Matera – which point to the fact that Bond was much better at stealing money than he was at painting AFL players.
Kevin Bloody Wilson, who is to music what Bond is to watercolours, has contributed a "wank tank" – "for men who can't get a root in a brothel." Langtrees' visitors' book showcases a symphony of one-note jokes of the "will-come-again" variety, and a sad entry from Gaz from Esperance, who has written "not long enough."
It is very difficult to stick to 80km/h on the longest stretch of straight road in the world. I creep to 90, then 100. Once I get into triple figures, there's no holding me back. I am Peter Brock, baby.
When I overtake a road train at 160km/h, and continue to accelerate once I have passed it while swerving wildly over the broken white line, a mate makes a noise I've only ever heard from the mouths of driving instructors. It's the sound of a father who knows he will never see his children again, and realises his wife will only be able to identify him from his dental records.
His fear is reinforced by the fact that instead of flicking on my indicator when I pull out, I accidentally switch the headlights to full-beam and "probably blinded the truckie." He also suggests I might look in the mirror next time I try a similar move.
At the Balladonia Hotel Motel, between Norseman and Caigula, I have dinner with James Fergusson, a local farmer.
While we tuck into our camel-salad appetiser, he details his plans to make money out of camels, which were brought here in the 19th Century and left to run free when nobody could think of a use for them any more.
"Now we have hundreds," says Fergusson excitedly, "among the very few disease-free camels in the world."
But what good are they?
"In Ethiopia, the compensation for divorcing a wife or accidentally killing a neighbour is 100 camels," he says. "These are very valuable animals."
But how is he going to translate Ethiopian camel values to Australia?
"Where there's a will, there's a way," says Fergusson. "There are markets for these animals, there's no doubt about it. They're being sold too cheaply. They're rounded up in the wild by helicopters, pushed on trucks and pushed onto ships. By the time they get to the Middle East, they're highly stressed – if they're still alive – bruised, and probably deranged. They're very talented animals. If they're trained properly, they'll walk onto trucks, walk onto ships, and if they'll obey a few words of Arabic, they're worth ten times what they are as a wild beast." So … is he planning to teach the camels Arabic?
"If I could get an Arabic camel handler, I'd employ him," says Fergusson. "And I think I will, one day."
The next morning, my mouth tastes like a camel's arse. At first, I put it down to the dry air and a bit too much grog, but then I remember – last night, I ate a camel's arse. And very nice it was, too.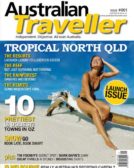 Enjoy this article?
You can find it in Issue 1 along with
loads of other great stories and tips.