The former Frangipani Resort in Broome has reopened this week as Mantra Frangipani Broome.
The 62-apartment property, just a few minutes from iconic Cable Beach, becomes the fifth property for the Mantra Group in Western Australia, with two in Perth and one each in Bunbury and Geraldton.
The apartments all have private courtyards and open-air showers in line with Broome's tropical climate.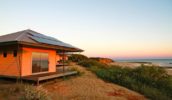 Prices weren't available when Australian Traveller magazine first reported the change in issue 51, but rates for a 1-bedroom apartment now start at $199 (seasonal and with minimum stays).
See www.mantra.com.au for more information.
Upcoming Broome Events
-17 August: Broome Cup
-31 August: Opera Under the Stars
-13 to 22 September: Shinju Matsuri Festival
-Festival of the Pearl: Coincides with 'Staircase to the Moon'.