It's the real secret of WA. Esperance is insanely beautiful, and is described by most who see the remote area as the most beautiful coastline in Australia. The brilliant aquamarine water fades into deep blue and the sand is so blindingly white it looks like snow drifts across the road. Esperance was "discovered" by Europeans quite some time before the rest of Australia, with the islands off Esperance – The Recherche Archipelago – appearing on maps printed in Holland as early as 1628.
Esperance was named by the French, the first Europeans credited with landing in the bay in 1792, off the ship l'Esperance – The Hope. To get the most out of the experience and the area, the Esperance's Great Ocean Drive is a 38km loop that takes in the best landscapes and vistas – the lookout on Wireless Hill gives you a spectacular view of the coast and surrounds. The nearby islands are chock full of seals, penguins and birds and you can cruise out to the wildlife sanctuary on Woody Island
"Years ago, after a long drive across the Nullarbor, Esperance and the beautiful offshore islands of the Recherche Archipelago cast their spell over me. I've spent the years since daydreaming of my return." – Kerry van der Jagt 
Cape Le Grand National Park to the east of Esperance is one of the best in Australia. AT reader Ewa Malinowska, who accidentally came across Esperance when her car broke down between Norseman and Albany, sums it up: "The national park is beautiful and the beaches pristine. It's a paradise!"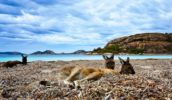 Where? // Around 740km (9hr) southeast of Perth.
Did you know? // On July 11, 1979, Esperance was showered by sky debris from America's first space station, Skylab. Esperance sued the US, seeking $400 for littering, but it was never paid. A San Francisco newspaper paid 17-year-old Esperance local Stan Thornton $10,000 for delivering the first piece of Sky Lab to the paper's office – collected from his roof.
[Note: according to AT Reader David "Esperanceguy", who lives in Esperance, the above is no longer quite true: "They have in fact recently paid up: $400 precisely," says David. "Considering Skylab fell 30 years ago, the interest on top of that $400 must be phenomenal!" Thanks, David — that's a terrific pick-up. — Ed] 
Return to: the 100 Best Towns in Australia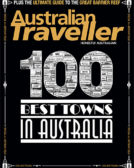 Enjoy this article?
You can find it in Issue 26 along with
loads of other great stories and tips.