Australian Traveller's 5 minute interview with Katherine Lukey
Arrival Gate Five Minute Q&A
WHO: Katherine Lukey
WHAT: Advanced Performance Program member at the Australian National Academy of Music, member of the UBS Verbier Festival orchestra touring Europe, Asia and Australia, studied violin in Austria, winner of the '04 National Kendall Violin Competition (Aust) and '03 Hephzibah Menuhin Award (Vic)
WHERE: Malvern, Vic
WHY: Her life is consumed with musical study, concerts and touring Australia and the world.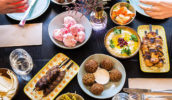 The Australian place every Australian MUST see? Perth Beaches and the Northern Territory.
Last Australian destination? Sydney, to perform with the UBS Verbier Festival Orchestra and Bryn Terfel in November.
Place in Australia you're not hurrying back to? The shearers sheds in Skipton, Victoria. My family decided to take a "roughing it" trip when I was about 15.
When in town, you make a point of? Shopping in the Melbourne CBD or Chadstone Shopping Centre. I love shopping.
Best travel tip you ever heard? Drink a lot of water, and adjust to the time zone at your destination.
What do you always leave behind in a hotel room? My Mobile phone charger.
Favourite Australian hotel? Four Seasons, Sydney.
Favourite piece of luggage? My violin.
One thing you can't leave home without? My violin.
Most common thing left at home? My mobile phone charger.
Love or hate flying? Love.
Favourite moment: takeoff or landing? Takeoff.
Aisle or window? Window
Worst flight? A charter flight from Tokyo to Zurich. It was a small but full plane, and we stopped down to refuel at least three times, including in Novisibirsk, Siberia. At least I had a lot of friends on board, but the trip took longer than flying from Australia to Europe on a normal plane!
Worst person ever seated next to? On a long haul flight I got squashed in the middle of two people on a full flight, and an old man decided to fall asleep on me for the whole flight and snore.
Person you wish you could sit next to? Maxim Vengerov or West Coast footballer Chris Judd.
Airline food: love it or hate it? Love it.
Where are you about to go and why? On tour with UBS VFO. Montreux, Naples, Barcelona, Stuttgart, Vienna, Beijing, Shanghai, Tokyo, Seoul, Melbourne and Sydney. We'll play a concert in all of these cities.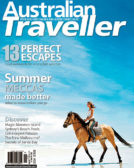 Enjoy this article?
You can find it in Issue 12 along with
loads of other great stories and tips.