Natalie Barr revals her favourite holiday destinations
Arrival Gate
5-Minute Q&A with . . .
WHO: Natalie Barr
WHAT: Channel Seven Sunrise news presenter
WHERE: WA girl, now living in Sydney
WHY: Because she seems to have mastered the art of travelling regularly with two young sons – never an easy task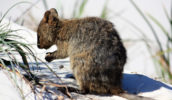 The one Australian experience every Australian must have?
Sydney Harbour, by day and by night. As a Sandgroper, I viewed it from afar for the first 25 years of my life. But then I came, and stayed, and it still amazes me how beautiful this most famous waterway is.
Favourite childhood holiday memories?
Packing up the car on Boxing Day and heading south to a little town in WA called Dunsborough. My parents bought a house on the water there 35 years ago when it was a tiny village with one corner store, and we spent the eight weeks of Christmas school holidays with sand in our toes, zinc on our noses, riding our bikes and thrashing around in the aluminium dinghy with the 9.9 on the back. Bliss.
Best travel tip you ever heard?
Ask around – there's always someone who knows someone whose neighbour's aunt went there. And while I don't follow all advice, I listen and learn. You can pick up the most amazing tips by word of mouth.
What do you always leave behind in a hotel room?
My chapstick.
You're away for four nights: how many pairs of smalls?
Summer or winter? It makes a difference!!
Favourite piece of luggage?
Big handbag. Big enough to fit in my stuff, my four-year-old's stuff, my six-month-old baby's stuff, and the stuff my husband says: "Can you just throw this in your bag?"
Most common thing left at home?
That piece of clothing that "would have been perfect right now." Whether I pack heavy or light, I never quite have the right thing to wear when I'm away.
Minibar: raid, replace or don't touch?
Raid. Hotel stays are still enough of a novelty for me to say, "Hang the expense, this is luxury!"
Love or hate flying?
Love the packing, the getting to the airport, the snooping in the airport shops, the getting on the plane, the first hour – then I'm ready to get off.
Takeoff or landing?
I used to love both, but in my old age I get worried if there's turbulence at any point in the flight.
Airline food: love it or hate it?
Love the whole experience of choosing the meat or the chicken, then opening the surprise little packages of everything and tasting them. Not usually an amazing gourmet experience, but it's fun. And, hey – there's not much else to do so it kills an hour!
Flight reading/listening?
Watching a movie is great on a plane if I'm by myself. With two young kids I don't get to do it much in a real cinema, and likewise if I'm flying with my boys, it's more a constant battle to keep them occupied.
Where are you about to go and why?
WA, down to the family beach house where I can now take my husband and two young boys and relive my childhood summers.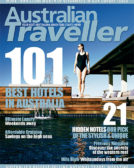 Enjoy this article?
You can find it in Issue 9 along with
loads of other great stories and tips.