Arrival Gate Five Minute Q&A: Ursula Yovich
WHO: Ursula Yovich
WHAT: An actress for nine years, Ursula is currently doing a one woman play, The Seven Stages of Grieving, which followed Capricornia at the Seymour Centre and The Sapphires with MTC and Company B. She then landed a supporting role in Jindabyne, which is currently in cinemas. In early 2007 she's appearing in a new stage adaptation of Snugglepot and Cuddlepie, which will tour to Sydney, Perth and Adelaide.
WHERE: Berowra Heights, NSW.
WHY: She has a fear of flying, which she hopes one day to get over. That's always interesting to explore.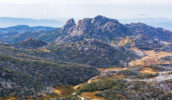 The Australian place every Australian MUST see? Uluru, just to see how majestic it is and to see why it's such a sacred place.
Favourite Bolt Hole? Anywhere that does Karaoke and is licensed.
Favourite Australian cultural haunt? Jimbo's backyard.
Favourite childhood holiday memory? Berry Springs in the Northern Territory. I remember the water being so clear and floating face down wishing I was a fish.
Most underrated town in Australia? Broome. The colour of that place is like being in a child's painting. The blues and whites and reds, so clear and so bright.
When in town, you make a point of eating at/drinking at/seeing? Norton Street, Leichhardt, in Sydney. I have just discovered Castel Mola. The food is to die for. Yuuuuuuuuumm!
Best travel tip you ever heard? Always take toothpaste and a toothbrush. A clean set of chops can make you feel just that little bit more human during a long trip.
What do you always leave behind in a hotel room? I'm pretty neat so I tend to make things easy for the cleaners and tidy up a bit. But I do tend to leave food in the fridge.
Favourite Australian hotel? Any hotel that makes me feel welcome. I've had some pretty nasty ones but I won't mention them . . . or should I?
You're away for four nights: how many pairs of smalls? Always far more than I need. Better more than nothing, huh? Although some people would beg to differ!
Favourite piece of luggage? Make-up and toiletries bag.
One thing you can't leave home without? I always carry my toothpaste and toothbrush with me in my bag.
Most common thing left at home? My umbrella when it's raining or my phone charger. I'm renowned for not being contactable.
Mini bar: raid, replace or don't touch? Depends on how I feel. Do I feel rich? Do I want to stay feeling rich?
Love or hate flying? I don't particularly enjoy it. And then I always end up asking myself why I put myself in the situation where I have to travel.
Favourite moment: takeoff or landing? Neither.
Aisle or window? Aisle.
Worst flight? From Sydney to Bogota, Colombia, South America. We flew for 36 hours then did a sound check on arrival. It was a nightmare!
Worst person ever seated next to? No-one comes to mind. Now, having said that, I will most probably be sitting with some nutter on my next trip.
Person you wish you could sit next to? Nelson Mandela. Who wouldn't want to sit next to him?
Where are you about to go and why? I'm off on tour with the show The Seven Stages of Grieving. Going to Parkes, Gilgandra and Bathurst, NSW. It's gonna be a road trip. I love travelling in a car. You get to see the beautiful country we live in.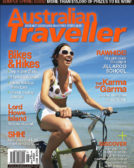 Enjoy this article?
You can find it in Issue 17 along with
loads of other great stories and tips.