Canon's new 500D camera shoots HD video at an affodable price. Canon have announced a new camera that we think is worth letting you know about. the Canon 500D. And the reason it's kind of special is that this is Canon's first affordable DSLR that shoots high def video.
Being able to shoot high def video is the new thing in the DSLR market. There are a handful of these cameras on the market at the moment, but over the next few years we expect most DSLR cameras to shoot video as well.
Why Is This Important?
Having a DSLR that shoots video is a big deal. Your little point and shoot cameras have always been able to shoot video, but DSLR's haven't. This is for a series of mechanical reasons relating to the way they take photos which involves moving the mirror inside the camera. The great thing about DSLR cameras is the quality of lenses you can attach. Being able to apply these lenses to a video environment changes everything. With a nice selection of lenses you can produce some wonderful bokeh that will make your video look like proper film rather than your traditional digital video. In the future you will see some really beautiful videos shot on DSLR cameras. Take a look at Vincent LaForet's video shot on the Canon 5D Mk2 DSLR.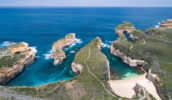 About the 500D
Firstly, we are only working off a press release, and whilst we normally don't post this sort of stuff, it is a big deal. The 500D is the first affordable DSLR camera from Canon that shoots HD video. It competes directly with the Nikon D90 which has a retail price of around $1,800. Expect the price of the 500D to be almost exactly the same as the D90.
This places the camera squarely in the market for consumers, and this camera has a couple of technological edges over the Nikon. The main ones being the ability to shoot High Def video rather than the Nikon's Standard Def video. But this is only a difference on paper. The trick is to try the two side by side and do some real world comparisons.
From the images it would appear to be slightly more solid than the 1000D and the 450D. This is a good thing, because those two cameras in particular are built to a price and feel much less solid than say, a 40D.
The camera is 15 Megapixels on an APS-C sensor and this worries us a little. This is more than enough pixels. Don't purchase a camera based on whether it has enough megapixels. This is not a good thing. There are good megapixels and there are bad megapixels. All lots of megapixels does is fill up your computer with images, make everything run more slowly and force you get larger and larger memory cards. 15 megapixels will at least let you print at oversize A3 no problems. That's for professionals – but we'll end the rant there.
The ISO range is from 100-3,200 which is solid. It all depends on image quality at those higher ISO's. Nikon have certainly been setting the agenda as far as high ISO performance is concerned, and if this camera performs well at ISO 3,200 you will have a brilliant camera at a brilliant price.
We can't wait to get our hands on one of these, and we'll be sure to let you know about how it performs!
If you are interested in viewing some sample video and images – take a look here. http://web.canon.jp/imaging/eosd/samples/eos500d/

We look forward to getting our sample unit to review. becasue if this thing is nearly as good in real life as it is on paper it may just become THE entry level DSLR camera to purchase.