Everything You Need To Know About . . .



Digital Cameras
By Lucas Trihey
Storage – challenges and solutions
If you take lots of pics, choose a camera with at least 512MB of storage, for about 250 photos at 2MB each. How much is enough? It depends why and how you're shooting. A 5 megapixel camera (common in the amateur range) will compress a 5MB image to about 2.1MB to save space and can be used to make quality prints up to about 24cm x 30cm. If you capture bigger images using a better camera, they'll take up more space and you'll get fewer images on your memory device (or you can buy a bigger card/stick/disc). External hard drives are now available that connect to digital cameras for downloading images for long trips and/or snap-happy shooting.
The power game
Modern cameras need a good supply of batteries. These can be either a custom battery that comes with the camera (lithium ion are the smallest and lightest) or by using common AA or AAA batteries. If you choose a camera that uses generic batteries, buy a few sets of rechargeables and a charger. In the long run this is cheaper and better for the environment. For custom batteries buy a second one so you can keep shooting while your spare is recharging in the hotel or in the car adapter.
Time to shop
Go for the trusted brands and hopefully you won't be disappointed in the back of beyond with a dead lump of electronics. Prioritise as follows: 1. Quality optics: big lenses let more light in, are faster and will record more detail; 2. Image size: 5 megapixel or higher; 3. Image storage: get plenty of space and a card/stick/disc that will sync with your computer; 4. Battery type: AAs for go-anywhere-buy-anywhere flexibility or custom battery for compactness; 5. Features come a distant last the fancy 17-program-mode camera with the poor quality lens is sure to disappoint.
Film favourite
Film still reigns on long-duration, remote trips where battery resupply and image storage can be challenging. Film is also good in humid, wet or dusty environments where the robustness of a manual film camera is still an advantage.



Multi Tasking
The new 5 megapixel Canon Powershot A530 has Canon's legendary optics, is small enough to go in a pocket or handbag, and the rotating LCD screen is great for candid travel shots.
Nikon's reputation for robustness and quality optics means the Coolpix P4 will keep firing even when you might be tiring. The compact size belies the 8 megapixel images this camera produces. 36-126mm optical zoom.

The superb new Olympus E-330 (7.5megapixel) offers interchangeable lenses and the wysiwyg benefits of an SLR. It's the first digital SLR to offer live screen viewing. A camera that many pros would be proud to own at a good price.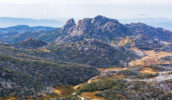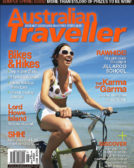 Enjoy this article?
You can find it in Issue 17 along with
loads of other great stories and tips.