Every year, images from the country's best press photographers face off in the Nikon-Walkley Photography Awards.  This year's winners will be announced on December 9. These are some of the contenders…
MAN VS WILD
Bob Barker
Category: Spot News
"On Friday August 13 I saw huge waves off the Heads at Botany Bay. I was keen to cover it but I had four jobs in a row, so no chance. I arrived at Bondi Icebergs (where my first job was) at 9.55am, jumped out of the car with my longest lens on (70-200mm with 1.4x converter) and quickly scanned for a shot. I noticed a huge spray over at Ben Buckler – the northern point of Bondi. People were at the lookout, which gave me scale when the waves arrived. Later, when I put the pics in the computer at work I was thrilled to see one of the spectators standing on the cliff in a dramatic pose – that pose is what really makes the image. The next Monday I received a phone call from the bloke in the photo – he was visiting from Brisbane and was doing some photos with his friends on the point. He said it wasn't nearly as scary from where he was!"
This photograph originally ran in The Daily Telegraph
SMOKE
By Quentin Jones
Category: Daily Life
"The NSW Bush Fire Brigade was doing some winter hazard reduction in the Blue Mountains, when the wind came up and blew lots of thick brown smoke over the city. The Sydney Morning Herald photo manager, Sandra Harrison, asked anyone who was free to go out and have a look. I went to Dudley Page Park in Dover Heights, and for more than two hours just shot pictures, and waited for the sunset to get more dramatic and the silhouettes to get better. The little girl running to her parents and the bird flying into frame really help make this a fun Sydney afternoon."
This photograph originally appeared in the Sydney Morning Herald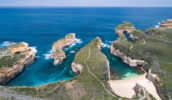 MASTERS DIVE
By Phil Hillyard
Category: Press Photographer of the Year
"I had spent the morning photographing various sports at the 2009 Masters Games and had just filed all my pictures for the day. I packed everything up and was making my way out the door when I noticed some divers training. I wouldn't have seen this pic from the ground level but from the walkway as I headed out it was perfect composition. Sometimes you can spend hours and hours working on a pic and other times they just happen for you – you just have to see it."
This photograph originally ran in the Daily Telegraph
THE DROVER'S WIFE
By Simon O'Dwyer
Category: Press Photographer of the Year
"This portrait of Anita Groth shows her droving 920 head of cattle at Mullaley near Gunnedah, NSW. It was part of a series exploring 'modern-day icons' in Australia. We photographed six subjects: a female lifesaver at Bondi Beach, Chinese milkbar owners, the female drover, an Australian soldier in Afghanistan, a poet who writes about Australian suburbs and a young woman working in a modern bar."
This photograph originally appeared in The Sunday Age on Australia Day, 2010.
TONY
By Jason South
Category: Press Photographer of the Year
"This shot was taken on the campaign plane between Melbourne and Sydney. It was the only opportunity for Age journos to interview him one-on-one. I was lucky with the light – it was cloudy for most of the flight, but for a brief moment the sun came out, illuminated Tony and made for a more arresting photo."
This photograph originally appeared in The Age
PHONE CALL TO BOB HAWKE
By Phil Hillyard
Category: Photo Essay
"During the PM's first week in office, I was sent to Canberra and given exclusive access to her. When I asked if I could travel in the car with her, I initially got a no. Then, on a trip to Brisbane she allowed me to travel with her. During the journey she made a phone call to former Prime Minister Bob Hawke. It was great to capture the PM looking relaxed in a private moment."
This photograph originally appeared in the Daily Telegraph
REMEMBRANCE
By Brendan McCarthy
Winner of the Community and Regional Prize 2010
"I photographed Sgt Darren McDine and son Hamish at the 2010 ANZAC Day commemoration in Bendigo. It generated more letters and emails to the editor than any picture I've ever taken. While layers of meaning have been attached to it, it is after all a simple news photograph – a 'found moment' at a public event. But the emotion was real and, as the son of a WWII veteran and grandson of a WWI veteran, it resonated with me. Darren's expression reminded us that 'at the going down of the sun and in the morning
we [will] remember them', and that we do so with a mixture of pride and regret."
This photograph originally ran in The Bendigo Advertiser.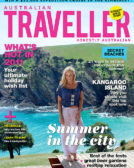 Enjoy this article?
You can find it in Issue 36 along with
loads of other great stories and tips.