The top 10 'Where is' Google searches by Australians show we are indeed a digitally curious lot, at home and overseas, although we have a bit to learn about our own geography.
Here are Australia's most searched-for places, based on Google's annual 'Year in Search' report, complete with a couple of curve balls.
1. Where is NSW?
Historically speaking, half of the country was once known as The Colony of New South Wales, but NSW found its current shape way back in 1901. So why don't we know where it is? Ask any New South Welsh man or woman who lives outside the capital, particularly in its far-flung reaches such as Lord Howe Island (technically an 'unincorporated area' of the state), and they'll say it's because glamour-puss Sydney gets all the love and attention.
2. Where is Brussels?
Brussels has to win the award for the city most often mistaken for a country. The Belgium capital is, of course, smack bang in the middle of the tiny little country (less than half the size of Tasmania), wedged between three European big names, Luxembourg and the North Sea. The city hosts the European Parliament (along with Strasbourg, France), so the post-Brexit Brits would probably answer the question "where is Brussels" with "who cares?"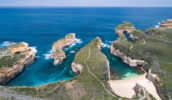 3 Where is my phone?
The answer to this classic used to be "in your hand, dummy" or check the toilet bowl. These days, however, the search has its merits. Google's search result pages are full of apps and tips on how to find your lost or stolen phone, some good, some not so. The number one search result? Unsurprisingly, Google's Find Your Phone.
4. Where is Bora Bora?
Honeymoon anyone? Along with the equally remote and dream-worthy Maldives, Bora Bora has been the honeymoon destination of choice over the past few years for cashed-up Aussies. You deserve a prize if you can actually pin it on a map. For the record, it's just the other side of the International Date Line, northwest of Tahiti.
5. Where is Rio?
It always helps your search volume when you host the two biggest sporting events known to humankind, the Fifa World Cup of Soccer and the Olympics, in the space of two years. That and one of the world's most courted five-days street parties, Carnivale, every year.
6. Where is Home and Away filmed?
Summer Bay, dah, obviously. Or for those flamin' galahs who've never been to Sydney's Northern Beaches, the outsidey bits are filmed at Palm Beach, the city's northern most coastal extremity. Summer Bay and real-life Palm Beach couldn't actually be more different. To see what we mean, read Palm Beach: Hip Hood
7. Where is Malta?
We reckon this is your classic 'heard of it but have no idea where it is' Google search. For the record: it's located between the Italian island of Sicily and North Africa, first stop Tunisia. Our sister title, International Traveller, knows all Malta's sweet spots intimately; check out 'Malta's majestic appeal uncovered' and its secret star 'Xlendi'.
8. Where is the Great Barrier Reef?
The question to ask is not so much 'where is the Great Barrier Reef', but where does the 2,300-kilometre long masterpiece start and end. For us, though, it's all about discovering the most amazing places to stay. Fancy a luxury 'babymoon' on Lizard Island or perhaps some world-class diving at Orpheus Island?
9. Where is Perth?
About 25 years ago this would have been a fair question, culturally at least, but thanks to the mining boom, ironically, Perth is finding its personality. The city's inner city is coming to life like few could have imagined. Don't believe us? Check out 'Perth's boomtown benefits' and '9 ways to play in Perth'.
10. Where is Mount Everest?
The 'world's highest mountain' search is a Google stalwart, particularly with adventurous Australians researching the ever-popular Base Camp trek. The first search result is a little contentious, depending on your political persuasion. The Himalayan mountain actually straddles Nepal and Tibet – or China, according to Wikipedia.