So today, the Australian is reporting that the NSW premier Barry O'Farrell is in favour of James Packer's proposal to build a "top of the range" casino and hotel development in Sydney. The Oz quotes O'Farrell as saying "the sort of tourism-related investment we want".
Well, with all due respect Mr O'Farell, this is exactly the sort of development I don't want.
I love the Crown complex and we have reviewed the Crown Metropol  with glowing praise on several occasions. We just reviewed The Darling at the Star Casino complex, for another a positive hotel review.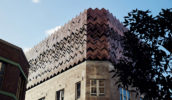 In my misspent youth, I have once or twice been seen leaving Sydney's Star complex in the early hours of the morning after a couple hours losing at poker, blackjack and roulette. No harm, no foul, just some expensive fun.
So I don't really have a complete dislike of Casinos. But fundamentally another casino in Sydney is not really a tourism strategy for success.
The Problem with Casino's
A casino development should not be a confused with or dressed up as a tourism development. It is in fact a "voluntary idiot tax" that creates enormous wealth for the owners. Governments love the revenues that follow. Hence Mr O'Farrell's support.
There are three reasons I would be very cautious of the casino as a tourism strategy mantra.
First and foremost there is a social cost to our society. Problem gambling is increasingly a huge issue and one that should not be ignored. The social cost is enormous. Just ask a cabbie where they most often get propositioned for fare 'in kind'. Seriously.
I love this study that showed the decrease in retail spending once the Crown complex opened in Victoria.  Isn't our retail sector currently being hammered? It concludes that more gambling leads to less retail spending. This suggests to me that what would normally be dispersed spending across many business becomes concentrated in the super profits of one gambling entity.
Second is that the tourism argument (a brand spanking new casino will bring big spending tourists) doesn't really hold water.
The "tourists" that a casino attracts, and I mean those motivated to travel purely for gaming, are not really tourists let alone travellers. In reality they do not spend any meaningful time outside the casino complex so their revenues are largely injected into the lucky corporation who has done what ever is necessary to be granted a gaming license.
Meanwhile the rest of society are dealing with the social impact of more and more gambling in our community.
Lastly, the conferencing argument – that these developments build and attract major international business events – is a little inconsequential. Sure, but you don't need a casino to build your business events.
Isn't the Conference and Exhibition Centre at Darling Harbour about to double in size?Shouldn't that be the priority?
See, to me a 'Casino as tourism strategy' is pretty lazy. The headline looks great in terms of development, jobs etc but underlying all that is a mistake.
As the study in Victoria shows, what a casino gives you with one hand, it takes away with the other. 
The Premier is right to want hotel development in the city – we need all the hotels we can get right now. But don't confuse a casino with a tourism strategy.