Arrival Gate Five Minute Q&A: Australian Traveller conducts a five minute interview with chef Janni Kyritsis.
WHO: Janni Kyritsis
WHAT: The former electrician from Greece with a passion for cooking learned his culinary skills at the hands of Stephanie Alexander, then went on to cook at Bennelong at the Sydney Opera House, as well as opening the innovative MG Garage and earning three hats in his first year. He left the full-time restaurant business in 2002, but will never stop cooking.
WHERE: Sydney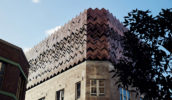 The Australian place every Australian must see? See the Great Barrier Reef while you can.
Favourite childhood holiday memories? None. Most Australians are lucky, not everybody can afford holidays in other countries.
Place you're not hurrying back to? Surfers Paradise. The surf is a paradise, but . . .
When in town, you make a point of eating at? When I'm in Sydney, I look forward to coming back home to a roast dinner.
Best travel tip you ever heard? It's stating the obvious, but only lately I started rolling a lot of clothes tightly. It saves a lot of ironing.
Favourite Australian hotel? The Windsor in Melbourne.
You're away for four nights: how many pairs of smalls? None of your business.
Favourite piece of luggage? A large suitcase with big wheels so I don't have to squish everything inside.
One thing you can't leave home without? Elizabeth David's book French Provincial Cooking. Particularly if the destination isFrance.
Malcolm Fraser moment? [ie: locked out of hotel room without pants, had to go to front desk in underwear.] Not at a hotel, but two hours before flying I opened the door at home trying to reach the newspaper in the nude. Of course the door closed behind me. My neighbours still talk about it with laughter.
Mini bar: raid, replace or don't touch? I'm always staring at the mini bottles, thinking, "Why the hell I didn't buy a bottle of scotch at the duty free?"
Love or hate flying? Are there any people still left who love flying? Surely not.
Aisle or window? Aisle on long flights, window on short flights.
Worst person ever seated next to? A lovely man sitting next to me on a nine hour flight. Unfortunately he was rather large and took up most of my seat too in order for him to fit in.
Person you wish you could sit next to? This is an air flight, not a cocktail party!
Airline food: love it or hate it? It helps if you close your eyes and eat it.
Your favourite Australian restaurant? Tetsuya's inSydney.
What's your easiest travelling dish to prepare? Cassoulet de Toulouse – usually inParis, where we get an apartment. You can buy some good cassoulets in jars, with the addition of someToulousesausages from the butcher all in a pot with some breadcrumbs on top and then heated through in the oven. A big winner with quests.
Any cooking tips to share with our readers? You're on holidays. Try to buy as much as you can from the delicatessens rather than trying to create masterpieces. When travelling, what do you look for in a restaurant or unheard of eatery? Ambience, service, food. If the menu looks unfamiliar, avoid chef's specials and go for the steak with the sauce on side.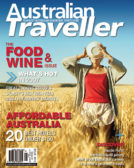 Enjoy this article?
You can find it in Issue 13 along with
loads of other great stories and tips.