Sydney's live music haunt The Vanguard and a treasure trove of camera gear keeps the AT team on its toes.
Photographic Corner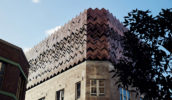 Sydney's live music haunt The Vanguard and a treasure trove of camera gear keeps the AT team on its toes. 
At AT we're all about improving our skills. Every month we like to set ourselves a photographic challenge. This September we tackled low lighting conditions.
The setting was uber cool Newtown venue The Vanguard. The restaurant and bar is an intimate setting for live music on King Street, the main drag of Sydney's eclectic inner city suburb.
Trying not to be intrusive is hard when you've got a table full of excitedphotographers and some serious photographic gear that in itself draws quite a bit of attention. And the other punters were obviously wondering why we needed six cameras, seven photographers and umpteen lenses to photograph one artist.
The food was practically inhaled- experimental photography works up an appetite – but a night at The Vanguard is not really about the food anyway. Plates were quickly pushed aside when headliner Brett Dennen came on stage. The 28-year-old baby face from California is touted as the next Bob Dylan and his innovative melodies rubbed off on our pictures.
After working through some blurry shots, the photographers hit their stride. Some of us had been quick to hook up the biggest lens on the table but quickly discovered the pitfalls of the 70-200mm f/4L IS USM. Getting right up in the act's nostrils was not the desired effect. Even though and especially, as there won't be much to see unless the sensor is wide open.
The most striking shots under such low light conditions are those that get right up close. Having the aperture at f/1.2 and getting in tight for close-ups on lights, the décor and the table settings works a charm. The Vanguard's decadent décor happily obliges. Shots of feathers, masks and gargoyles lend themselves to the luminescent glow you get with a 1600 ISO.
When stages, security guards and possessive fans get in the way, it's time to whip out the big guns. A 70-200mm f/2.8 with an extender will get you right up close but good luck trying to focus manually. Photos of Brett from the night are all very similar; we focused on the challenge of getting good, sharp shots but forgot that originality can make for the best angle.
General consensus was for the 85mm f/1.2 or the cheaper 50mm f/1.4. Pumping ISO up to 1600 was one way to get the shutter speed fast enough to stop blurred shots.
Photographs taken at the start of the night were definitely more creative. Sometimes it's just too easy to be distracted by good music and good company. We'd like to see all of our readers giving it a go – low light photography may test your skills and patience but the results are well worth the price.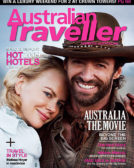 Enjoy this article?
You can find it in Issue 24 along with
loads of other great stories and tips.