Few things are more stressful than knowing your final appointment for the week – at 4:45pm on a Friday, to be precise – will be a spa treatment.
Yes, I did say stressful and, yes, I'm aware of how outrageous that sounds. Feel free to insert something about first-world problems here.
But there's so much to do in a week! Who has the time to leave the office before five o'clock? Only to go and lie on a table, thoughts screeching through your mind about everything you haven't done?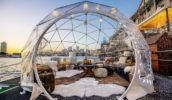 Still, my favourite quirky brand has just announced a brilliant new addition to their string of hotels – a designer property at the snowfields of Falls Creek, I'm happy to report – and last week, they decided that there was no better way to celebrate, than by gifting me with a 90-minute spa appointment of my choice. (As I said… first-world problems.)
And that is how I found myself running through the packed city streets at 5pm, 15 minutes late, cursing the standstill traffic and my frantic-looking hair, and hoping the QT therapists would forgive me my tardiness.
If you've never worked in magazines, the idea of attending a spa treatment just because of a new hotel is opening, might sound a bit ludicrous. (Actually, if you are part of my circle of friends, you've probably denounced my whole job as ludicrous by now, but…) But it's actually quite clever.
The therapists didn't bat an eyelid at my eventual arrival; instead I was herded into a chair, handed a menu of spa options ("I'll take a facial and a massage, please"), then guided into the bathrooms, which are as uber-cool as the rest of the QT brand.
A bad spa treatment, of course, wouldn't have helped the situation at all, but things only got better from here. I've always thought that everything about QT has been incredibly well executed – even their choice of elevator music has had enough thought put into it to be written about, repeatedly – and my treatment was no different.
The Sydney QT hotel is all reds and blacks and moody lighting – a theatrical excursion into old-world style (I'm aware that sounds a bit like I'm talking trash, but that's exactly how it is, honest, guvnor) – and their spa, actually a heritage-listed men's barber shop complete with original paintwork and amazing old tiling, is on-brand through and through.
Old-school lockers, heritage barber chairs; thick, snowy bathrobes and black fur throw rugs (faux, don't worry)… everything about this place is on-brand (and, just as importantly, five-star).
Even the products my therapist uses are 'QT-ish', all rose and lavender and heady old-world scents, the kind that remind you of ballrooms and long black dresses and burlesque dressing rooms. It's all just so… nice.
And so, by the time I leave, now in a decidedly different headspace and much shinier skin, I'm perfectly reminded of all the reasons why I really quite love that brand in the first place.
It's what five-star would have looked like if you'd given the brief to Iris Apfel, fashion's fabulously eccentric aunt. It's lavish, luxurious and just a little bit outrageous. And maybe, actually, not such a bad place to be on a Friday afternoon, after all.