Brisbane is pretty used to flying under the radar, but sometimes one city is just not enough to contain all that cool. From dumplings and doughnuts to floaty fashion, these Brisbane natives are making waves throughout Australia.
1. Doughnut Time
Doughnut time is now. Since unleashing a crazy-icing, super-sweet 'nut wave on the doughnut fans of Brisbane, Doughnut Time has popped up in 19 locations throughout Queensland, New South Wales and Victoria thanks to a speed-of-light expansion plan.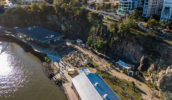 These hand-dipped rings of delight will soon make their way west too, with a Perth store slated for launch this year.
2. Harajuku Gyoza
If you've been anywhere within wi-fi range lately, you'll know the raindrop 'cake' has been sending the internet into a complete tizz.
What you may not know is that Harajuku Gyoza, the first to bring this quirky translucent dome cake to Australian plates, hails from Brisbane.
With four locations in Brisbane, one in Sydney and more in the works, this quirky dumpling house has mastered the art of Japanese kitsch with perfect pillows of gyoza, sumo-worthy sake servings and plenty of fun Harajuku-style madness.
3. Mr Fitz
The smiling face of a sartorially minded dog may not seem like your typical ice-cream parlour promo, but Mr Fitz isn't your typical ice-cream store.
Channelling the golden days of the 1950s, Mr Fitz already has two stores in Brisbane (after opening in late 2015), and there are whispers of expansion to Sydney and Melbourne.
Check out Mr Fitz's maxed-out ice-cream sandwiches, soft serve and traditional cones made onsite in Fortitude Valley and South Bank.
4. Aje
Aje is another Queensland migrant that's found a home in the wardrobes of Australia's (and the world's) most fashionable set.
With five boutiques in Australia (two in New South Wales and Victoria respectively; one in Queensland) their sequined, leather and linen-heavy designs are becoming world-renowned faster than you can say "they're from Queensland".
5. Molten Store
What began as a sparkling, treasure-filled nook of the internet – made for lovers of ethereal and bohemian trinkets – Molten Store quickly dazzled the social media world with its dreamy otherworldly beauty, transforming into two bricks-and-mortar boutiques not long after launching in 2011.
With a flagship store in James Street, and a glittering trove in Westfield Carindale, Molten Store director, Jessy Cameron has set her bowerbird sights on southern expansion.
There's whispers of more Molten Stores in northern New South Wales, and possibly Melbourne, so stay tuned.