Pass the Possum – Tukka Restaurant
Pass the Possum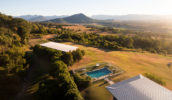 Brisbane's Tukka restaurant is advancing Australia's fare by letting customers take home its native and homegrown produce . . . to rave reviews.
The irony is delicious. It has taken a classically trained Frenchman to perfect the art of cooking Australia's coat of arms and other furry, feathered and finned Australian fauna.
Stephane Bremont's Tukka restaurant in Brisbane's West End is a startling place to eat. The warm wooden interior and candlelight-dressed white tablecloths aren't your usual Mod Oz cuisine setting.
"You just have to be delicate and appreciate the individuality of the produce," says Stephane. "Just because it's new doesn't mean you need to treat it totally differently."
And to prove it, Tasmanian possum has been Francophiled for a delicious dinner when treated correctly – a lot like a French boar in Paris.
Possum is so tender when gently cooked for four hours with a combination of citric juices, wine and herbs. A confit of Tasmanian possum, quandong and grapefruit jus and braised cabbage is a rich, hearty, gamey meal.
The Australian tasting plate to start is a collection of native berries, cured meats and a warm damper. The lilly pillies, desert limes, sandpaper figs, black apples and quandongs were delicious on the whole, although the desert limes are an acquired taste; so sour it's like sucking on . . . well, a lime, really. The delicate, sweet flavoured lilly pillies were a highlight and should be more widespread in their use.
Stephane is so passionate about native Australian produce that he shares his recipes, advice and information on his website for other chefs keen to use native produce. And to further promote more mainstream access to native produce, Tukka also has all its ingredients for sale through the restaurant (and soon online as well).
"Since we've had our retail line available, we're finding diners are taking six or seven items home with them after dinner," says Stephane. Tukka is the only native fare restaurant in a major city to have thrived. All it took was tender cooking skills learnt in a land far, far away.
Tukka Open 6pm till late daily, fully licensed, 145b Boundary St, West End, Qld, (07) 3846 6333, www.tukkarestaurant.com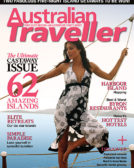 Enjoy this article?
You can find it in Issue 19 along with
loads of other great stories and tips.