AT's local Adelaide gal Beth Peglar waxes [very] lyrical over one of SA's true treasures – the wonderfully converted Medina Grand Adelaide Treasury.
Urn-adorned, it stood by the square, classic but not classical, yet classy and far-charmed. Busty, black, petunia-potted troughs had it surrounded, itself like a castle – hollowed within, alfresco and fountained.
The former State Treasury, once lost and lone, now defines pride as the mod Medina Grand.
The bathroom, spacious and deep-bathed. A pool, melancholy and mirrored.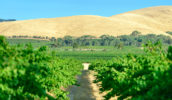 Rooms overlook the gardened courtyard and central Adelaide, street-sliced by King William. Pristinely it stands, in the core of the city, neighboured by relics of GPO and Town Hall.
Inside the rooms – the sleeping quarters of all who desired – high ceilings stare down at starched sheets, a mauve chaise in the corner beckoning a sleek pose fit to be sketched. A kitchen, simple and marbled awaits a cook-up or nothing – the Central Market's ample ingredients only minutes away, or delivered in-room delicacies not far behind.
The bathroom, spacious and deep-bathed. A pool, melancholy and mirrored.
The bar, not one for the flasked variety, almost drips red lights like hunks of ice, earthy shades bouncing off the walls. Suits gently chatter. Charcuterie gusto and farmhouse cheeses aplenty, fine wining and dining bar-side or by barrels.
The trickle of rain and the chime of time a murmur to inside ears. Built early 1800s and holding history of executive proportions from housing government officials to smelting lead and photolithographic printing.
And below an almost maze. Bricked tunnels and pathways rumoured to lead towards Parliament House and under Victoria Square firmly root the hotel to its intricate past.
Pulsating history from within and modernity throughout, the Medina Grand Hotel, proper and private, commands recognition as one of SA's finest.
Details // Medina Grand Adelaide Treasury, 2 Flinders St. Rooms start at $195 per night. (08) 8112 0000, www.medina.com.au
HAVE YOUR SAY: Have you stayed at the Medina Grand Adelaide Treasury? How was it? And do you have another favourite SA hotel you can recommend? Sign up free to the AT Website and have your say by posting a comment below on your favourite SA hotels!