Australian Traveller Magazine reader Wayne Martin from New Zealand recently ventured with his family into our outback for the first time The edge of nowhere



AT reader Wayne Martin from New Zealand recently ventured with his family into our outback for the first time.
The road to Chillagoe looks like a zoo breakout that went horribly wrong. Plump, bloodless road kill litters the gravel shoulder: rock wallabies, red 'roos and a battle-scarred boar smouldering like an upturned car wreck, as though they died defending their homelands from wheeled invaders like us. If so, sadly, they died in vain.
We're heading for an old mining town deep in the neck of Cape York Peninsula. The aim is to experience the outback in a day trip from Cairns, and Chillagoe, with its limestone caves and pinnacles, abandoned mines and Aboriginal rock art, seems to tick all the right boxes. It's also the furthest west of Cairns the car hire firms will let us take a standard sedan.
The 140km drive carves through a wilderness of termite mounds, spinifex tussock and naked gum trees. Dry creek beds alternate with dusty cattle stations and ramshackle ghost towns. Nearing Chillagoe, sealed bitumen gives way to red dust and rutted gravel, like a driveway into Australia's immense backyard.
Home to 10,000 during its copper mining heyday, Chillagoe's vacant lots of browned grass, wide empty streets and sparse buildings reveal a town dramatically depopulated. Even the street names recall a distant promise: King, Cathedral, Tower, and Queen Street, where the Hub tourist centre hints at a new beginning.
A white-haired Aboriginal man rests on a bench in the shade of the general store. He reflects our first impressions of Chillagoe: sleepy, aged, and content. Yet there are a surprising number of businesses to be seen. The roadhouse cafe, a nostalgic mix of Formica tables, truckie food and a petrol bowser out front; a couple of Queenslander pubs, a souvenir shop and garage. Long-abandoned buildings such as the old post office and schoolhouse give parts of the town the feel of an open-air museum.
After a short, bumpy drive, we skirt a rocky bluff to the mouth of Trezkinn Cave, a guided cavern within Chillagoe-Mungana NP's vast underground network. The ranger's laidback briefing amounts to: "Have a wander and don't touch the stalactites."
A steep, shoulder-width descent soon expands into a cool and silent wonderland. Sparkling crystal stalactites drape overhead like chandeliers, and the floor crawls with stalagmites. Illuminated catwalks hug fluted walls, encircling a massive limestone pillar, ornate as a renaissance sculpture. We wander for a while, pausing at interpretive plaques, absorbed but oddly goosebumped. Maybe it's the sheath-tailed bats watching our every move, or the hirsute spiders, or the unseen pythons. Or maybe it's the notion of being adrift in the belly of a rotting mountain.
In the afternoon we explore the mysterious passages and vaulted chambers of the largest guided cave in the region, Royal Arch. Our hand-held lanterns throw a furtive glow onto sculpted walls. In the shadows, bats flutter and chirp. Tree roots thrust through the ceilings and walls, and splinters of sunlight breach ragged holes in the cave roof. After the finery of Trezkinn, Royal Arch is all about scale and drama.
The caves are linked by walking trails through prime snake country. Near a sign to Balancing Rock we come across a small hollow of Aboriginal rock art, reminders of Chillagoe's ancient heritage. The town borders the homelands of the Wakoora and Djangun tribes, and over half of today's 200 or so inhabitants are of Aboriginal descent.
In searing heat we follow a loop to Balancing Rock. Soon the massive grey monolith looms, teetering like a football on a kicker's mound. Lingering in its shadow, we enjoy views over bush canopies to the distant chimneys of the Chillagoe smelters.
Early surface deposits of copper, tin and silver attracted huge investment in Chillagoe, and by 1902 the smelters were roaring and the pubs overflowing. But the land invariably failed to yield the deep fissure lodes needed for long-term productivity, and the industry is more famous for scandal than success; failed companies, dodgy share trading, and politicians with fingers in the mining pie.
The smelter site is a moonscape of rusting yesterdays. Three brick chimneys tower defiantly against a cobalt sky and a century of broken dreams. The Chimneys sprout from overgrown mounds and the crumbling firebricks of furnaces that finally flickered out in 1943. Corroding pipes, copper conversion tumblers and other fallen relics bask in post-apocalyptic silence.
We drive around the flat black expanse of the slagheap and read various plaques that tell the chequered history of the smelters. At its edge, the crushed pile plunges 30m to the cayenne soil below. We stand at the cliff top and stare into the hot eucalypt uplands that stretch forever to the north, retreating to blue and eventually melting into the sky.
After a troubled past, Chillagoe's future seems vested in reassuringly permanent resources: timeless natural features, a colourful history, and a growing tourist trade that led to the opening of The Hub in 2002. And Chillagoe's fickle crust may yet yield the mining success that has eluded the town for so long. Today the prize is rare blue marble that has been exported to Italy and graces the foyers of some of Australia's plushest hotels.
The white Nissan was finely coated in red dust and its axles had been given a good workout. It had taken us to the very edge of the outback, and now we pointed it east, prepared to negotiate a furry smorgasbord on the home journey.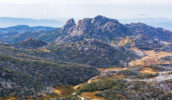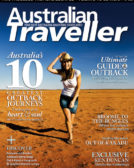 Enjoy this article?
You can find it in Issue 21 along with
loads of other great stories and tips.