Car tricks
Bits and pieces for taking road trips to the next level

When you're heading out on a road trip, you want to be sure you've got some creature comforts so the hours don't begin to feel like days, and the journey really becomes part of the experience. From DVD to GPS, coolers to adapters, we've pulled together some of the best gadgets for making car time feel like first-class travel.

Navman iCN510 ($999)
Getting there is more than half the fun when you've got GPS navigation. With this device you'll have 3D navigation with touch-screen control, and features such as route planning, traffic avoidance and voice routing instructions. Yes, its machine-generated voice calmly and politely informs you, you are going the wrong way. No need to rely on a dud navigator again.

Dual drink cooler / warmer ($77)
It's an inevitable fact of life on a road trip – the half-empty bottle of Coke rolling around under the passenger's feet. It's warm, so no-one's going to touch it. But no longer. With this gadget, the thirsty traveller will be enjoying a cold can or a warm coffee right to the last drop.

Nintendo DS ($199.95)
Sony PSP ($429.95)
The latest-generation handhelds offer excellent quality on the move. The big issue is whether to get one of each or two the same. A Nintendo and Sony combination offers more game options but potential conflicts. A single console networked for multiplayer keeps a lot of fingers busy.

Kenwood CD tuner with MP3 & remote control ($399)
CDs in a car were great – until storing them all, coverless, in the glove box ruined your collection. This stereo eliminates the demolition of your favourite discs by playing MP3-CDs. Now you burn all your favourite tracks to one disc and that's all you need. In our road test, a single CD lasted the four and a half hour journey from Forbes to Sydney. And the remote control means the driver decides what you're listening to … at least in theory.

Shu-Roo ($380)
Careless animals – they don't just get the road trip off to a bad start and cause serious damage to your wallet and car. They're actually one of the major causes of road fatalities in Australia. The Shu-Roo causes kangaroos and other animals to run away from the big bright lights by emitting a high-frequency sound that humans can't hear. A real winner for our beloved furry critters and for motorists.

Triple socket adaptor ($19.95)
The cigarette lighter will soon be known as "the charger" – now that it's used more often as a conductor than for firing up a ciggie. The iPod, mobile phone, esky, pda, laptop computer, torch… all plug into that little wonder socket. Grab this triple socket adaptor to give all your gadgets and chargers room to operate.

Griffin iTrip ($79)
For iPod lovers, iTrip lets you tune into your music through the car stereo anywhere on the FM spectrum. Just set the iTrip to an available space on the dial and feel like you're tuned into a station that's all about you. Close your eyes and pretend you're doing a guest celeb spot.

Porta power inverters ($129 – $835)
Industrial strength power. When "portable", "travel" or "car" appliances don't cut it, your car could use a power inverter. Stepping 12V power up to 240V AC, you'll be able to run any normal electrical appliance through your car's power.
Sony in-car DVD station ($799)
This portable DVD isn't permanently installed in the car, so you can get plenty from it beyond the vehicle. With straps and adjustments to set it behind a seat or between the front seats, it's perfect for hypnotising one or all in the back. There are two headphone jacks and support for VCD, CD, MP3, plus external AV inputs for checking road trip video footage when you get back to the car.

The Ultimate: Drivesoft ($5020)
Taking a piecemeal approach to fitting out your car can be problematic, with endless wires, chargers, discs, gadgets and add-ons … all solved by the system for any road trip – Drivesoft. Made famous on the MTV show Pimp My Ride, this is the last word in turning your car into a mobile entertainment showpiece. An all-in-one custom computing system for your car, it offers CD, DVD, radio, TV, MP3, navigation and even Web and Email via wireless Internet. It could take the fun out of arriving. Expect Drivesoft to be available in Australia mid-year.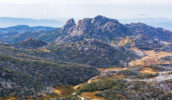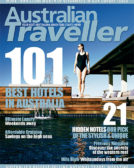 Enjoy this article?
You can find it in Issue 9 along with
loads of other great stories and tips.