Cheap Christmas holidays for Australian Travellers…
Going away for a song: Think you can't afford a holiday this summer? You can. Australian Traveller brings you a selection of holiday options that might even cost you less than staying at home.

WWOOF WWOOF
They reckon slavery has been abolished, but these days it just goes by another name. "Cultural exchange" is the quaint euphemism used by the people from WWOOF, or "Willing Workers On Organic Farms", an international network set up to allow travellers to work as farm hands in exchange for their food and board. Typically you'll be expected to work for around four hours a day to earn your keep, and beyond that your time is your own. You can join WWOOFing Australia for $50 a person or $60 for two people travelling together. For this you get the WWOOFing Book, with a list of 1200 host farms around Australia. The price includes a limited insurance policy, but it's unlikely to cover all your medical costs in the event of an accident (for example, you only get $1500 for a broken back, which hardly seems worth the trouble), so your own travel insurance is recommended. For more information go to: www.wwoof.com.au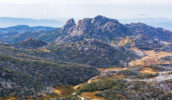 VIVA VIPASSANA
Do you really want to get away from it all, switch off, escape from the ungodly clamour of the modern world? Then Vipassana Meditation could be for you. Up to 12 hours a day of sitting in silent meditation; no speaking whatsoever for the duration of the ten-day retreat; two basic meals a day at breakfast and lunch, and a piece of fruit for dinner; no alcohol or other stimulants; no newspapers or phones; no … ah … fraternising with fellow meditators.
The idea of Vipassana is to go within, focus on the breath and the sensations in the body, and thus heal almost all worldly ills with pure awareness. The concept is to live like a monk, relying on the charity of others who've donated to the Vipassana centre before you. Accommodation, meals and meditation instruction are provided free of charge and at the end of ten days, if you feel the experience has been beneficial, you're invited to donate so that another meditation student might take the course. There is no pressure to sign over your worldly goods nor your first-born child, nor to purchase any deluxe series of books, videos or tapes (though some are available). The whole thing runs as a charity, and Vipassana centres can be found in each state and around the world. For more information go to: www.au.dhamma.org
TAKE MY HOUSE …
House swapping for holidays originated in 1953 among school-teachers in the Netherlands and Switzerland. Whatever else those broad-minded Europeans might have exchanged is none of our concern here. House swapping is now a worldwide phenomenon, with numerous agencies offering placement services. You simply pay a joining fee, list your property and your desired holiday destination, and wait for the offers to come rolling in. I mean, who wouldn't swap their French chateau for two weeks in an apartment in any Aussie city? There are numerous agencies on the internet, but look for the longest-established ones who have representatives in most major countries to deal with your concerns. Typically, a joining fee of around US$30 will be charged and, when you find someone ready to swap homes, you simply have to settle details like dates and whether there are pets to feed and a car to use. The cost savings of this form of travel are obvious. And because both parties are in the position of trusting a stranger with all their worldly possessions, there are very few incidents of homes getting trashed.
A word of caution – when you Google "house swapping" you also turn up a bunch of wife swapping clubs, so be careful what you're getting yourself into.
THE SURF CLUB SCAM 
Want to know how to stay in prime beachfront locations around the country for as little as $10 a night? Here's a little-known lurk that may go some way to explaining why grown men are prepared to parade military-style up and down the beach in searing heat wearing only budgie-smugglers and silly-coloured skull caps. If you belong to a surf club you can stay at many surf clubs around the country for a nominal fee, and at some clubs it's free. The deal varies from club to club, and some aren't set up for accommodation at all. Some require you to be an active patrol member, while others will accept purely social members. This is all a bit of an informal buddy system that has existed for decades, so don't tell them you read about it here. But for the investment of a few days patrolling over summer, you could travel the country, hopping from one surf club to the next, for a fraction of the cost of beachfront hotels – or any hotels for that matter. Granted the digs are usually spartan dormitory-style bunk beds, but there are often kitchen facilities available. And you're allowed to talk as much as you want.
For more information, go to:
www.exchangehomes.com
www.homelink.org
www.intervac-online.com
www.homeexchange.com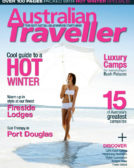 Enjoy this article?
You can find it in Issue 16 along with
loads of other great stories and tips.