There's something wonderful about new beginnings. Throwing out the old and shopping for something new; a blank canvas inspires creativity and gives room for fresh ideas. When we heard we were getting a new website and newsletter, we were pretty excited . . .


. . . By the end of it, after countless e-mails and meetings, you could almost smell the desperation in the office. Oh, to just be done with it already. Did it really matter what colour the headlines were? How many events we listed for our readers? If my articles were written at three in the morning? Brainstorming had officially become a dirty word.
Our new canvas is filled with bright colours and ideas. We made it through the last stretch in one piece and (just) on deadline, all the while producing one of our biggest issues ever, the bumper 100 Best Towns and Ultimate Guide to the GBR edition. Between hectic coffee runs up the road, frantic cigarette breaks in the loading dock, daily phone calls and e-mails between editorial director and web designer and, of course, jam-packed trips for our feature stories, we managed to somehow produce a result that we are all proud of: our inaugural AT Wire!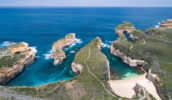 This edition practically wrote itself, as I was invited on back-to-back trips in the last three weeks, from a remote island off the NSW South Coast all the way up the Eastern seaboard to an indigenous birthing site near Cooktown, underwater snorkelling with teeth-baring seals hell-bound on colliding with scared travel writers and high up in the air for barrel rolls in a Russian fighter plane in clear defiance of any former fear of heights.
On my travels I discovered hidden gems like the friendly people of Cooktown – and I'm not just talking about the local re-enactment society -, the world's second largest little penguin colony and natural remedies to keep you going well into the wee hours of the morning when you are on deadline. Rather than drink coffee or Red Bull, I will revert to eating green ants' bums next time. High in vitamin C. (A word of warning to all women: Don't overindulge regardless of how much you like the taste. Aborigines also use this natural remedy to stimulate lactation and, apparently, it can put your hormones out somewhat.) I met some inspiring guides and great characters on my journeys and learned about nature, conservation and spirituality.
By the time I got back on terra firma and found my way to our office in Surry Hills' news and fashion district, I only reluctantly sat down in front of my computer screen to answer hundreds of e-mails, trawl through even more images and write up my latest adventures. Luckily, the editorial team had done a wonderful job during my prolonged absence. Not only did they remember to feed our 16 little fish – I counted to be sure, and even Upside Down Bob was there swimming merrily next to the Canon camera in our aquarium – but they also researched and blogged about travel events throughout Australia for our readers – a special thanks goes to our interns whose entertaining writing style elicited quite a few laughs.
In my inbox, one of my favourite press releases was about a new range of bookstores launching in Australia. Titled Baci Lounge, for Books, Arts, Coffee Inc, it's a concept which has already won several awards in NZ and is now opening in 283 Given Terrace, Paddington, Brisbane. The book shop not only offers meals, coffee and wine, like some of my favourites in Sydney (like Gertrude and Alice or Borders in Bondi Junction), but it also supplies American and English press titles hard to obtain in other book stores. On the next rainy day, go and check it out and send us a review. I'd love to know whether it's anywhere near as good as it sounds in the release. And if you come across any exciting new travel titles while you're there, be sure to let us know, too.
Another release that caught my eye was the "No Leave No Life" campaign. Launched by the Minister for Tourism it aims to discourage workers from the habit of stockpiling leave. TA's MD Geoff Buckley is quoted: "In looking at the challenges facing domestic tourism it became apparent that if we were to get Australians travelling in Australia we actually need workers to start taking some of their stockpiled holiday leave." It sounds a bit like the one for the country campaign and made me wonder whether we really need to be encouraged to travel with a continent as stunning as Australia on our doorstep? Since you are reading this newsletter, I guess you are at least one step closer to doing your patriotic duty and getting out there. And if you've already spent Kev's bonus, check out the website's eight week holiday giveaway promotion and win an all expenses paid trip.
For any Sydneysiders unable to tear themselves away from work long enough to travel around the country, there's hope too. The harbour city invites visitors and locals to Enliven Their Senses from April to 31 July with free additional nights at hotels, second meals free at restaurants and complimentary tickets to Sydney Dance Company shows. And from 26 May to 14 June, "VIVID, Sydney's new international festival, is set to transform the city into a spectacular living canvas of music, light and ideas" Tourism NSW tells me. Apparently, it's that time of year again, when we've just had a breather from the creative mayhem that is the festive season and Sydney Festival, and are ready for another marathon: Writers and Film Festivals, Archibald Prize and Darling Harbour's 21st birthday. Of course, if you still haven't had enough and prefer looking at less artistic and perhaps, more impressive oversized easter eggs, head to the Royal Easter Show. Really, there's no need to take leave, if you live in or near the harbour city. Then again, you might want to escape the inevitable masses and head as far away as possible to, say, Perth.
No matter where you are or where you are going, the new AT Wire is a great platform for our readers to engage with AT. So tell us what you want to read about and what matters to you. What you like about this issue and what not. What gets under your skin and what leaves you cold. Without your input, the AT Wire is like one of Klimt's colourful paintings before he painted over it with gold. Naked.
Like artists who re-used their paintings, going over them again and again, we intend to take your feedback seriously and keep on improving on our first major draft.
Go on and send us your honest opinion; your reader stories and photos. Let's see what kind of picture we can come up with together. Welcome to the first AT Wire – enjoy the journey!
Solveig Walkling
AT Wire Editor

P.S.: My inbox also contained a press release about a five-star hotel saying "no" to caged eggs. Of course, it's relevant to travellers what kind of food you put on their plates, but would you really want to be advertising the fact that you had been dishing up battery-caged hens' eggs to your upmarket customers until this Easter?