One of the great perks of working at Australian Traveller magazine is that I get my hands on some of the latest technology and get to play with it.
And I get paid for it. But truth be told, I would probably do it for free. And sometimes something comes along that is so special, and such good value, that I have to share it with you.
In this case I must share with you my thoughts on Tamron's new 24-70 lens that I have been playing with for about a month now. I am not going to give you a full technical review. The guys at DP review have all the technical specs. I have also added some other online reviews at the end of this article.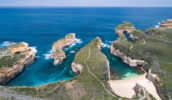 First Impressions:
This lens is big. Deceptively so. It weighs a meaty 825gm, which is more than the equivalent Canon "L" series 24-70 lens. It also takes a large (82mm) diameter filter making it a chunky, professional feeling lens.
When the lens is on a full-frame camera (and this lens is only for those people with a full-frame camera) it feels well balanced. I did try putting the lens on an entry-level Canon camera and it completely destroys the camera's centre of gravity. But on a Canon 5DMk2 it felt well balanced.
Real World:
So what is this lens like in the real world?
In a word, brilliant.
I took this lens with me on a recent trip to Cuba. Expecting to use it a few times and then revert back to my old trusty Canon 24-105 f/4 and 50mm f/1.4. But I was wrong. After the first day of use, this lens became my primary lens. The 24-105 Canon lens was never used again.
From a technical perspective, the lens offers one more stop than the Canon f/4 lens, but that's not the reason I was using it. I kept on using it because this lens is awe inspiring. The camera just felt "right" in my hand. The lens focussed quickly. And it was sharp. Tack sharp. At a technical, microscopic level, the Nikon and Canon lenses may be a little better.
But in the real world? This lens makes better photos than I am a photographer.
And this makes you a more confident photographer. You spend less time fussing about with your camera settings, or worrying whether you can make a shot work or not. Instead, all you need to do is concentrate on your composition. Safe in the knowledge that when you squeeze the shutter the camera will respond instantly.
As long as I set my camera to ISO 'Auto', this lens on a Canon 5D is almost unbeatable. It is the most confidence-inspiring lens I have ever used.
Conclusion
If you are buying a full-frame Canon or Nikon DSLR you are doing yourself a disservice by not at the least considering this lens very carefully. It has an RRP of $1,239, which is almost $1,500 cheaper than the Canon 24-70 f/2.8 (RRP $2,759) and almost $1,000 cheaper than the Nikon 24-70 f/2.8 (RRP $2,199).
This lens is not for everyone. But if you have a full-frame camera, or are looking at purchasing a full-frame camera, you need to think very carefully about purchasing this lens. On a full-frame camera this lens provides you with more bang for you buck than any other lens on the market that I have tested.
Is it the best 24-70 f/2.8 lens you can buy? Probably not. But this lens is almost as good as lenses costing twice the price, and that makes it a remarkable lens indeed.
Other Reviews Of This Lens:
The Camera Labs Review
The always entertaining Matt Kloskowski's impressions
Steve Huff reviews this lens on a Nikon body
The guys at DXO Mark give the lens a thorough test