Surfing champ Layne Beachley shares her story with and her thoughts on that one thing she loves most about Australia. Well, she couldn't stop at just one.
Winning my first world title was surreal because I actually didn't realise I'd won it. I was in Lacanau, south-west France, and I only speak a handful of French; I understood that they were saying "new world champion of surfing" but I didn't know they were referring to me.
One of my friends, an Australian journalist, explained what was going on and said "do something!" so I jumped up and down like a kangaroo. It didn't sink in for a long time; it was a completely surreal experience.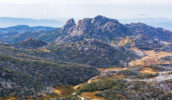 Back home, the Australian media was very supportive. I was extremely surprised by how much press and recognition the achievement received. I ended up on the cover of my local newspaper the Manly Daily [Sydney's northern beaches area]. They did a timeline of how long it took for me to achieve that milestone. It had been eight years of blood, sweat and tears, travelling around the world. I was earning $35,000 a year at that point.
Each year, the Association of Surfing Professionals celebrates its champions at a black tie world champion's crowning. When I walked to the stage to accept my world title trophy, I distinctly remember receiving a standing ovation from about 1000 people in the room, all of which were my peers. It was such an overwhelming response of love, respect and appreciation. I'm such a parochial Australian; I wear my heart on my sleeve. I'm very proud of where I come from, and to be celebrated and recognised in that way was immensely satisfying. It made me extremely proud to be Australian and a world champion.
The outback road trip
Kirk [Pengilly] and I have always had this passion for seeing more of Australia because we've travelled the world extensively. In 2013, we did a road trip from Broome to Darwin in a little four-wheel-drive camper. We swam in so many pristine waterholes, met so many interesting people, stayed in campgrounds and roughed it in such a unique way – we fell in love with the area.
I jumped at the chance to become an ambassador for the NT, and to see Uluru and Kings Canyon. Kirk's such a foodie and we both loved Tali Wiru: a dining experience where you're served the most amazing food on top of a desert dune under a starlit sky. What I really love is the contrasting colours of the Red Centre as a backdrop, from the depth of the red in the earth, to the brightness of the green in the vegetation, to the stark blue that's in the sky. We've fallen in love with the region and have intentions of visiting at least once a year.
The uplifting Red Centre
In 2014, NSW premier Mike Baird organised a tour called Project Uplift and pulled together eight mentors from different walks of life – like myself and Kirk, Westpac CEO Gail Kelly, Elizabeth Ann Macgregor [of the MCA], Jock Cameron, Nathan Rees and Tim Pickles [of Pickles Auctions] – then teamed us up with a young person who had a challenging upbringing.
We mentored them for a week as we hiked the Larapinta Trail. I feel I took a lot more away from it than the kids did. It was such a beautiful opportunity to connect with nature and each other, to give them some perspective and reassure them that their current reality can be different, as long as they make different choices, and that we're here to support them.
The landscape of the Red Centre really does centre you. It puts everything into perspective: everything's so grand, rugged and raw there. I connect with nature every day – that's the great thing about being a surfer – and it gives you the opportunity to clear your mind, be present and live in the moment. Whether it's sitting in the sun for 10 minutes, walking barefoot in the grass, or exploring the Red Centre, don't be afraid to get your feet dirty.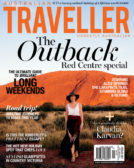 Enjoy this article?
You can find it in Issue 61 along with
loads of other great stories and tips.