Nigel Herbert, the Disgruntled Traveller, finally meets his match – in the form of an online booking engine…
Is it just me, or is booking a flight online now the most arduous, frustrating and tension-building transaction you can possibly do online? I am not a behavioural science expert. I don't have a degree in behavioural analytics. I am just a consumer.
And what I CAN tell you is that booking a flight on an Australian airline website is an exercise in increasing levels of frustration, culminating in a deep-seated hatred of the people you are about to spend a couple of hundred dollars with. It's the digital equivalent of building a lovely shop and then hiring the most obnoxious staff possible. Staff with one element in their job description: "How can I make this experience as bad as possible for a customer?"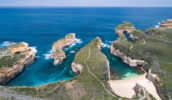 Sorry. This is a rant and this is just the beginning. But hopefully someone in the airline marketing industry reading this realises that there is a massive opportunity for an online booking system that is not the equivalent of a Mafia shakedown.
For the purposes of this post, I will say I am booking a flight on Jetstar between Sydney and Brisbane. At this stage, I am feeling warm and fuzzy towards Jetstar. After all, look at its website: bright and easy to see what I want – which is to book a flight.
My options are clearly displayed, so I choose a flight. And, thus, begins the first step into hell…
A cunning plan
At this stage, Jetstar is all "Yay, come fly with us – look how EASY it is to book a flight". Hell, there's even 'Jess', my virtual assistant, hanging around on the right-hand side of the screen. She looks like she is positively eager to help me out. But don't be fooled. It's a cunning plan.
So. Let's select the 6:20am flight. What is this?
With a bit of AJAX wizardry by selecting that flight, Jetstar has (thankfully) not changed my booking from my original fare. But it has pointed out to me that I should be upgrading to the 'Plus Bundle'. After all, it is the most popular. And you want to be popular? Don't you?
But I am uninterested in popularity and don't anticipate needing to change my flight. So the extra $22 isn't really floating my boat. Same goes for the $5 inflight food voucher. And Qantas points? Bugger that. Just give me a cheap price. You said $189.
You hear that, Jetstar, you and I made a little pact on the homepage. When I clicked 'select' on the $189 fare I prepared myself to pay you $189 and you prepared yourself to have my bum on your seat for 90 minutes. Fair deal.
Thank you for thinking of me though. But let's just get on with it.
The burden of baggage
Oh, cock. Really? Really and truly? My airfare doesn't include having a bag – an extra $18 on top of my $189. It's a small thing, but you could have pointed it out before I got to this step that "all bags will be $18 on top". Even the 'Plus' or 'Max' bundles don't include any baggage either. So, in my opinion, these packages aren't very 'Plus' or 'Max' at all if they can't even include some sort of checked baggage.
OK Jetstar. What about our deal. Well, that's looking a bit less likely. But OK. Let's make a deal. I pay you $189 and then $18 and then you give me a seat. Fair deal?
Now we are on page three of a seven-page process. This step is called "passenger details". I note here that Jetstar is making it easy for me to log in with my social networks, or create a Jetstar account. Things I have done in the past. But they are rookie mistakes. Your reward from the airline is seemingly endless barrage of emails offering you cheap flights to East Bumcrack, leaving at 4:27am, or breathlessly informing you that there's a deal on business class airfares to Bali. Thanks, but no thanks. I will fill in my details manually.
But this particular page is a long one. With lots of nice things about requiring special assistance, and kindly notifying me that they have "pre checked" the form and added the $18 baggage. My virtual assistant Jess sticks by my side like a trusty sheepdog. But I get to the end of the page after carefully filling in all my details – twice. With my mobile number, destination number, address details etc.
It's quite daunting but Jetstar has made it its mission to collect all of your information BEFORE moving the booking along. By making me fill in all my details at this point it makes it less likely for me to quit in utter, utter frustration at the next step.
But what's this at the bottom of the page after all my details? ANOTHER attempt by Jetstar to get me to sign up and create a "My Jetstar" account. Or alternatively sign up and pay $39 for some sort of extras. Doesn't seem like a value proposition to me.
Oh, cock. Another error message. Sneaky. Although I had opted out at the top of the page they have auto filled the tick box "for keep me updated" (so I don't miss all about the flights from East Bumcrack). I can't go to the next step. By unchecking the box that they have auto-filled I have to go back. Right to the start and then fill in all my details again. Bear with me for a few minutes while I do that.
Maintaining faith in the wizards
Please also note that at this time I am calm. Because I am a polite person. And these Jetstar people are like, you know, wizards; they are placing me in a steel tube and shooting me 10km into the air at 800km/hr. That's freaking awesome. So I am a bit miffed. But I blame myself.
But you and I have a deal. Don't we Jetstar? Remember? I pay you $189 and I use your seat. Actually – sorry. We have altered our agreement. I pay you $189 AND I pay you $18 for my bags. But we are cool? Right?
Let's go back, select flights and start again. And then uncheck the box that signs me up to my Jetstar. Woo-hoo!
The next page in our booking process is called "seats".
Are you serious? What do you mean: "For just $5.50 per person we've selected standard seating for you on all flights. You can review, change or remove the selection for each flight below."
I booked a flight. And I am paying you money. In advance. So how, in the name of all that is holy, does my money not even buy me a "standard seat"? No thanks. I will take what you consider sub "standard" seating. But I am getting a bit pissed off. You and me Jetstar. We had a deal.
Like an episode of The Sopranos
It's all starting to feel all a bit Mafioso at this point. Like some sort of episode of The Sopranos. In a parallel universe. Where Tony Soprano and Paulie Walnuts were given the design of a booking system. It's the digital equivalent of "Hey, nice flight booking you have there. Would be a real shame for anything to happen to it – like getting sat next to a team of Ukranian weightlifters or US students who have just discovered that the Australian drinking age is 18 and they are all legal".
So I will not pay you $5.50. We had a deal. Remember?
The next page now gives me options for adding a hire car, hotels and transfers. Fair enough. I don't have any argument there. Nothing has been pre-selected "for my convenience". So my anger levels have subsided.
Let's go to the next page. It's the last step in the process. Yay… Hang on a moment. What's this? Jetstar has automatically selected a $2 donation to Jetstar Kids. I don't really have a problem with this. But I have my own charity, so I will opt out. Now I simply deselect the StarKids donation and start putting in my credit card details.
Hang on a sec. What do you mean a "booking and service fee"? $8.50 for what exactly? A booking and service fee. What the hell is that? Shouldn't you, Jetstar, be offering me an $8.50 discount on my flight? This transaction has not involved another human being, completely digital? We have saved you on staff, having to open a call centre or interacting with you in any way except for dealing with a server.
So why create a process that just makes us all cranky? The first rule of customer engagement should be underpromise and over deliver.
Unfortunately the proposition for airline websites (and not just Jetstar – But ALL airlines) seems to be "capture their details as soon as possible THEN start adding as many stupid charges that we can think of".
And guess what? You have all been amazing successes.