As her year-long photographic internship at Australian Traveller comes to an end, Rebecca Taylor reflects on the highs and lows of working in magazines and what she learnt about this great country
I was born and raised in Australia. But I admit, I never fully realised how much this country has to offer. I've always been one to daydream about faraway lands, discovering hidden paradises and immersing myself in foreign cultures, but I don't think I ever seriously considered what was sitting in my backyard. That is, until I began a year-long photographic internship at Australian Traveller.
Looking back, I don't think I really knew what I was getting myself into. On my first day in the office, I came prepped and ready to spend my days doing endless photocopying, image filing, proofreading, research, errands and coffee runs; basically a whole lot of office-bound work. It turns out I was right to expect some of these things, but as the weeks went by it quickly became clear this was more than your average internship.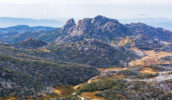 My first 'work trip' was an overnight hotel launch in Melbourne where I basically spent the night kicking back with travel writers, tasting amazing cocktail concoctions and taking my very first photos for the magazine. It was all rather glamorous and I returned to the office on such a high that it was almost cruel to have to go back to the humdrum monotony of everyday life. Such is the life of a travel journalist.
It should be noted that days spent in the AT office are all but a dull experience. There is always something happening and there usually comes a point in the day when someone in the office feels the need to break into song, speak in an exotic accent, go on a hunt for chocolate or share YouTube videos of heroic African water buffalos.
Don't let that fool you though. The place is a well-oiled machine, churning out issue after issue like it's the easiest thing in the world. Of course, that couldn't be further from the truth. Stories are painstakingly researched, eloquently written and thoughtfully designed. As an intern, I found it incredibly satisfying to play a part in the production of the magazine, be it through my photography, image research and editing, proofreading or fact checking. It was also refreshing to work alongside a team of people who are so obviously passionate about their work!
In contrast to my first AT travel experience, my second involved cycling 60 kilometres along a rough, hilly track in the beautiful Gippsland countryside; colliding with said track, rescuing a stranded turtle, and giving my camera an even bigger work out than my body.
Since then, I've been to bar and hotel launches, swum with wild dolphins, tasted crocodile soup, hiked up 80-metre gorges, flown over Sydney Harbour, photographed five-star restaurants, hung out the side of helicopters and stayed in luxury accommodation in the depths of the outback; all in the name of a good story… and a hell of a lot of fun.
Without a doubt, the absolute highlight of my year was a recent 10-day cruise along the Kimberley coast on the MV Orion. On this trip I saw a part of Australia I have only ever read about, and it greatly surpassed my expectations – turquoise waters, white sandy coves and ancient sandstone gorges flecked with bright green vegetation. We spent endless sunlit days exploring the rich, utopian wilderness by land, sea and air. At night we'd dine under the stars to our hearts' content. The whole experience was jaw-droppingly amazing and not something I'll easily forget.
All of my AT-born adventures have stirred in me a real sense of pride and appreciation for the land I call home – quirks and oddities included. I'm no longer dismissing Australia in search of travel-induced euphoria; rather, the photojournalist in me is itching to let loose on the rest of this country, camera in hand.
I've gained a wealth of experience working at Australian Traveller but the biggest lesson I've learnt is to throw away my preconceptions about exploring my homeland. The possibilities are endless!
Want to be our next photography intern?
Easy – follow our instagram account at @austtravellermag, then apply by tagging your favourite instagram shots with #ATmagintern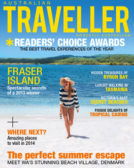 Enjoy this article?
You can find it in Issue 54 along with
loads of other great stories and tips.