Self-proclaimed city slicker, Nadia Stennett, ventures out to Outback NSW and discovers an unexpected love for the land.
When you're hugging the left lane of a dirt road to let a mob of roos overtake on the right, you won't be blamed for thinking you've driven into some sort of no-man's land. Of course, you've probably had a few prior warnings you're not in Sydney anymore.
Perhaps the first was realising that the best drink stop in 100 kilometres was that dried up lake you passed half an hour ago. Or maybe the real clue was that rusty sign that said 'WRONG WAY. GO BACK'.
Chances are, if you're a city slicker like myself, this experience will seem all the more difficult as you ponder whether packing seven different summer heels was a practical choice.
Either way, city slicker or outback Jack, you'll be lured on by the magic of some of Australia's most breathtakingly beautiful landscapes, as you make your way to Coonabarabran, 500 kilometres northwest of Sydney.
There's something very different and special about this town – besides the fact that motorists share the road with kangaroos and the nearest shopping centre isn't for 150 kilometres.
It could be the magnificence of its iconic Warrumbungle Mountain ranges: a series of huge rock formations that reveal the area's history as a live volcanic site over 17 million years ago. Or perhaps it's the exquisiteness of the incredibly clear, colourful night skies that secure this simple town its title of the 'astronomy capital of Australia'.
Wherever you look there's just so much beauty to be seen in this town of under three thousand residents.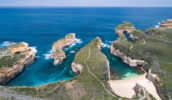 If you have the grit to abandon your city heels and trek through the Warrumbungle National Park, you can be sure to be rewarded with a level of exhilaration that even a pair of Jimmy Choo's cannot rival.
The park has 12 different bushwalk circuits ranging from amateur to Les-Hiddins-extreme. On any of the walks you're likely to discover a rich array of birdlife and wildlife – and if you get up close to the rock, you might also be lucky enough to see some of the Warrumbungles fossil leaves, agates and even volcanic opal.
I picked one of the shorter circuits, a 4.6km walking track up to 'Split Rock' mountain, which looks much as the name suggests: a towering mass of craggy rock with a great jagged opening down the centre.
The simplistic lines of the colourful map at the start of the track lulled me into assuming my clingy summer dress had not been such a bad idea after all. You know what they say about assumptions…
Halfway up the rock as the incline grew dramatically steep, it became evident this 'walking' track was really more of a free-scaling climb up sheer rock face. Several bushwalkers in front of me actually turned around and started making their way back down; ill-equipped to tackle the incredible monstrosity of the climb that lay ahead.
Perhaps it was the dehydration, or maybe all the chaffing from my impractical attire had sent me loopy – but something urged me to go on. Two litres of sweat, one torn dress and 45 minutes later I discovered what draws up to 7,000 tourists to the area every year. Having conquered the rock, standing around 770 metres above the ground, the cold city slicker in me melted at the incredible majesty of sweeping plains and the swirling lights of dusk that seemed to stretch on forever.
There are many theories on where the name 'Coonabarabran' came from, but the most popular is that it is a word derived from the Kamilaroi language, meaning: 'peaceful' – and if you're game enough to abandon your briefcase and heels and get a little dirty, you'll understand just why.
// Nadia Stennett is a member of our Virtual Internship Program. If you're a photographer or writer looking to break into travel journalism, we're here to help you get a leg up. To find out more, email us at interns@australiantraveller.com