Gimmicks, gifts and gratuities. Australian Traveller rates those loyalty-driven extras that hotels use to keep you returning time after time.
Gimmicks, gifts and gratuities. AT rates those loyalty-driven extras that hotels use to keep you returning time after time. After all, it's the little things that make all the difference.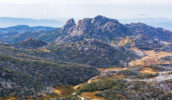 Perth Hilton Pepperpot// The Peppers chain of resorts and hotels should sit up and take notice of this: regular guests to the Parmelia Hilton Perth, receive a stainless steel pepper grinder with a WA salt and pepper mix. Different and useful with a WA touch. www.perth.hilton.com  
Sea World Long Service// Sea World Resort on the Gold Coast has an intricate loyalty program. After five visits you're entitled to a small gift, usually a bottle of wine or some choccies. Ten visits means a cake, free dinner and a dolphin plaque with your name, date and stay number. A photo of you receiving the plaque then goes up on a Return Guest Wall of Fame. Gifts vary the more times you return – something people have done upwards of 30 times . . . so it's no wonder the system's in place. www.seaworldresort.com.au  
The Lindrum Teddy Bear// Perhaps the most famous of our selected hotel gifts, after your tenth stay at Melbourne's Hotel Lindrum, or if you're getting married (doesn't have to be your tenth marriage), you'll finally get your hands a highly coveted "Walter" – named for famous snooker champion Walter Lindrum, uncle of 1970s lessee Dolly Lindrum when the site housed the Lindrum Pool Hall.
Walter is classy. Walter is cuddly. Walter is as sought after as the rooms of this chic boutique outfit. www.hotellindrum.com.au  
Feel the Vibe// Music to the ears of Vibe Hotel guests nationwide, the Sounds to Relive and Renew CD goes straight to anyone booking selected Winter Packages to the chain that definitely markets itself to the young and funky at heart.
A great gift idea and even better marketing strategy. www.vibehotels.com.au  
Stamford Sam and Celine// Not to be outdone on the cuddly bear front, select Stamford Hotels and Resorts use Sam and Celine (his and hers teddies) as sweeteners for their special Celebration Packages.
Of course for a little extra you can also get waffle-weave bathrobes, but to be honest it's probably the bears that make for the biggest drawcard. www.stamford.com.au/celebration
Making their Marque// Melbourne's stylish Marque Hotel on Fitzroy St in St Kilda has set the bar high in the pampering stakes, lavishing repeat guests and VIPs with an extravagant package of world-famous Bvlgari fragrances and products. Talk about coming out smelling of roses. www.rendezvoushotels.com  
Mercure Hobart pillows// The Mercure Hotel Hobart highlights that "home away from home" feel by making sure regular corporate guests have a signature pillow waiting for them. The idea actually came from a guest, who passed it on to housekeeping, who promptly made it happen. A true team effort. www.accor.com.au  
The Como Duck// Situated on one of Melbourne's – if not Australia's – most famous streets, The Como on Chapel Street in South Yarra has the long-held tradition of spoiling its guests with a tiny floating plastic duck. Mightn't sound like much, but as a marketing tool it's unsurpassed. Sure, they do a free limo service to the CBD, but how does that compare with your own little take-home floating friend? Cheery, cheeky and simple, the Como Duck is hours of fun, and perhaps AT's favourite hotel gift. www.comomelbourne.com.au  
Observatory bathrobe (& fish)// Stay enough times at Sydney's Observatory Hotel and you'll score your very own luxury bathrobe with your initials embroidered on. They also use the reassuring charm of resident goldfish Sybil and Basil (very Fawlty Towers) to make the rooms of repeat guests more welcoming and homely – after one guest commented that the one thing he lamented about travelling was he didn't get to look at his pet fish swimming away while he worked. Ten out of ten for ingenuity. www.observatoryhotel.com.au
Lilianfels Cookies// Lilianfels Blue Mountains Resort & Spa has a few gifts it reserves for VIP guests – but the most popular has proven to be a plate of delicious, homemade chocolate brownies . . . baked by Robyn Pontynen, Lilianfels' General Manager! That's what we call keeping it real. www.lilianfels.com.au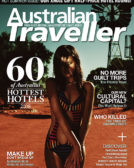 Enjoy this article?
You can find it in Issue 18 along with
loads of other great stories and tips.