Four of Australia's sunniest personalities share stories about the summers that shaped them
Blue sky thinking: Tim Bailey, weather presenter
Being outdoors, especially at the beach, has been a huge part of my life, right from the very beginning. Our family has always been a zinc-cream-on-the-nose, sand-between-the-toes tribe and my earliest memories are of being a bright white blonde-haired little boy in coloured bathers exploring rock pools and beaches in Tasmania, where I'm from. Half my job now is keeping an eye on the surf and the sea, and I'm sure that was instilled into me because of [seaside holiday town] Bicheno, where we used to stay in a little motel that I'll never forget called the Silver Sands – it had a round swimming pool – and Devonport, where we used to spend endless days in rockpools and the ocean, with sticky lemonade Icy Poles in our hands. I can think back now and see the coloured beach towels and still feel the drag of the beach holiday vibe.
My first job out of Tassie was on the Gold Coast, and I can remember really strongly thinking, 'I've gotta get a job that enables me to get into the blue sky'. But I never thought I'd end up doing the weather! Then, one summer, when I'd been with the network [Network Ten] for 22 years, I remember thinking about how television opportunities come and go pretty quickly, and deciding that the best job on television is in news, because it's always a constant. I can clearly remember it – I was sitting on the couch watching Brian Bury, a crazy cat who wore bow ties to do the weather, and I thought 'that's it, that's what I want to do'. Anyway a month later he wasn't there and – this is a bit doo doo doo doo – they just called me. A bit bloody scary – I didn't even apply for what I wanted. Be very, very careful for what you wish for, because it can come true. If you put your mind to stuff, it does bloody happen!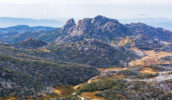 Summer storm: Gabrielle Carey, co-author Puberty Blues
It was just a normal family holiday gathering: my eccentric academic father and his 'research assistant' (code for 'girlfriend'), my older sister and her handsome Latin American boyfriend, my pesky younger brother and me. It was 1975. At 16, I was a recent high school dropout and refugee from Sydney's Cronulla scene, looking for a new identity to claim. Drugs had seemed cool, so I'd scored a tab of acid for my holidays. Our beach house was rambling and romantic, with rainbow windows and a wraparound verandah, right on the seafront and mounted on piers. Allegedly built by a sea captain to woo a Tahitian princess, 'North End' was at the far end of Pittwater's Currawong Beach and at high tide the waves lapped tantalisingly close.
It had been the usual sun-filled day spent happily rock-hopping, fishing, swimming and having psychedelic insights. I'm not sure if the family noticed that I was a little higher than usual – for me, Sydney's Pittwater area has always been the closest place to paradise on earth. Late that night a storm broke. I was lying in bed, warm and comfortable, enjoying the thunder and lightning, when I felt the floor move. Then there was an enormous crash. And I wasn't hallucinating – the earth really was moving. The ceiling was swaying and the foundations were falling away. Our beautiful holiday house, lashed by winds and destabilised by erosion, was literally falling down. My response to this impending catastrophe still intrigues me. I didn't scream; I didn't leap out of bed and run. I lay quite still, my instinctive momentary terror quickly followed by a calm conviction that there was nothing I could do to forestall my imminent death.
The only possible decision was to wait, quite resignedly, for the sky to fall in. (I wonder now whether this was an extreme manifestation of our infamous Australian pragmatism.) Miraculously, rather than collapsing inward, the massive tiled roof twisted and the entire structure of the house simply leant to one side. When I crept out of bed I saw that the wraparound verandah had fallen away and the foundation pillars were flattened underneath. 'North End' was in ruins, yet no one had been injured. I wrapped myself in a blanket and walked up the beach in the rain with my big sister to wake up the caretaker. "Our house just fell down," we reported, like two bedraggled chicken littles. In August of this year one of the world's greatest contemporary poets, the Nobel prize-winner, Seamus Heaney, died unexpectedly. The story goes that he was in hospital when the doctor announced: "Sorry Seamus, there's nothing I can do; your heart is about to burst." Heaney then turned to pick up his mobile phone to text his wife in Latin: "Noli timere".
A near-death experience may not be what everyone is looking for during a summer holiday. And whether my calm acceptance of my apparent fate was because I was out of my head on acid or immobilised by terror, I can't say. But I'm grateful to have had that rehearsal. I'd like to believe that Heaney's advice was not just in relation to death but equally, perhaps more importantly, an edict for life: 'Do not be afraid'.
Making a break for it: Bruce 'Hoppo' Hopkins, 'Bondi Rescue' lifesaver
As a kid starting out at surfing, you can't get around to other beaches, so you're only used to your home break. Mine was at Sydney's Bronte Beach. But when I was about nine or 10, we went to Noosa for a summer holiday with a couple of other families and Mum and Dad let us all go for a surf together on Main Beach. Being kids, we just kept wanting to chase the waves, and before we knew it the current had pulled us around to another beach. When we got ourselves up on shore, we realised we were totally lost. Of the four or five kids I was with, I was the oldest. As a result, I took on all the worry and anxiety of getting us back to safety. Noosa's beaches are surrounded by bushland and walkways, and I remember thinking, I'm alone, how the hell am I going to get myself out of this? We had a few dead ends, working our way back around to Main Beach, and though in the end it only took us about half an hour to find our way back to our families, it was the first time I'd ever really been thrown in the deep end, so to speak. Mum had always been really protective of me, so that was the first time when I didn't have someone there to guide me through, and it definitely made me grow up a little bit.
We didn't lose the plot all together, we didn't start panicking – if we'd done that we'd have never gotten out of the situation – and looking back, that was the start of a learning curve to be in the job I'm in now. I see it all the time – the kids who panic are the ones who get themselves into more trouble. You can't panic, you've gotta keep calm and focus to make split second decisions. Even though you're scared, if you stay calm you can talk through things a bit easier. I don't know if it was something I was born with or something I learnt, but it was definitely a learning curve.
Ian Chappell, cricket legend
It was the summer of '74/'75 and The Ashes series was being played out in Australia. It had been four years since we'd last won. I had been a member of the team when we had played and lost in '71, and again in '72 when we drew [meaning that the Ashes remained with the series' previous winner, the Brits]. But this time around I was captaining the team, and we believed we could win – though nobody else seemed to. The English certainly didn't think we'd be able to win. But we had already won the first match of the series in Brisbane and the second in Perth. We'd had a draw in Melbourne; Sydney was the fourth game we played. The crowds had turned up in big numbers; there was 50,000-odd people at the SCG; the biggest crowd they'd had there for some time. It was the last wicket of the game, you had the chanting of the crowd and it was atmospheric. [Ashley] Mallett was bowling. [Englishman] Geoff Arnold was the batsman and he got an inside edge onto the pad, and my brother Greg took the catch. He was out!
[Rod] Marsh was [wicket] keeping, I remember, and he just turned to me, put out his gloved hand and said, "we've got the bastards back". The ashes, he meant, not England. The thing that I remember most about it was the party that we had that night… that was always the best part. We had quite a few drinks in the dressing room then finished up at The Different Drummer in Liverpool Street,Sydney. That win didn't change the way I played the game and hopefully it didn't change me – I mean, you're always looking to improve and better yourself, but as a person deep down, I like to think I'm still the same, win or lose. It's only a cricket match after all, you haven't saved any lives.
But it did confirm that you have your good days, and your bad days. We then went to England the next year and we had to start all over again, because what happened in Australia wasn't necessarily going happen all over again. That was the lesson for me – confirmation that you always need to keep your feet on the ground, you don't want to get too high when things go well, or too low when you're struggling.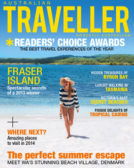 Enjoy this article?
You can find it in Issue 54 along with
loads of other great stories and tips.