Australia's great treeless plain holds a tremendous fascination for travellers in search of a little solitude and a lot of space. Using only public transport and his trusty bicycle, Roger Trowbridge ventured across that plain to see things in a clearer light.

Who Killed The Great Aussie Road Trip?
Have skyrocketing petrol prices sounded the death knell for one of our greatest national pastimes, the family driving holiday? Justin Wastnage reports. 
When AT saw the documentary Who Killed the Electric Car, we were equal parts riled up and inspired. So we had Mark Taylor from the Australian Electric Vehicle Association provide us with a state of the union. What's happening? What should be done? What CAN be done? Before, we knew nothing. Now, like many ordinary vehicles across the country, we are becoming converted.
The Journey Is The Destination
For AT's driving issue, we bring you this MyPOWER report from Anthony Garagounis, direct from the hybrid Prius support vehicle accompanying the boys on their 16,000km odyssey.
Across seven heavenly categories of luxury travel – on the road, in the air, in the snow, on the water, on the beach, in the city and in the outback – Australian Traveller welcomes you inside our most lavish hotels, beach houses, secluded islands, private jets, ski resorts, boats and cars for this extraordinary look at what's available to those with the means to travel in style . . .
The Ultimate Guide to the Outback
Finally. The Ultimate Guide to the Outback made easy. Where is it, what does it mean to Australians, when to go and how to get there.
Australia's 10 Greatest Outback Journeys
From east to west, north to south, AT has the whole of outback Australia covered with these Top Ten itineraries for the intrepid explorer in all of us. Happy trails . . .
The Ten Great Day Walks Of Australia
A wayward, wandering kind of bloke, Andrew Bain has walked several thousand kilometers across great chunks of Australia. Let's pull on the boots and follow in his footsteps . . .
Journey of a Lifetime — Australia's Four Life-Changing Treks
Tighten up your laces as Andrew Bain continues to lead us through Australia's four epic trails. Just try and keep up.
Click go the shears — and click go the cameras — in this stunning collection by Andrew Chapman focused on the shearing men and women of outback Australia.
Do you realise there are only 13 weekends in the whole of summer? From a vast swathe of AT reader entries, we've selected the 13 different weekends we'd most like to do in the months ahead.
We know you're going, you know you're going: it's our job to tell you what you didn't know: what's new and underrated in your Holdiay Mecca of choice.
My Best Holidays Ever
Stop guessing at what your kids want to do for your next big break. We've asked them for you, and from ages 2 to 16 they've responded in force, in their own words.
World Exclusive – Sacred Sights
Anangu Elders from Uluru have give AT exclusive access to publish some of the most secretive rock art in the world (restricted access, subscribe here).
Instant Expert: Queen of Culture
Become an instant expert on our nation's foremost metro and regional art galleries and the important and fascinating works you have to see (restricted access, subscribe here).
The Great Drives Of Australia
The greatest drives in Australia uncovered. We profile our 10 favourites.
Beaut Commutes
The drives that we often make, such as Sydney to Melbourne. Our tips on making those oft driven journeys that little bit more interesting.
We have matched 18 courses for every kind of Dad and the here is our pick.
This close to Christmas, most of the marquee destinations are booked solid. But adjust your search just a fraction and you'll find plenty of gems still available.
Islands in the Sun
We live on the world's largest island – but does that stop us from constructing fantasy getaways to the smaller ones dotted all along our coastline? Accept that there's a touch of the Gilligan in all of us, and consider these temperate isles for your summer holidays.
Best Christmas Holidays Ever
Getaways for couples, parents, singles, adrenalin junkies and the near terminally lazy – we've got it all, so that you can have it all. Australian Traveller invites you to choose your own adventure . . .

Rush Hour
For holidaymakers who aren't content unless their pulse climbs to more
than ten million beats per minute.
Single Minded
Holiday ideas for the footloose and fancy free who are out to find the footloose and fancy freer . . .

Child Free Zones
With twice the cash and none of the complications, couples are investing
big in the holidays of a lifetime.

Rugrats in Tow
Designing a holiday with the little ones is no picnic. We provide a selection that can't miss.
To fill your summer with places and pastimes that never even occurred to
you, we list ten Christmas destinations that are off the beaten track.
Think you can't afford a holiday this summer? You can. We bring you a selection of getaway options that cost less than staying at home.
For families, a holiday with the kids is just as important as a holiday from the kids. We help you plan and execute the best possible group getaway.
Let's Go Clubbing
Ten top kid's clubs from around the country to keep the little 'uns amused.

Fatal Attractions
When dream worlds turn to nightmares. A parent's-eye-view of theme parks.

Happy Holiday Dining
There's an art to eating out with the kids. Learn it or suffer the consequences.
Fun & Games
Forget "I Spy" . . . we've got a selection of road games for the 21st Century.

Star-Crossed On The Net
A perfect aid to your holiday research "homework", you still need to be wary of the accommodation info presented on the internet. We outline a few tips for you.
Looking for a close encounter of the marine kind? Sharks, dolphins, seals, whales… AT shows you which spots to avoid, when to dip the toe, and where it's safe to dive right in.
The BS behind B&Bs
If huge sections of the B&B industry survive and thrive on the ability to exert control over editorial – basically, to write their own reviews – how do you separate the cream from the crummy? It's all a matter of breaking the code.
See It Or Flee It
Towns, like takeaway joints, offer two choices for the traveller: drop in or drive through. Excluding the capitals, here's our top-ten list of prettiest spots – and ten ugliest blots – to be found around Australia.
Urggh – The Imperfect Ten
Here's a list of Aussie tourist sites for sore eyes (and noses, and ears) guaranteed to add some icky-yicky yuckness to any itinerary.
NSW (See ALL NSW Content)

Plungeworthy 
We present you with Sydney's 10 best coastal and harbour baths and pools.
Hotel Review – Sandholme Guesthouse
We argue the relative merits of a B&B versus a Guesthouse. And this one's a beauty.
Jervis Bay
AT presents a comprehensive guide to Jervis Bay, that summer paradise southeast of Sydney.

Just Another Hero
A story of the catastrophic fires in 2003 that turned the bush to ash, and inspired some courageous acts by volunteer fire fighter Greg Roberts.
Hotel Review – BannistersThe lure of a horizon pool, dramatic cliffs and A1 service is all anyone can ask for from a trip to the NSW south coast.
Mungo National Park. If you've never heard of it, it's time you did. One of the world's great wonders is in western NSW and hardly anybody knows about it

A Secret Even the Trees Won't Tell
Coastal Climbing – The Central Coast
The NSW Central Coast has struggled for its place in the sun. But that's all changing and there's an increasing number of hidden gems . . . 
Byron Bay – The Promised Land?
Prodigal son Craig Tansley returns to his town of birth to detail how locals feel about their beloved Byron, and reveals how travellers can find their Promised Land.
Byron Hinterland – The Other Promised Land
Looking for fufillment on a promise that Byron now struggles to deliver? Travel to Byron's hinterland for the new Promised Land.
Hotel Review – Smoky Cape Lodge
Resort Review – The Byron at Byron
A Multicultural Tourist In Sydney
How many distinct multicultural experiences could you sample in Sydney in the space of a single weekend? Take a closer look at the city one in five Australians call home and you'll realise the horizon is no longer where you think it is.
Woolloomooloo – with so many O's and L's, where better to have a hotel with a solitary W for a name?
Living Next Door To Johnny
Cheap digs with the Prime Minister just a block away.
Saving some bucks while seeing the sights of Sydney is music to the ears of most travellers. So here are ten ways to have a great day without blowing your pay.
NT 

(See ALL NT Content)
Uluru is a very special place, but you need to keep a few things in mind if you are taking the trip to Uluru. Australian Traveller lets you in on the secrets to have the "Perfect" Uluru experience.
Choosing A Guide
The quality of your guide can determine the quality of your Uluru experience. Australian Traveller road tests Discovery Ecotours Australia.
In Arnhem Land, where red dirt roads lead to sacred lands, Indigenous musicians such as the Nabarlek Band are creating songs capable of crossing cultures and intersecting lives.
Fischer's Secret Spot
Mt Sonder NT is one of Tim Fischer's Secret Spots – "You can not see the hand of man at all, just the weatherworn vastness of central Australia."
Singing Dingo – Alice Springs
At Jim's Place in the Northern Territory, the food's good but the singer's a bit of a howler.
Near the rock, Australia's most costly campsite is adding some Top End glamour to the red centre.
Hotel Review – The People's Palace
Living the rockstar life isn't just for rockstars these days. At Palazzo Versace, you can dial up true Italian extravagance any time you like.
We explore the natural wonderland that is Moreton Island. Summer is the ideal time for a visit . . . just watch out you don't get bogged.
The Insider's Noosa
If you can't beat 'em, join 'em. Don't run away from Noosa during tourist season . . . muck in, look around and discover there's plenty to enjoy just below the surface.
The Gold Coast is many things to many people – holiday playground, theme park nirvana, surfing utopia or crass, contrived and overdeveloped urban nightmare, depending on who you talk to. Long-term resident Tim Baker details the numerous and varied attractions of his adopted home. . .
PLUS
Gold Coast Accommodation Guide
North Stradbroke Island
If you'd like to see what the Gold Coast might once have been like, the good news is – you still can. An hour's drive and a 45-minute ferry ride from the Gold Coast delivers you to North Stradbroke Island, a dreamy trip back to the beach holidays of yesteryear.
Resort Review – Couran Cove
Tired – or wary – of the glitz and glamour of the Gold Coast? Happily, the eco-friendly option of couran cove on South Stradbroke Island is just a wallaby's hop away.
Coolangatta 1950s
Should anyone doubt that the Gold Coast is and always has been about the risqué, the somewhat saucy, the borderline salacious, this photo from the '50s is tendered in evidence.
The Resorts – Great at any price?
The Great Barrier Reef boasts some of Australia's most expensive, exclusive and enviable holiday resorts. But does high cost always ensure high quality? We savour some of the reef's richest resorts and pass a critical eye over life in paradise.
The Reef – Saving Nemo
The Great Barrier Reef is one of the most fragile ecosystems found on the planet. The good news is tourists may be securing its future.
The Rainforest – Revelling in Rainforest
Staying on dry land doesn't make you a drip in Tropical North Queensland. With the rainforests and open roads, there's loads of treasures – and the odd crass trap – to discover.
Vintage Port
Proceed with caution when booking your stay in Port Douglas. The old resorts are looking their age, but at least the location is as appealing as ever.
Cape York Peninsula may be alive with crocs, snakes and other dangerous animals, but it's also a classic destination for lovers of untouched wilderness, great fishing and camping, and the type of moments that make any travel story worth telling… 
Organically Adelaide
South Australia's sleepy seaside capital is fast becoming one of the world centres for organic travel tours.
Reader Story – Right in the Nose of the Barossa
The French have a saying to do with fingers and noses that may surprise you. Especially as it applies to South Australian wine, sheep dogs, and cycling in the Barossa.
You don't need to be a connoisseur to appreciate Australia's premier wine region. Tasting is great value but the valley's beauty goes far deeper than a skinful.
PLUS
A Fine Mixed Dozen
A review of the 12 best cellar doors of the Barossa.
Not for the faint hearted, this powerful landscape will impress whether you choose the easy way to explore or to wander off the beaten track.
Flinders Benders
The pubs of the southern Flinders are being a rejuvinated – AT samples some of the finest.
They bury blokes under beer kegs in Coober Pedy, where there are ample opals underground and plenty of 4WD flunkies from the cities above.
When the winter wind whips through Robe on the southern coast, it brings with it the spirits of the past and the fierce splendour of some wild, wild weather.
Unseen Tasmania
Former Parks and Wildlife officer Steve Robertson delves into those hidden parts of Tasmania most strongly protected by its denizens, and reveals six secret locations that are well off the tourist trail.
Essentially Hobart
What to see, where to go, even how to dress for your next unforgettable visit to the apple of the eye of the Apple Isle.
Hotel Review – Henry Jones Art Hotel
Fischer's Secret Spot  – Montezuma Falls 
Tim Fischer finds time to enjoy one of the Apple Isles most idyllic locations. 
Good Taste in Victoria
The Alpine valleys and river-fed fields of Victoria's northeast are home to Australia's first gourmet region. And the edible attractions just keep on growing.
Melbourne Trainspotting (Minus the Trains)
If you think you know Melbourne like the back of your hand, here's a different tack that allows for a whole new level of intimacy.
Let them eat cake, let them do it each September, and let the entries pour in from far and wide: it's annual Vanilla Slice Day in northwestern Victoria.
An unofficial Gangland Murders of Melbourne Tour struggled briefly for life in 2004, before meeting an untimely – and unpopular – end. For better or worse, we found someone who was willing to retrace the tour's steps for us . . .
The almost completed Great Ocean Walk will take you closer to the bottom of Australia than you can get by car.
Hotel Review – Melbourne Park Hyatt
Which one does it for you – Melbourne's five star Park Hyatt, or the city's heartless heart, Crown Casino?
Shopping Showdown – Is Melbourne Still Our Shopping Mecca?
Sydney's retail assets are brazenly displayed, but in Melbourne the finest gems are often hiddden. Use this guide to get the best of both cities.
Head To Head – Sydney Vs Melbourne Shopping Face Off
AT compares shopping lists and decides who has the goods.
Snowshoe Shuffle
Booker Prize winning author Thomas Keneally shares his passion for cross-country skiing the Victorian Alps.
Lorne On The Quiet
In the off seasoin, there's no better time to enjoy the quirkiness of this lovely region's undisputed queen, the Grand Pacific Hotel.
Chocoholics
If your interest in all things cocoa is bordering on OCD, then Melbourne has the tour for you.
What's The Score, Melbourne?
Melbourne plays itself up as Australia's sporting capital. We sent a writer on a marathon weekend mission to find out if it's truly a winner.
Melbourne Film Festival – A Reel Good Time
Movie buffs are heading to Melbourne, where the annual film festival is always a smash hit.
Escape To Esperance
The port town on WA's far southern shore is a haven for crystal clear waters, chance encounters with native wildlife, and empty beaches as far as the eye can see.
Hotel Review – Medina Perth
Perth local Jacqueline Perry-Strickland goes day tripping through the nearby idyll of the Swan Valley, WA's oldest wine-growing region.
Travis Cranley gets an eagle's eye view of a pod of watery behemoths on their way down WA's southwest coast.
Rottnest Island – The Simple Life
For Perth's population, Rottnest Island is Nirvana a 30-minute ferry ride away. Its a traveller's paradise if you know how.
Good news, everyone: the extensive Bibbulmun Track can be done the civilised way, with a spa, fresh linen, chilled Margaret River wine and a driver waiting at the end of each day's walk.
Next Stop – The Margaret River Wine Region Festival Nov 17 – 20
Resort Review – Cape Lodge, Margaret River
Cape Lodge, boutique hotel and vineyard, represents about as rich and full an experience as can be had in WA's expansive Margaret River wine region. But even the finest wines can be something of an acquired taste.
Go Wild In The West
Boating The Buccaneers
Cruising the wild and remote Buccaneer Archipelego reveals the Kimberleys' great beauty.
Cyclone Kim
Fishing through the eye of a cyclone.
The Captivating Kimberley
Landscape photographer Grenville Turner captures the spectacular colours of the Kimberleys.
Tim Fischer's Secret Spots – Mt Bruce
Mount Bruce sounds like the archetypal Aussie mountain and it's as good a place as any to breathe in the rare beauty of this vast land.
In the hills of Perth, a pizza perfectionist is dishing up the world's best doughy dinners and desserts.
Dapin's Diary
Across the Nullarbor.
Australian Territories
Christmas Island – Our Galapagos
A rugged, remote natural wonder on the outer rim of Australia's Indian Ocean territory, Christmas Island is perfect for travellers who want to be way off the beaten track.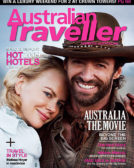 Enjoy this article?
You can find it in Issue 24 along with
loads of other great stories and tips.