As a wheelie traveller, the architecture and design of accommodation and public spaces is of particular interest to me. Poor architectural and design decisions can present challenges that often make travel uncomfortable, unpleasant and downright unenjoyable for wheelies. So I was delighted to learn that in the 2012 Queen's birthday honours list, Harry Sprintz, an Australian architect, was awarded the Medal of the Order of Australia (OAM) for his "services to architecture, particularly in the field of disability access". In addition, Harry was inducted into the Australian Design Hall of Fame by the Design Institute of Australia, also in recognition of his career-long contribution to interior architecture and access design.
I first discovered Harry's work online a number of years ago when my husband and I realised that we were going to have to renovate our house in order for me to continue living in it. When I could no longer function without a wheelchair, it quickly became apparent that I could not function in our home with one! All the doorways and hallways were too narrow, the kitchen and en-suite were too cluttered and the few little steps meant that I was unable to get outside at all.
I had heard the term "universal design" before and thought the concept made perfect sense: design all architecture with the idea that it will be universally accessible for all. It would mean no steps, wider doorways and hallways and provision for other modifications from the very beginning. If all housing was created this way, it would mean that you could stay in your family home even if you became disabled. Similarly, elderly people would not be forced to leave their homes prematurely in the event that they required wheelchairs, mobility devices or other adaptations.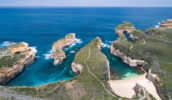 During my online research, I chanced across a web site detailing one couple's experience as they employed the principles of universal design to build an accessible home. The home was to incorporate a self-contained apartment that they could offer for holiday letting in Merimbula on the Sapphire Coast of New South Wales and Harry Sprintz was employed as the architect. Within days, I had received replies to my emails and soon after, Harry was working on plans to make our home wheelchair-friendly.
Fortunately for wheelies everywhere, Harry has published a marvellous book called House Adaptation which provides "Practical guidelines for informed choices in adapting a family home for 'accessible living and a home for life'". I believe that this is essential reading for anyone undertaking renovations, wheelchair or not! If you are going to spend money renovating anyway, why not make some universal design decisions that mean if you or any of your extended family or friends ever become disabled, your home is already set up to accommodate them?
I believe that Harry's book should be required reading for every single outfit purporting to provide wheelchair-friendly accommodation too. On my travels, it has become quite obvious to me that the majority of providers are woefully ignorant of the needs of their clients in wheelchairs and the principles of universal design in general.
The Details
Harry's book is available for purchase from www.houseadaptation.com.au
Watch out for my future review of "Bimbadeen", the self-contained holiday apartment in Merimbula designed by Harry Sprintz.