The constantly travelling AT team discusses the places we went and the things we did that made the biggest impression over the last 12 months.
MY PICKS:   NIGEL HERBERT,  DIRECTOR
BEST AFFORDABLE HIGH-END HOLIDAY DESTINATION
The Elandra, Mission Beach, Qld.
I can't go past the Elandra on Mission Beach. I am going to combine my best high-end sand best affordable holiday destination in one here. I was there in September and was blown away by the Elandra. It's not a big resort, but the pool is to die
for and it's such a pleasant place to relax without that impersonal big resort feel.
Contact:
(07) 4068 8154; www.elandraresorts.com
BEST BOUTIQUE HOTEL
Jonahs at Whale Beach, NSW.
It's expensive, but worth it if you're looking for a special weekend away. If you work for the CBA (or don't have a mortgage with them) arrive by seaplane from Rose Bay to make one hell of an entrance.
Contact:
(02) 9974 5599; www.jonahs.com.au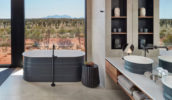 BEST CITY HOTEL
The Emporium, Brisbane.
You just can't go past The Emporium Hotel. It's bold, fashionable and regrettably expensive. If you can get a room at a reasonable rate, jump at it.
Contact:
(07) 3253 6999; emporiumhotel.com.au
BEST TOURISM EXPERIENCE
Harry Nanya Tours at Mungo National Park.
It's an incredible place, but only truly appreciated if you take Graeme Clarke's tour.
Contact:
(03) 5027 3697.
BEST RESTAURANT
Longrain, Sydney.
There's a plethora of fine dining around, but if you want a really great meal that's a little less formal my pick would be Longrain. The place is very New York, with an excellent cocktail bar and cavernous converted warehouse feel. It's fashionable. but not
too fashionable. The dining is at communal tables, but don't let that put you off. The food is consistently excellent. The wait staff is immensely knowledgable, and the price very reasonable for great Sydney dining.
Contact:
(02) 9280 2888; longrain.com.