Megan Arkinstall crashes the boy's rev-head club to see what travelling around the countryside in a $130,000 shiny-new Jaguar F Type convertible is like.
Sweat is beading up in the creases of my palms. My knuckles are white. My legs are tense. My breath has stopped.
We are passing beautiful countryside. Sheep, horses, cattle grazing in the distance. The wind is blowing in my hair and the sun is shining on my face. But all I'm focused on is the road – the winding, narrow, country road. I'm sure that the recommended speed sign said 45, but it seemed to just blur past me.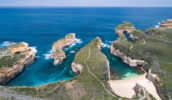 I'm the first to admit, I can be a little wimpy at times. But I'm honestly shaking in my boots, yet my driver is as cool as a cucumber.
I am on a test drive of a new car, which may sound fairly ordinary to you – except this car is a convertible Jaguar F Type sports car and my driver is a very enthused rev-head-journo. I am clearly not.
Don't get me wrong, the car itself is a stunner. And I do enjoy a sexy car. But the acceleration is terrifying compared with my limited Kia Rio experience.
I was slightly hesitant when asked to partake in this event. Firstly, I'm not a car journo. Secondly, I'm a little bit of a wuss when it comes to speed (couldn't you tell?). But driving flashy cars is just as important to travellers as it is to car enthusiasts, right? We have to get from A to B – so why not in style.
At the start of this event, I thought I had crashed Boy's Club. But a late-coming female member of the group put me at ease, until it's later revealed she is said rev-head-journo.
But at the briefing the Jaguar guys ensured us that this test drive was all about having a bit of fun; driving at your own limit and exploring what the car can do – at your own pace.
Pity we have the tortoise and the hare sharing a car today. I must say, although she caused my heart to skip several beats, she does get us to our destination in prompt time and I do admire her guts and driving ability.
Jaguar's new F Type is the first true sports car that has been built by Jaguar in 40 years, and it has really pulled out the big guns. There are three types: the V6, S and V8 S. We start out with the V6.
First impressions? The body is short, wide and low, giving it agility as well as stability – so gaining speed is not (so) scary. The all-important convertible roof can be retracted at speeds of up to 50 kilometres an hour, but it looks great closed as well. The door handles and spoiler sit flush (and have to be "deployed"), creating a very sleek look.
The interior features divine leather, and an array of hi-tech controls – dual zone climate control, an eight-inch touch screen controlling the in-built navigation, infotainment and audio, and the sportshift selector which aims to enhance the car's performance even more.
One such feature here is the 'Dynamic Launch Mode', which is supposed to "deliver optimum acceleration from zero to 100 km/h". I don't touch it, in fear I will be ejected out of my seat at any moment.
But, the most important part – the effortless high performance from the engine. The V6 takes off from 0-100 km/h in 5.3 seconds with a top speed of 250 km/h. And although the lead-in engine of the series, it still sounds incredible powerful. The S and V8 S (which gets to 100km/h in 4.3 seconds) come with an active sports exhaust to allow for more dramatic sounds, and boy did they sound fierce as the convoy drove through Sydney's Lane Cove Tunnel that morning. We certainly turned a few heads.
After the freeway convoy, and the countryside rally, we arrive at a private track to test out all three types of the series with a professional driver. My hands are a little shaky – I'm prepared to be overtaken by the boys – but two laps around the track and I'm starting to get the hang of the speed and building my trust in the car.
In fact, I've probably never felt more in control driving a car. The drive is smooth, it handles corners exceptionally well and the speed, oh the speed, eventually comes with ease.
I get up to 140 km/h on the straight and up to 80 km/h on some bends (solid for a beginner, no?). Although by this point I have only experienced a smidgen of what the car can actually do, until a hot lap with our professional driver. We reach 180 kilometres on the straight and I exit the car with a slightly squeamish stomach.
But also a need for speed – and a cool $130+K to replace my Rio.