There are many remarkable things about Uluru, the huge monolith 465km southwest of Alice Springs in Australia's Red Centre.
But perhaps the most remarkable is how few Aussies have ever visited it. Maybe because it's a long way to go from most population centres and people think there's little to do once you get there. Think again. A trip to Uluru (Ayers Rock), and the neighbouring Kata Tjuta (the Olgas), represents one of the world's most memorable walking holidays. Firstly, there's the opportunity to walk around the rock (some 9.4km – our tip: start early in the day), which is possibly the oldest walking track on the planet. This walk showcases why Uluru has been given World Heritage status, for both ecological and cultural reasons.
Many also decide to ignore the wishes of the Anangu people and climb the rock, which rises 348m above the surrounding countryside. Guided tours enable visitors to grasp the ancestral creation theories offered by the traditional owners, and the scientific model or "erosion over millions of years" put forward by western science.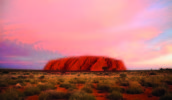 "To get the best out of this world icon, don't just fly straight into nearby Yulara. The longer the drive to get there, the more remarkable it is."
– David Whitley
Make no mistake: close up, Uluru is powerful, awe-inspiring and intimidating. From a distance, Uluru famously changes colour, anything from blue or violet to glowing red. There are numerous places to watch the sun rise or set over this remarkable pebble (a term coined by explorer Ernest Giles in 1872). You'll typically be standing on a rise, surrounded by lush vegetation and the famous red earth of the Red Centre.
The Olgas provide further excellent walking opportunities, and the night sky at Uluru, undimmed by the lights of civilisation, is spectacular nearly every evening. Various "dinner in the desert" options are available, some with guided astronomy tours.
Quite apart from on foot, there are various options to see Uluru from the air, but the cheapest way to do this is to insist on a window seat when flying in to Alice.
Did you know?
Only a small portion of Uluru is on the surface. The rock, which is made of arkose (a course-grained sandstone) is at least 2.5km thick. Some report a light source emanating from it at various times of the year. Most likely this can be explained scientifically, but the ancestral owners believe there's a hollow below ground which houses an energy source they call "Tjukurpa", or the Dreamtime.
How to get there
You can fly direct to Ayers Rock Airport daily from Perth, Sydney, Cairns and Alice Springs, plus, four times a week from Melbourne. Or you can fly into Alice Springs and drive to Uluru, but plan to take your time to make this drive – it is a long way.
Best time to go
It is obviously very hot during the summer months. Check out the websites below for temperatures during the year.
Further information
Useful websites:
www.deh.gov.au/parks/uluru/
The Department of the Environment and Heritage site for Uluru – Kata Tjuta National Park. Must-visit site before you visit!
www.ayersrockresort.com.au
Accommodation site for Yulara, the resort facing Uluru.
** This is our original 100 Things to Do Before You Die. First published in 1996. There is an updated 100 Things To Do In Australia Before you die, published in 2011.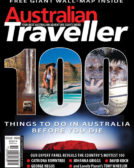 Enjoy this article?
You can find it in Issue 8 along with
loads of other great stories and tips.