Byron bay is more than just the town itself. The hinterland towns surrounding it are an important part of the Byron Bay experience.
Still looking to fulfil a promise Byron Bay finds it increasingly difficult to deliver? It's out there, all right. You just have to head for the hills.
"The hinterland" . . . it's always been there. But only in relatively recent times has the term been so universally bandied about. By definition, land starts hintering immediately inland from any urban coastal area. While the word also refers to godforsaken areas in the middle of absolutely nowhere, there's something about this pretty H-word that specifically alludes to that lush valley just inland from the NSW North Coast.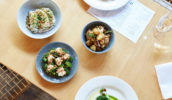 Of all the hinterlands, the most notorious by far would be those that sprawl immediately westward from Australia's most easterly point – Byron Bay. In the 1970s, alternative lifestylers defiantly set up camp here (most famously in the township of Nimbin), which gave the surrounding area a certain cachet or cringe-factor – depending on your particular worldview. Then, in the mid-'80s, something bizarre happened. A-list celebrities started moving in – most notably, Hoges and Strop. Hinterlands became cool, and Byron's was undoubtedly the hippest.
The thing that makes Byron's hinterland extra special is the Byron Shire Council itself; with its myopic green focus and extraordinary resistance to high-rise development and "Big C" Consumerism, they've managed to carve out their own niche tourism market without selling out completely.If hinterlands have become the refuge of the GUMBOOT (Given Up Metro, Bought Out Of Town), and if Byron Bay represents the nearest Big Smoke, then the Byron hinterland must surely be the new Promised Land. Yessiree Bob, the ultimate escape – from the Ultimate Escape – is a mere 20-minute drive from that big, white pointy thing with the light on top.

BIGGEST SMALL TOWN IN AUSTRALIA
A short hop-step-and-a-jump from Byron's beaches lie picturesque valleys, tropical rainforests and the kind of rich, bucolic splendour that only a tropical climate can produce. Originally completely covered in rainforest, the area was settled as a timber town almost 120 years ago. These days it's also covered in farms and orchards. Name a fruit, veggie or medicinal plant and it's farmed here. Did I mention the macadamias? This place has gone nuts.
Driving around, it's difficult to escape the thought that the word hinterland may actually have derived from the fact that those neat rows of fluffy, dark green macadamia bushes occasionally suggest just a hint of the patchwork vistas that characterise the European countryside.
The gentle rollercoaster ride that is the Pacific Highway constantly invites you to take one of several turnoffs between Ballina and Murwillumbah, where old-world charm patiently waits to whack you over the head with its quaintness. When it comes to the multitude of tiny towns that dot the Pacific Highway, there are definitely two adjectives that spring to mind. There's old . . . and then there's historic. This region is most definitely the latter, but with a decidedly new-age, salubrious bent. Visitors may come to the coastal hot spots to surf and to party, but they head to these hills to relax, commune with nature and even to heal. Rainforest resorts and B&Bs are tucked away discretely in just about every curiously named town – Bangalow, Billinudgel, Goonengerry, Coorabel, Mooball and O Possum Creek (where Hoges built his Spanish-style mansion) to name a few. Arguably the quaintest and most curiously named of them all is Mullumbimby.

HUMBLE MULLUM
Mullumbimby is presided over by Mt Chincogan, a rather pointy peak that sits uncannily dead ahead, seemingly at road's end, as you drive down the straight and narrow Mullumbimby Road. While they've placed a welcoming sign that proclaims Mullumbimby to be "The Biggest Small Town In Australia", it's the enticing, perky peak of Mt Chincogan that pulls you in like a magnet, beckoning visitors into the spiritual bosom of the area. Mullumbimby is believed to have been named by the Bundjalung people, with the name meaning "small, round hill." Perhaps the person responsible for naming it had his or her mouth full at the time. Anyway, the locals now refer to it simply as "Mullum."
What sets Mullum apart from the other smaller towns around Byron is that, while it's small and quiet, it doesn't lack for all the conveniences. With two supermarkets, two pubs and loads of cafes, restaurants and healthy food outlets, Mullum is self-sufficient in a way the other little towns can only hope to be. Got something ailing you? They have more than their fair share of health care professionals – natural therapies of course. Name an obscure and exotic treatment and you can get it here. And, naturally, the barbeque chooks at the local takeaway are of the big, healthy (except for being dead), free-range variety.
Locals remark about the town being diffused with healing, feminine energy: nestled on the valley's flat belly under the conical peak of Mt Chincogan and surrounded by voluptuous hills, it's easy to see why. Even the newly built Byron Shire Council headquarters, which sit at the end of the main street, seem to resemble a giant breast, complete with a nipple on top. Considering the phallic Byron Bay lighthouse and the pounding surf of the coast, Mullumbimby is definitely the yin to Byron Bay's thrusting yang. Had far northern NSW been designed by a Feng Shui consultant, doubtless the kitchen would've been stuck in Mullumbimby . . . with perhaps the bed on the Cape Byron headland.
If living life in the fast lane is getting you down, an extended stay in humble Mullum (trying saying say that three times fast) could be just what the naturopath ordered. But if all the peaceful, healthy serenity starts to make you sick, don't panic – you're 20 minutes from the cultural centre of Lismore and just over an hour's drive from the infamous war of the theme park Worlds.
Although if you ask me, given its location, the biggest small town in Australia has the best of all possible worlds. Little wonder, then, that many artistic and fertile minds have made this spot their home; an inspirational place, the Byron hinterland has much to offer the thinking traveller.
DETAILS: MULLUMBIMBY
Best months to go:
July-September
Most underrated aspect:
Local hospitality
Most overrated aspect:
Hippies and dropouts are being outnumbered by health professionals and artists – so much for the Age of Aquarius
Be prepared for:
Trying a new health regime
Watch out for:
Slow-moving pedestrians
Best value encountered:
Byron Bay Echo – a free local paper that's actually a very entertaining read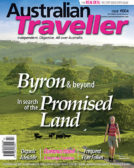 Enjoy this article?
You can find it in Issue 4 along with
loads of other great stories and tips.