Outback NT: The Explorer's Way
February 29, 2012
Follow the path of John McDouall Sturt, the first explorer to traverse the continent in 1862.
Adelaide to Coober Pedy (688km)
Set off through SA's winegrowing regions to Coober Pedy, just south of the NT border. Once you're there, head underground out of the heat and fossick about at the Umoona Opal Mine. Stay underground at the Comfort Inn.
umoonaopalmine.com.au; cooberpedyexperience.com.au
Coober Pedy to Alice Springs (690km)
Over the NT border, take a detour to the east at Cadney Park and see the Painted Desert (allow at least three hours). Consider also detouring to Uluru-Kata Tjuta National Park and/or Kings Canyon via the Red Centre Way tourist drive. Stay the night at Crowne Plaza Alice Springs. environment.gov.au/parks/uluru; crowneplaza.com
Alice Springs to Wycliffe Well (375km)
Visit Alice Springs School of the Air and hear a distance-education school lesson broadcast to students in remote areas, then stop off at Ti Tree and sample sparkling mango wine produced in The Outback. Along the way to Wycliffe Well, keep an eye on the sky as well as the road, as it's said to be Australia's UFO capital. Spend the night at BIG4 Wycliffe Well Holiday Park, which offers accommodation ranging from campsites to cabins.  assoa.nt.edu.au; redcentrefarm.com; wycliffe.com.au
Wycliffe Well to Tennant Creek (130km)
Visit Devils Marbles (Karlu Karlu), which are balanced piles of huge round boulders believed by Aboriginal people to be the eggs of the Rainbow Serpent (explained at the Nyinkka Nyunyu Culture Centre). Explore Tennant Creek, the site of Australia's last major gold rush in the 1930s, then cool off with a dip in nearby Mary Ann Dam. Stay at Desert Sands Motel. nyinkkanyunyu.com.au
Tennant Creek to Daly Waters (400km)
Explore the scenic Elliott and Newcastle Waters Discovery Trail, a network of roads (some are 4WD only) branching off the main highway to huge cattle stations, outback pubs and landmarks of World War II. Spend the night at the historic Daly Waters pub, adorned with all kinds of memorabilia from football jerseys to bras, and offering a range of budget accommodation. dalywaterspub.com
Daly Waters to Mataranka (165km)
Visit the Larrimah Museum for a peek at the area's World War II heritage, then cool off with a drink at the historic Larrimah Wayside Inn. Continue to Mataranka for a dip in the thermal springs, before setting up camp in Elsey National Park.
Mataranka to Katherine (105km)
Stop off for a canoe or boat cruise down Katherine Gorge in Nitmiluk National Park.
Afterwards, visit Springvale Homestead a short drive away, built from sandstone by explorer and pastoralist Alfred Giles in 1878. You can also stay the night here. nitmiluktours.com.au/tours
Katherine to Lake Bennett (260km)
Branch off the Explorer's Way at Pine Creek to Nature's Way Tourist Drive into Kakadu National Park. There you can explore the historic World War II township of Adelaide River. Spend the night at Lake Bennett Resort.
adelaideriver.com.au; lakebennettresort.com.au
Litchfield to Darwin (130km)
Visit Litchfield National Park and see stunning waterfalls and great termite mounds – and swim safely (ie, not in fear of saltwater crocs) in clear swimming holes. Continue following the Explorer's Way right into the heart of Darwin and see the first glimpse of the Timor Sea. nt.gov.au/nreta/parks/find/litchfield.html
AUTHOR
COMMENTS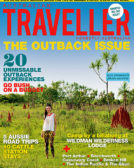 BUY THE ISSUE
This article appeared in Issue 43 of Australian Traveller.
The 2012 Outback Edition
* The 20 Unmissable Outback Experiences
* 10 Cattle STation Stays
* The Best Of The Outback
* The Indian Pacific Train journey
* 5 Ultimate Aussie Outback Road Trips
* Ken Duncans Guide To Shooting The Outback
Plus
The Darling And Outrigger Noosa reviewed
Port Arthur, Beechworth, Cassowary Coast. Wildman Lodge

BUY THIS ISSUE