The best of Gourmet travel in the ACT
Memorials, museums and politicians' haunts get the lion's share of the national capital's attention. This is no longer a fair go.
With four distinct seasons, bushland and paddocks stretching in all directions and an altitude range of nearly 900m down to 600m, the variety of Canberra's soils and slopes offers a challenge to winemakers. Happily, that challenge has been met. There are more than 140 vineyards around Canberra with 35 cellar doors open for wine fanciers, many of which also sell locally made olive oils, jams, preserves and condiments.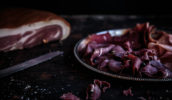 Lodgings have expanded to include deluxe countrified guesthouses, and cafes and restaurants are serving top-notch tucker with commensurate levels of table service. For anyone who hasn't been to Canberra in the last five years or so, a visit is heartily recommended.
Wineries
Canberra's wineries are spread out east from the city centre to Bungendore and north to Murrumbateman, with a few closer to town and some nestled into the slope bordering the ever-mysterious Lake George. It's best to divide your visits; spend at least a day in and around Bungendore – same for Murrumbateman. This will reduce driving time and allow for a relaxing lunch and shopping. Check opening hours for all wineries, as some require an appointment.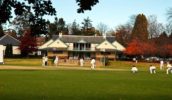 Clonakilla Winery
Crisps Lane, Murrumbateman
(02) 6227 5877, www.clonakilla.com.au
Tim Kirk is one of Canberra's gifted-with-the-grape geniuses. What he can do with Shiraz and Viognier verges on alchemy. Clonakilla slays them at the wine shows when it enters. Tim's cellar door is charmingly rustic, much like the man himself. Like so much of Canberra's terrain, the vineyard appears weathered, old and hunkered down. Shiraz loves it. The wines are pure cool climate, spicy and incredibly complex.
Madew Wines and grapefoodwine
Westering Federal Highway, Lake George
(02) 4848 0165,
David Madew loves his whites. No doubt you will, too. (I certainly do.) Chardonnay, Riesling and Pinot Gris dominate the Madew range; rightly so, as they're all so bloody good. Madew Estate has a lovely, airy cellar door perched on the slope overlooking the vineyards and the distant and nearly always dry Lake George. grapefoodwine is the winery's excellent restaurant adjoining the tasting bar. It's well worth combining a tasting visit with an eating visit. Certainly the wines taste even better when they're paired so winningly with the food.
Helm Wines
Butts Road, Murrumbateman
(02) 6227 5953, www.helmwines.com.au
Ken and Judith Helm are local heroes, having owned and operated their eponymous winery since 1973, one of the oldest in the district.
Ken makes a standout Riesling, Chardonnay and Cabernet Sauvignon. The Riesling is ethereal, seductive and lifts itself from the glass like a ballerina on point, all grace and beauty. The cellar door, formerly the local schoolhouse, is a pure delight. Check out former school mistress Miss Minnie May Young's photo near the door. She taught from 1897 until 1904 and ran temperance classes where you now sample Helm wines. Further irony: she married an Armstrong who didn't drink and later became former National Party leader Ian Armstrong's great aunt.
Mount Majura Vineyard
RMB 314 Majura Road, Majura
(02) 6262 3070, www.mountmajura.com.au
On the outskirts of Canberra at the foot of Mt Majura, the spanking new cellar door houses an evolving contemporary art gallery space. Very funky. Winemaker Frank van der Loo is doing wonderful things with Majura's Shiraz, Chardonnay, Riesling, Pinot Gris and Tempranillo. The Dinny's Blend, a Cabernet Franc dominant house blend, is also a little ripper. The Tempranillo is certainly one of the best Australian-made I've tasted. Frank also makes a Riesling-based Vino Cotto that's a gift to any enterprising cook.
Lark Hill Winery
521 Bungendore Road, Bungendore
(02) 6238 1393, www.larkhillwine.com.au
Owner/winemaker family, Dave, Sue and Chris Carpenter comprise a biodynamic trio. The district's highest vineyard; the scenery from 860m up is beautiful and wildlife abounds. The wines are dead-set excellent, yields are low and the vines suffer for their success. Benchmark Pinot Noir, Riesling and Chardonnay set the standard for the Canberra wine community. Qantas has both Lark Hill Chardonnay and Pinot Noir on offer in its Business Class. Unmissable.
Tip: Guides really do help. Karen Goldspink, wine educator and local know-it-all, conducts "Days of Delight" winery tours for small groups. 
(02) 6260 7773, select@smallwineries.com.au.
Eating
Canberra's foodie scene has developed to such an extent that I could fill this space just with noshing, imbibing, cooking and grazing options. Here's my edited selection of some of the best.
Fyshwick Markets
Dalby and Mildura Streets, Fyshwick
Thursday to Sunday every week
Canberra's main fresh food market, open for retail as well as wholesale. Check out what the restaurateurs are buying. Talk to the purveyors to ascertain the best on offer. Check out The Mart for the Canberra deli to beat all other delis.
Silo Bakery
36 Giles Street, Kingston (02) 6260 6060
This cafe/bakery does the best bread in Canberra. It also offers some of the best lunch options anywhere. The walk-in cheese room is full of what can't be bought elsewhere in town. Stock up now and don't forget the fruit pastries.
Country Guesthouse Schonegg
381 Hillview Drive, Murrumbateman
(02) 6227 0344, www.schonegg.com.au
A rare gem. Though the Schonegg has only two suites at the time of print, four more will open before Christmas. Owner/operators Richard and Evelyn Everson have a wealth of experience and talent in hospitality. It certainly shows in their seemingly effortless ability to make guests feel welcome and looked after. Richard is a chef of outstanding talent.
Dinners and breakfasts are included in the overall tariff; don't miss them under any circumstance. Evelyn is a dab hand with pastries and cakes and as the major-domo she rules with utter grace and warmth. The two suites have garden, paddock and lake views and are totally private. One has a spa for two that offers the same views to the countryside (where no-one can spy on you either), the other is fully equipped for disabled guests.
Benchmark Wine Bar
65 Northbourne Avenue, Civic (02) 6262 6522
Canberra's best wine bar. The choice of wines is breathtaking. Opt for a flight to sample three related wines at once, pausing to compare and contrast. Dining is certainly wine focused but the food usually matches the pace set by the high standard of the array of wines for sale.
Grazing Restaurant and Cafe
The Royal Hotel, Cnr Cork and Harp Streets, Gundaroo (02) 6236 8777
Definitely one of Australia's finest country restaurants. The food is home-hearty but refined. Flavours are distinctly delineated; nothing too jumbled or confused.
A country terrine arrives warm and sautéed rather than cold and congealed. The housemade savoury tomato relish that accompanies it contrasts nicely against the unctuous fattiness in the terrine. A Guinness, beef and mushroom pie with mash would normally feed a football team. Here it more than feeds one without leaving a bulge around the midriff, its flavours being more important than mere bulk. A quince and vanilla custard tart with sour cream ice-cream left me speechless with delight.
The wine list comprises solely Canberra District wines. This is not only a Canberra treasure; it's a national treasure.
Flavours Culinary Centre 
Fyshwick Fresh Food Markets
(02) 6295 7722,
With cooking demonstrations, cooking classes, wine themed dinners, gourmet products and displays, the Culinary Centre provides for both the hungry-for-knowledge and the just plain hungry. Check its website before visiting and book into a cooking class or dinner. The training, the chef's consummate expertise with which the training is conducted and the quality of the food and wines included are above reproach. For me, this venue proved that Canberra has lifted its game to another gourmet level.
The Ginger Room 
Old Parliament House, King George Terrace (02) 6270 8262
Stood out for me for its glimpse of Canberra's past. The restaurant occupies one of the member's dining rooms. After the room was stripped of layers of paint, smoke stain and dirt it revealed wonderfully painted wall panels of ginger flowers. The room now reeks with an undeniable style of its own. An adjoining cocktail bar open on Friday nights is well worth a pre-dinner drink or three. Chef Janet Jeffs' food is her take on French/Vietnamese flavours and the wine list is more than adequate.
Poachers Pantry Smokehouse Cafe and Wily Trout Vineyard
"Marakei", Nanima Road, Hall (02) 6230 2487
What a lovely place this is! The 1930s era weatherboard farm cottage graciously restored into a cafe restaurant and tasting room is unique. Certainly the smoked meats on sale and for tasting are like none elsewhere. Smoked chicken, quail, duck, lamb, pork, emu and kangaroo present more choice than even the most dedicated smoked meats fan can narrow down to a couple of favourites. The kangaroo prosciutto is so succulent it melts in the mouth.
The smoked duck breast floats my boat any day. Try the Wily Trout wines while at Poachers, mix or match them with the smoked meats. Even better, eat at the cafe and see what the resident chefs do with this superb produce.
Tip: Book early. These venues are very popular with the in crowd, so ring ahead or be prepared to wait. The markets are at their best either very early or very late when the "specials" are available for a bargain price.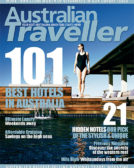 Enjoy this article?
You can find it in Issue 9 along with
loads of other great stories and tips.