A swag of new hotels is opening about town, and they're not your average three-stars. Each development comes complete with its own 'scene' – bars, bakeries, hair salons, art galleries and so on – so checking in is like plugging into a local neighbourhood. Leigh Ann Pow's favourites:
1. East Hotel
You know someone's given East Hotel thought as soon as you enter the homely lobby: a bank of clean white Apple Macs are at the ready, magazine racks invite browsing, jars of old-style lollies wait to be raided by mini guests – and businessmen reconnecting with their childhood – and the whole scene is watched over by a huge black and white photographic artwork of two cheeky little chaps (owner Dan's sons). Families with young kids should ask for the Kids' Cubby, which is kitted out with bunk beds, Xbox console, art supplies and building blocks, and a personal stash of M&Ms and Mars Bars in the fridge. And the grown ups can sit back on the retro armchair and footstool and enjoy the generous living room, fully stocked kitchen, a petite balcony and luxe bathroom complete with Appelles products, all rendered in shades of deep grey and inky black. 69 Canberra Avenue, Kingston; 02 6295 6925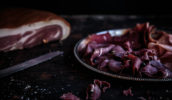 2. Hotel Realm
Part of a larger development that also includes three restaurants, a sweet wholefoods café called Maple + Clove (which offers a runners' group and seasonal yoga classes), a health club, offices, a hair salon, Hotel Realm is the sister hotel to the more corporate Burbury Hotel. The first of this 'community' hotel style to land in Canberra, it won the Australian Hotel Awards' Best Deluxe Hotel in 2012. 18 National Circuit, Barton; 02 6163 1800.
3. Hotel Hotel
A smaller hotel, which occupies just three storeys of the frankly gorgeous Nishi building. For the complete lowdown on Hotel Hotel see our review. 25 Edinburgh Avenue, NewActon; 02 6287 6287.
4. QT Hotel
QT Canberra's official launch date was only 3 April. Set in NewActon, they're promise 'secret rooms, private hideaways and secluded spaces' in a theatrical, design-heavy space with a 200-seat restaurant.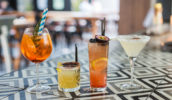 MORE: 
Hungry: Top 5 places to brunch in Canberra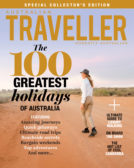 Enjoy this article?
You can find it in Issue 56 along with
loads of other great stories and tips.