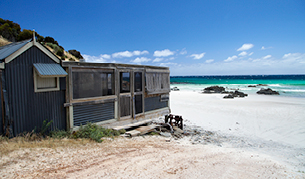 #3: Idyllic island – Kangaroo Island, South Australia "Kangaroo Island is nature's paradise, a zoo without fences, and the best place in Australia to see nature in its natural habitat! We have stunning scenery, rugged coastlines and a surprise around every corner. And we're also fast becoming known as a hot spot for foodies, with wineries, a gin distillery, breweries, sheep dairies, amazing oysters and seafood, and great places to eat it all." So says Kangaroo Island Odyssey guide, Nikki Redman; Kangaroo Island Odysseys
Read More
Collapse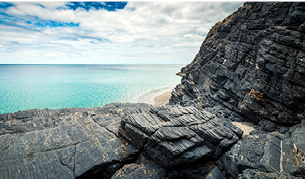 #3: Top secret spot – Second Valley, South Australia Where? An hour's drive from Adelaide on the Fleurieu Peninsula. What? Calling Second Valley sleepy is actually a compliment: it is so unaffected and basic in its accommodation offering – the caravan park is your best bet – that it leaves you with nothing better to do than simply take in the breathtaking beauty of the surroundings. Why? Contrasted against the blue water and sky the unusual rock formations are the stuff that Instagram likes are made of.
Read More
Collapse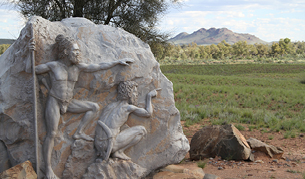 #4: Camping spot – Iga Warta, Northern Flinders Ranges, South Australia Drive a couple of hours north of Wilpena Pound and you'll find a place where you can gain an understanding of this region's traditional people, the Adnyamathanha. Set among the mountains of South Australia's Northern Flinders Ranges, Adnyamathanha guides from Iga Warta camp run tours to rock art sites, give lessons in local flora and regale old stories around the campfire come evening. "Iga Warta means the place of the native orange. You'll have a unique opportunity to experience Adnyamathanha culture firsthand whilst staying at an Aboriginal community," says Terrence Coulthard, whose family, traditional owners here, run the camp. He's working on a language project that is preserving Yura Ngawarla, his people's language. "The passing on of our culture and knowledge is at the heart of what we do in the community at Iga Warta. We must keep our culture and language strong; without them we have nothing." So, head here and appreciate what's depicted in the 35,000-year-old rock art, or go to Nguthunanga Mai Ambatanha, a women's site, where you'll learn about traditional issues and perspectives. You'll understand the people and their place in the land better, but also help to preserve it for generations to come.
Read More
Collapse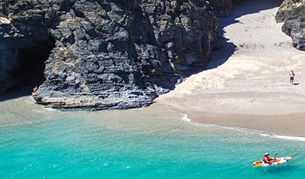 #5: Foodie favourite – Fleurieu Peninsula, South Australia Located 45 minutes from Adelaide, the Fleurieu Peninsula has much to recommend it, not least the four distinctive wine regions contained within, including McLaren Vale, which translates to over 100 cellar doors. But man cannot live on wine alone, so it's just as well that the area is one of the ultimate foodie destinations in the country. The best way to get to the good stuff being produced here is at one of the many weekend markets. Here, some to look out for: Victor Harbor Farmers' Market, Saturday 8am–12.30pm The Vale Market, McLaren Vale, the first and third Sunday of each month 9am–1pm Willunga Farmers' Market Saturday 8am–12.30pm Port Elliot Market, first and third Saturday each month and Easter weekend, 9am–2pm
Read More
Collapse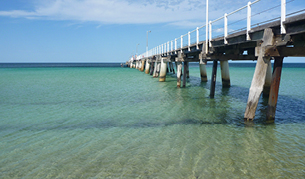 #6: Coastal haunt – Tumby Bay, South Australia A landscape of seemingly endless white sand (10 kilometres, in fact) with cerulean water, a pine-tree-lined foreshore, and a backdrop of rolling farmland with wildflowers in the spring… we feel relaxed already. Tumby Bay is a renowned fishing destination with endless options to throw in a line at the jetty, on a charter, at the beach, on the rocks, or the nearby Sir Joseph Banks Group of Islands. But if you're not an angler at heart, there's plenty more in this peaceful little nook to keep you happy with great diving, bushwalking trails and bird-watching.
Read More
Collapse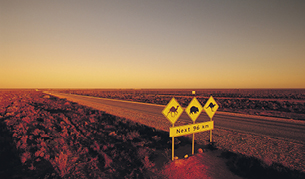 #8: Outback odysseys – The Nullabor, South Australia It's a plain; a whole lot of nothing (Nullarbor means 'no trees' in Latin after all), the presence of absence as it were. Or is it? Drive along one of the longest sections of straight road in the world (about 146 kilometres of bitumen without a turn), and you should spot the country's biggest (feral) land mammal, the camel; desert flowers stretching off for infinity that bloom into colourful life with the seasons; and magnificent sunsets setting it all off with low desert light come evening. A drive here is time enough for endless contemplation, but don't simply set your cruise control and fall asleep at the wheel. Take one of the tracks that stab off the Eyre Highway to see what the Nullarbor and its namesake national park are all about: staggering views of the Great Australian Bight, where the desert scrub comes to an abrupt end at vertical sea cliffs, the Southern Ocean beyond. From May to October, you'll spot southern right whales gathering off the coast to calve. It seems the presence of absence can be something very beautiful indeed.
Read More
Collapse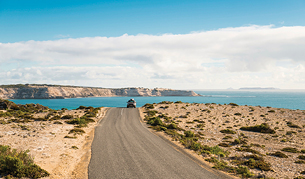 #8: Foodie favourite – Coffin Bay, South Australia Located some 46 kilometres from Port Lincoln on the Eyre Peninsula in South Australia, Coffin Bay is often described as 'sleepy'. Its namesake oysters are sold all over the country (and indeed the world), but it's worth the journey to the source to experience the stunning location and dedication to the craft of oyster rearing. The first Pacific oysters were introduced to the waters here in 1969, and there are now over 40 independent growers tending lease sites here. Tours are available from various operators to get an insight into the process of growing the silky, salty molluscs, but for those who would rather cut to the chase and chow down, head to 1802 Oyster Bar and Bistro on the Esplanade. And when you have had your fill of oysters (if that is even possible), Coffin Bay's location between the sea and Coffin Bay National Park offers up lots of activity, from fishing and snorkelling to walking trails.
Read More
Collapse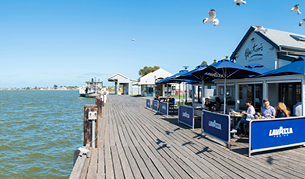 #8: Rural town – Goolwa, South Australia The historic town of Goolwa sits at the mouth of the Murray River and was once one of Australia's major river ports. Its 1852-built wharf connects visitors to this past; as does a ride on the Cockle Train, a steam train that runs along Australia's oldest steel-railed railway, dating from 1887. Dip into the Steam Exchange microbrewery – located in an old railway goods shed – for an ale, or enjoy a meal with river views at popular spot Hector's on the Wharf.
Read More
Collapse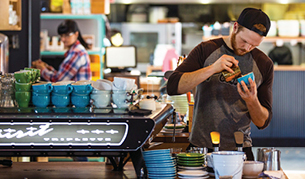 #8: Neighbourhood – Hindmarsh, South Australia When it comes to ahead-of-the-curve indicators that a neighbourhood is about to be huge, craft brewers and food trucks are definitely worth paying attention to. Which is why there is a big buzz around the Adelaide suburb of Hindmarsh. It has its own brewery, Pirate Life Brewing, run by a collection of bearded and baseball-capped boys who have made it their mission to produce quality, full-flavoured beer that they are now supplying to a long list of Adelaide drinking institutions; and Hindmarsh Square is a regular gathering place for food trucks (and hungry customers), selling everything from burgers to hotdogs to churros out of caravans and through hatches. Also here is Holden Street Theatres: a funky hidden gem of a spot that showcases world-class independent theatre productions within converted church buildings. "Hindmarsh (and neighbouring Thebarton) are still pretty rough around the edges, but they are emerging areas for sure," one Adelaide local told us. Early adopters might need to get in there fast.  
Read More
Collapse
#9: Camping spot – Memory Cove, Lincoln National Park, South Australia Within Lincoln National Park, a peninsula hanging off a peninsula on the rugged coast of South Australia, you'll find a park within a park: the Memory Cove Wilderness Protection Area. If you're really wanting to feel isolated for a few days then this has to be one of the best campsites in the country for some much needed solitude owing to its restricted access – just 15 vehicles a day are allowed in. Keeping people to a minimum means the sense of wilderness here is preserved; the flora and fauna can continue as it has done, uninterrupted for millions of years. Booking approved, you'll find the campsite at secluded Memory Cove in mallee woodland. Walk along the white sand beach and take in the glassy surface of the water in this sheltered, calm cove, which for a day or two, can be protection from the rigours of modern life.
Read More
Collapse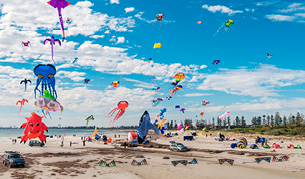 #9: The burbs – Semaphore, South Australia This charming beachside suburb 14 kilometres from the centre of Adelaide has something going on all year round. Semaphore Summer Carnival: This event takes place from mid-December to the last Sunday in January, with fireworks on New Year's Eve and Australia Day. Semaphore Greek Cultural Festival: Held in mid-January, this iconic celebration will celebrate its 40th anniversary in 2019. Adelaide International Kite Festival: Look forward t0 a riot of colour on the beach – and in the skies – over the Easter long weekend. Semaphore Music Festival: Held on the Labour Day long weekend in October, it features performers, food trucks, rides and craft beers. Semaphore Street Fair: Prepare for a day of family fun taking place along Semaphore Street on the last Sunday in November.
Read More
Collapse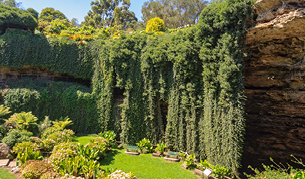 #9: Alternative capital – Mt Gambier, South Australia You'll find Mount Gambier halfway between Adelaide and Melbourne in the flatlands below an extinct volcano on the Limestone Coast. It's known for its unique natural assets: crater lakes (including the famous Blue Lake, at its most luminous in summer), underground caves and the Umpherston Sinkhole  – once a cave before the top of the chamber collapsed, and now a gorgeously verdant sunken garden. This compact, laid-back city's volcanic landscape is complemented by good restaurants, stores and cafes – try small-batch specialty coffee roasters Mikro – and an interesting institution in the shape of a 152-year-old prison. These days, James Stephenson and his wife Melissa run the Old Mount Gambier Gaol (above) as a boutique accommodation and event space that can host anything from birthday parties to art events and the largest concerts – think Jimmy Barnes, Xavier Rudd and Suzi Quatro – the region has seen. "It is an empty canvas to be able to do anything we want to try," says James. Well-travelled but born and bred in the city, chef and hospitality gun James loves the ease of life he finds in Mount Gambier, with its relaxing town-like pace of life supplemented by a city buzz when the likes of Jimmy rock up.
Read More
Collapse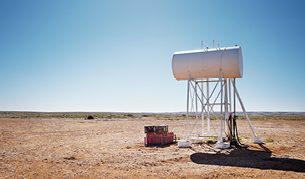 #10: Outback odysseys – William Creek, South Australia The town is little more than a tin shed watering hole, but among the colourful local characters at the William Creek Hotel you'll meet intrepid travellers who have tackled great outback journeys to get here; perhaps you'll be inspired to embark on an adventure yourself. Perched on the fringes of Kati Thanda-Lake Eyre National Park (make sure you take a scenic flight over the lake), William Creek feels like it's a crossroads for the entire outback. Will you head west to the quirky mining opal town of Coober Pedy? North on the epic Oodnadatta Track all the way to the Red Centre or even on to Darwin? Or east to Marree and then north on the Birdsville Track to catch the iconic races just over the border in Queensland? 4WD recommended! Perhaps, years later, you'll be back to regale others with your experiences at the William Creek Hotel.
Read More
Collapse