Tourists hitting up Sydney's big smoke often beeline for postcard icons such as Bondi Beach or Circular Quay. But there's plenty happening in the inner city, and Chippendale is leading the charge.
The train pulls in to Sydney's Central Station surrounded by a framework of steel and metal; the tracks below, the beams above and the web of cables stretching this way and that. It's a sight that barely registers with the average commuter; it simply blends in to the daily grind. But on this day, with my back facing my destination for once, the industrial surrounds fade into the background as a calming wall of greenery pushes to the fore. Defined by the largest en masse vertical gardens in the world, which cover 1100 square metres and beautifully dress the building's exterior, Central Park is the multipurpose high-rise that stands proud in Sydney's revived Chippendale precinct.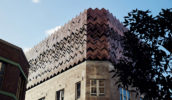 The restorative sight is a fair metaphor for the regeneration of Chippendale itself; a revival that has transformed the small inner-city locale from seedy wasteland to creative epicentre. The Central Park development can take a bow for its role in the revival. So too can Nicky Ginsberg, who saw Chippendale's potential when she opened NG Art Gallery in 2006. "Back then Chippendale was a cultural desert," Nicky recalls. "You could hear a pin drop. Everybody thought I was mad choosing a location like Chippendale." Nicky is now president of the Chippendale Creative Precinct, as well as creative director of Kensington Street, the suburb's hallmark strip.
'Creative precinct' is a far cry from the suburb William Chippendale knew. Chippendale was a land holder in the area in the early 19th century. The suburb takes its name from the farmer who – side note – one night took to two petty criminals he found trespassing on his property with a double-barrel shotgun, killing one.
Colourful characters are a trademark of the area's shady past. Today's characters are colourful too, although less shabby and more chic. But to pigeonhole the crowd would be an error; the diversity is part of the appeal. "Locals, visitors, students, commuters, business people and tourists all brush against each other here and the realness and open nature of the place instils a level of harmony," says Timo Bures, general manager of The Old Clare Hotel.
That harmony is emphasised when you're spoilt for choice. Here are a few tips on where to start.
Ester
Opened in 2013, Ester was one of the first restaurants to show faith in the yet-unproven Chippendale. It was soon rewarded, both in terms of foot traffic and reviews, and it remains one of the best dining options in a suburb that now boasts plenty of competition. The food, often wood-fired, is delicious, the exclusively organic wine list is a treat, and it's all delivered without even a hint of the pretension that can sometimes hinder restaurants of this class.
ester-restaurant.com.au
Walking Tours
The concentration of galleries in Chippendale gives rise to the suburb's reputation as an arts hub. For a taste test, the monthly Gallery Walking Tours provide a compact version. Each tour visits four exhibition spaces and includes talks by gallerists, cultural commentators or exhibiting artists. If history is more your scene, try one of the monthly Historical Walking Tours.
White Rabbit Galley
Set in a former Rolls-Royce service depot, the White Rabbit Gallery is one of Chippendale's many art spaces and certainly among the most renowned. With four storeys of contemporary Chinese art, don't be surprised if you end up down the rabbit hole. Upcoming exhibition, Ritual Spirit, explores the rise of spirituality and religious freedom in China. It runs from 30 August until late January 2018.
Olio Kensington Street
Olio Kensington Street opened earlier this year and has been quick to impress with its authentic Sicilian fare. Award-winning chef Lino Sauro, a Sicilian native, uses seasonal ingredients typical of his island home, including plenty of fresh seafood. Located in the newly restored Old Rum Store building, the space is flanked by bare brick walls and arched windows, or enjoy an Aperol Spritz on the rooftop terrazza.
Kensington Street Social
The Michelin-starred chef Jason Atherton has collected success after success and his Sydney debut, Kensington Street Social, has continued the trend since opening last year. Housed within The Old Clare Hotel, the space is an extension of the hotel's industrial chic style. This creates a casual atmosphere, but the food could hardly be described as such. Creative dishes and memorable flavours are the order of the day, and night.
NSW   | Palm Beach | Coogee |
VIC  | St Kilda |
QLD | West End | Fortitude Valley | Paddington | Newstead
NT | Darwin |
WA | Perth |
TAS | Hobart |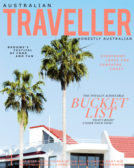 Enjoy this article?
You can find it in Issue 76 along with
loads of other great stories and tips.