Steve Madgwick cuts a path through the South Australian outback to sink a beer at the tin-shed pub at William Creek and then drink in the majesty of Kati Thanda-Lake Eyre from the skies.
How thirsty would you have to be before you gave in, before the pitiless outback swelter forced you to lap up salt water like a desperate animal?
Up ahead, a pannier-burdened bicycle lies cumbersomely on its side on the stony track's shoulder, as if cast away in panic. Further down, a figure kneels over the edge of a slack, shallow creek.
The mother of Australia's salt lakes, Lake Eyre shimmers away on the horizon through infinite stumpy saltbush, a solitary stripe of untainted whiteness that would make a Hollywood dentist salivate. I edge closer.
"Need anything?" I ask, shaking my drink bottle, eyebrows raised. "Isn't that salt water?"
"Nah, this one's not too salty!" he says resolutely, from under his fly-net, lips so cracked that a sneeze would blow them clean off into his knotty, tobacco-stained white whiskers.
"There's always fresh water around, if you know where," he says abruptly, after an uncomfortably long pause. "Mate, I've been riding out here for 25 years!" Wordlessly, he pivots and ghosts back to his bike, as if offended by the enquiries.
I accelerate away, towards William Creek, which he would have passed through perhaps two days before. His outline dances in the dusty heat haze and gradually dwindles to nothing in my shuddering rear-view mirror. The image lodges into my consciousness.
Getting to the remote community of William Creek
Charter flights aside, there are far easier means to reach the remote community of William Creek than that chosen by this cycling mirage, but the path is similarly adventurous. The inscrutable town lies on the cusp of Lake Eyre (officially known as Kati Thanda-Lake Eyre), 871 kilometres north of Adelaide; up and over the Flinders Ranges, when asphalt eventually gives over to the unsealed Oodnadatta Track. If the big sign at Marree says 'open', only then are you free to roam into the realm of wild camels.
William Creek is a catchment of interested and interesting characters, from outback drifters and tenacious grey nomads to life-path-questioning merchant bankers and ill-prepared Spanish tourists, all with their own motives for seeking the irresistible wide-open spaces of the South Australian outback. Out this way, where summer temperatures nudge 50, life has its challenges: people talk in hours instead of kilometres, self-sufficiency is not negotiable, and supplies should be ordered weeks in advance.
William Creek's population
The town's base population used to oscillate between four and five people plus an outgoing black dog. Tragically, the pooch succumbed to a snake bite recently. In the cooler months, numbers balloon to between 20 and 25 people, when demand for flights over Lake Eyre is greatest and the outback 'traffic' more prolific.
Today, 'the Creek' is basically the domain of one man, Trevor Wright, who literally landed here back in the early '90s.
"There were more people back in the '80s, maybe 50 or 60, but a natural attrition set in," he says [gradually, after the old Ghan line closed]. "Over time, I bought everything: the blocks of land first, then the houses. The last thing that you get is a hotel, a bit like Monopoly really."
The lawless town
Historically, William Creek suffered from a lawless, Tatooine-esque reputation, earning it its 'Dodge City' nickname. "It was the rabbiters versus the fettlers [railway workers]," says Trevor. "Both were very big drinkers and their sense of patience was severely lacking. They'd get drunk and try to shoot each other. The town has become a little bit more subdued over time."
The word 'town' seems a bit of an overstatement, the infrastructure little more than a caravan park and cabins, a shop and petrol bowsers, plus a smattering of sundry structures that radiate away from one of Australia's most fanciful 'tin shed' pubs. On the kitsch-rich (dirt) main street, a single parking meter blows a big wet raspberry to big-city preposterousness.
Rockets launched from Woomera rocket range last century have found their way to the memorial park, with its many-armed street sign announcing that Munich is just 14,235 kilometres away. Mobile phone coverage is improving, but calling home from the gold-coin-inhaling solar-powered public payphone is way cooler.
Among the oddities lies a subtle, sobering commemoration to an Austrian woman who perished trying to walk back to town from a bogged vehicle at Lake Eyre. Her partner, who stayed with the vehicle, was rescued.
The town's first and only defence against a blaze, Fire 1, is permanent street furniture, parked across from the pub, like a lonely, home-made Tonka truck.
"We've set a couple of trucks alight for practice, but our training is not the best," says Trevor, who lists unofficial fire chief among his responsibilities, which also span tyre repairer, ditch-digger and garbologist.
William Creek Hotel
Ultimately, William Creek Hotel is the town's acme. Here, the food is hearty and decent, the beer frosty, the coffee nothing to write home about; all bit players next to the pub's indefinable, inimitable atmosphere; a politically incorrect, non-conforming culture with a mind all of its own.
The dry as the proverbial 'dead dingo's donger' in-jokes start at the front door, which has a handle on both sides (only one works: gotcha!). An abundance of Australiana binds the structure together; mounted animal heads share the walls with infinite business cards, signatures and throw-away musings from would-be bush philosophers.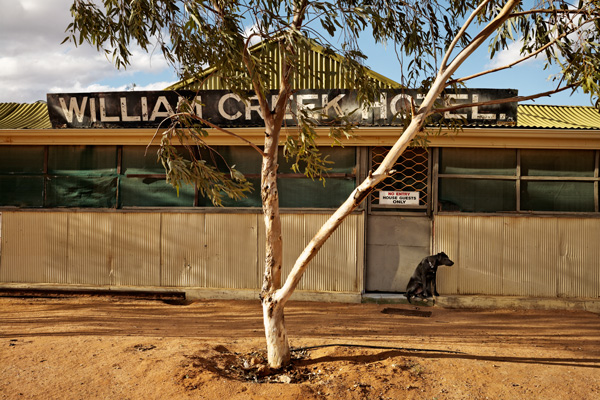 Further inside, a friendly fireplace stands ready to combat the desert-evening chill. The dining room is fashioned from old Ghan railway sleepers (the Oodnadatta basically follows the route).
"We're a million years ahead of the game in that way," says Trevor. "If we have another ice age, we get the chainsaw, cut up the sleepers, and go for it [rebuild the railway]."
But it wasn't simply an outback pub that coaxed pilot Trevor from his small northern Victoria hometown into the South Australian outback.
Flying from William Creek to Lake Eyre
"I was flying over and, I thought, Lake Eyre would be a great place for a scenic flight business. Although, the first two weeks were a disaster – just one flight."
More than a quarter of a century later, Trevor still gets as worked up as a kid before a Minty hunt when he lifts off the airstrip.
From town, he traces the tributaries towards the unmistakable Great White. Flora flocks around the un-brackish water like fauna does around a watering hole. The outback colours are delicious; mochas, caramels, milky teas and mustards. In season, wild hops glow a distinctive red. Trevor has seen these decisive swirling patterns elsewhere.
"If you look at old Indigenous art, you would swear they [the artists] could fly," he says.
The technicolour palette soon succumbs to white and blue. Even at 250 kilometres per hour, the plane feels like it has stalled. No longer can you trust your eyes: sky becomes land, land becomes sky, water vapour confounds the two. The battle for perspective is never won; the cloud reflections pure witchcraft.
Down there, somewhere, is the lowest point on the continent, Belt Bay, 15 metres below sea level; to the north, the mighty Simpson Desert. Most folk will never go near these on their life's journey.
The glowing expanse seems incapable of hosting life, until the plane circles down a few hundred feet. A pair of emu prints trot off directly into the sun, or so it seems. Pools of fresh water vacuum in black swans and pelicans from who-knows-where.
Kati Thanda-Lake Eyre
Even barely half full, Kati Thanda-Lake Eyre is a bewitching masterpiece. Like Uluru, it plays different shows at different times of the day, transforming in colour and attitude from dawn to dusk. Yet many only want to see the lake when it's 'full', which only happens a few times in a generation (1974 was the year, 2010/11 the best recently).
"The moment you have a lot of water, people from all over the world suddenly want to come," says Trevor. "We are like the farmers out here: we need rain too. You might get a run for a couple of years and then go a decade without."
When the light softens, the white turns a bluish hue, gifting Eyre a sea-like persona. Peninsulas stand out like continents, so it truly feels like you're flying across another world.
As we leave this other-world and bank towards the airstrip, the plane's tiny shadow passes over giant letters scratched into the earth, SK (Kidman), a brand that reminds you the world's largest working cattle station, Anna Creek (24,000 kilometres), has tried to tame this landscape. William Creek feels even smaller now, like a few grains of salt that have bound together against the outback's immensity.
Back on the Oodnadatta Track, Coober Pedy bound, my rear passenger-side tyre fizzes flat like a gas leak. No one drives past. I grab the jack and the spare, swig warm yet fresh water from my bottle, inhale a breath of fresh air, and smile an unencumbered, satisfied smile.
Details: William Creek and Kati Thanda (Lake Eyre)
Getting there: William Creek is 871 kilometres from Adelaide and 170 kilometres east of Coober Pedy. In good conditions, you can drive the Oodnadatta Track in any vehicle, but we suggest a 4WD with spare tyres, plenty of water, fuel and food. Alternatively, you can drive via Roxby Downs (unsealed after Olympic Dam). Check road conditions at Department of Planning, Transport and Infrastructure. Do not trust Google Maps for driving times and distances!
Seeing Lake Eyre: You can fly over Kati Thanda-Lake Eyre with Wrightsair from William Creek, Wilpena Pound (inside the Ikara-Flinders Ranges National Park), Coober Pedy and Dalhousie Springs.
Staying there: William Creek has a range of accommodation options from hotel rooms in the pub itself and powered camping sights to its Pelican suites and the well-appointed Camel House. Book well ahead for rooms. Satellite internet access and Optus mobile phone coverage available.
MORE…
How to drive the Oodnadatta Track: South Australian Road Trips: the Explorer's Way
Continue on to Australia's weirdest town: Coober Pedy
On the way up the Flinders Ranges, why not explore Australia's unknown icon: Wilpena Pound (Ikara)