Getting around Canberra
Canberra International Airport (the name is more about ambition than reality) is compact and 6km from a hub called Civic. Taxis ($14 to $17 to hotels) and the Airliner Shuttle ($7) are just outside. Cabs are sometimes scarce, so sharing, with per-passenger fares reduced, is common. Key car rental companies are represented. Taxis are handiest for reaching meetings but the city has an extensive bus system. Many visitors drive from Sydney (280km).
TAXI // 13 22 27
AIRLINER SHUTTLE // (02) 6299 3722 BUS: 13 17 10
Where to stay in Canberra
The Hyatt is ritziest; business-angled chains such as Rydges abound, along with apartment-hotel groups such as Medina, Quest and Saville. Most popular of corporate options is the clean-lined, central-city Novotel (from $170) with customary business services. Brassey (from $118) is a low-profile alternative in leafy Barton with a country-house ambience and favoured by cost-sensitive suits. Diplomat (from $146) is a well-appointed business-angled bolthole handy for Parliament and the important Manuka precinct. Pavilion (from $135), with its foliage-filled atrium, sits on Northbourne Ave's hotel row near Civic and is sensible for longer-than-one-night stays with its choice of rooms or apartments. Olims (from $105) is a stylish National Trust-listed garden-setting historic property, but splurge an extra $24 for a spacious loft. Its homely, secure atmosphere makes it a female travellers' favourite. On super-tight budgets, plain vanilla but spiffily clean Formule 1 is no-frills territory five minutes' drive from Civic.
NOVOTEL // (02) 6245 5000, www.accorhotels.com
//BRASSEY (02) 6273 3766, www.brassey.net.au
//DIPLOMAT (02) 6295 2277, www.diplomathotel.com.au
//PAVILION (02) 6247 6888, www.pavilioncanberra.com
//OLIMS (02) 6243 0000, www.olimshotel.com
FORMULE 1 // (02) 6253 9020, www.accorhotels.com
Entertain clients in Canberra 
A flawless choice: the Heritage-listed Hyatt's Promenade with a Mediterranean-influenced spin on Mod-Oz, showcasing both seafood (though Canberra is 150km inland) and meat dishes. Political leaders love it. Buffet-style, it's unstuffy and bustling with tables sufficiently spaced for confidential negotiations. Or there's Axis, popular for business nosh with stunning Lake Burley Griffin views from its National Museum vantage point. Innovative and newish is award-winning Milk And Honey in Civic's heart where I enjoyed an outstanding snapper fillet on a chorizo and vegetable crush, among many creations by sizzling chefs Simon Collett and Malcolm Hatch. Or, in good weather with associates who don't need schmoozing, take an outdoor table for casual Italian (or just coffee and cake) at near-neighbour Tosolini's. Manuka's Julep Lounge twins an oh-so-fashionable cocktail lounge with a damned good Euro-style eatery. Memorable example: oven-roasted beef fillet on roasted garlic and lavender mash. While Promenade is "safe", Julep Lounge is better if your companion is a foodie.
PROMENADE // (02) 6269 8810, www.canberra.park.hyatt.com
AXIS // (02) 6208 5176
MILK AND HONEY // (02) 6247 7722, www.milkandhoney.net.au
TOSOLINI'S // (02) 6247 4317
JULEP LOUNGE // (02)6239 5060.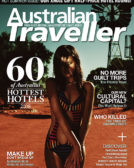 Enjoy this article?
You can find it in Issue 18 along with
loads of other great stories and tips.