The Top Five iconic foodie locations in metro and regional Australia.
AT's Top Five . . .



Food Capitals
By David Whitley
1. Cheese Town
Bega, NSW
Home of Australia's biggest cheese brand, Bega is overrun with cows and milk churns. 450km south of Sydney, they've been making dairy products here since the 1850s, although only on an industrialised scale since 1899. The main factory is still in town, as is the Cheese Heritage Centre, which explains the whole cow-to-pizza-topping process, as well as providing a history of how Bega became the cheese-making king. More info on (02) 6491 7777 or at www.begacheese.com.au
2. Cake City
St Kilda, Vic
Melbourne's most popular beachside suburb is a magnet for fans of many things – restaurants and live music to name just two – but Acland Street is where the real action is. Just about every shop here is dedicated to lovely, fattening, gooey cakes. Quite why the cake manufacturers haven't decided to spread themselves out around town rather than cram in with their direct competitors is anyone's guess, but there's no better place in the country to thoroughly gorge yourself. Caramel slices, Black Forest gateaux, Danish pastries, fabulous creamy concoctions that stick to your face for months afterwards, you name it, they've got it.
3. Banana Central
Coffs Harbour, NSW
While tourism is now Coffs' main source of income, a quick drive up the hills into the hinterland sees banana plantations dotting the hillside. The bananas are often covered in reflective foil to keep them protected from the elements, but if you want to get a top quality fresh banana, then this is the place to come. Many of the plantations are family-run enterprises, and they'll often have a few bananas outside available to anyone passing who's prepared to put a small cash donation in a box. Coffs is also home, of course, to the legendary Big Banana, the giant fibreglass concoction that started the bizarre Australian trend for putting oversized objects along highways.
4. Steak-opolis
Rockhampton, Qld
If you had to pick one town to go to for a great Australian steak, Rockhampton is probably it. This unofficial hub of Central Queensland was built on profit from two things: mining and beef. Initially set up for sheep, the climate dictated a switch to cattle instead, and it's not looked back. As a tribute to this, you can see two life-sized statues of cows on the main drag, while, predictably, someone has gone and lumped a great big fibreglass bull on top of a shopping centre.
5. Nutbush City Limits
Dunoon, NSW
This small village, a short drive from Byron Bay, is home to a big Macadamia nut processing plant, and if you've got a strong enough cracker, you can find plenty of the smooth, tasty nuts among the surrounding trees. Curiously, the Macadamia is the only native Australian food plant that has ever been put into commercial production and exported in large quantities.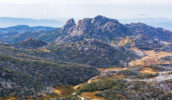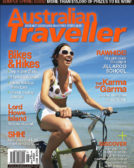 Enjoy this article?
You can find it in Issue 17 along with
loads of other great stories and tips.