What you're about to read is the culmination a body of work that goes far beyond any 'normal' article. This project involved not only the most industry involvement and expert opinion to have ever been included in an Australian Traveller project – some 12,000 nominations were accepted at the outset of this project – but a list that is, quite possibly, the most comprehensive, unbiased, well-considered gazetting of Australian holidays to have ever been published by the media. Big call, we know. But we'll let you make up your own mind…
The top 20 Greatest Holidays of Australia
1: Cruise the world's oldest coastline WA
2: Road trip the East Coast Escape Tas
3: Do 'The Lap'
4: See Kakadu NT
5: Book into Saffire Freycinet Tas
6: Take a foodie break in the Margaret River Region WA
7: Escape to Lord Howe Island NSW
8: Road trip the Great Ocean Road Vic
9: Have a gourmet Barossa weekend SA
10: Stay at qualia. Just once in your life Qld
11: go straight to Lizard Island afterwards Qld
12: Swim the Other Reef WA
Tied – 13: Walk The Freycinet Experience Tas
Tied – 13: Dive the Barrier Reef Qld
15: Trip to the tip, from Cairns to Cape York Qld
16: Become a Firewalker Tas
17: Cross the Savannah Way Qld to NT to WA
18: See the wet in the Top End NT
19: Escape to the Rowley Shoals WA
20: Spend a weekend dining in Melbourne's restaurants
SEE THE FULL 100 LIST: 'The 100 Greatest Holidays of Australia'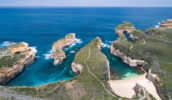 Speciality lists within the list
We delved deeply into this encyclopedia of Australian holiday data to isolate bespoke 'Top 10 Greatest' experiences – for your sleeping, dining and driving pleasure:
1. The 10 Greatest Luxury Lodges of Australia
2. The 10 Greatest Gourmet Holidays of Australia
3. The 10 Greatest Roadtrips of Australia
The Top 100: how and who
Who made the decisions? Meet the expert panel
Our editors recommend their all-time faves. Do you agree?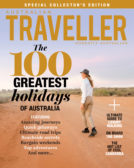 Enjoy this article?
You can find it in Issue 56 along with
loads of other great stories and tips.