Should anyone doubt that the Gold Coast is and always has been about the risqué, the somewhat saucy, the borderline salacious this photo from the 50s is tendered in evidence. It's a famous advertising slogan dreamed up by one of the scions of Coolangatta, Bill Stafford Snr, whose promotional nous and tireless public works helped put the holiday town on the map.
Stafford was born in Ireland in 1884 and his family emigrated to Brisbane two years later. A decorated Great War hero, Bill landed in 1923 with his bride Dulce Denny for their honeymoon at Paddy Fagan's Greenmount Guesthouse. He was smitten by the place and quickly acquired a drapery shop in town from its insolvent owner for the sum of 1000 pounds.
Straight away Stafford Snr cottoned on to the value of sloganeering to move his women's and menswear lines, but it wasn't until a fire destroyed the Coolangatta Hotel during the Depression in the '30s that he was presented with his big break. Two men who'd lost all their possessions in the inferno walked into his shop and Bill offered to provide them with replacement clobber. As the grateful pair departed, the draperer chanced to call out: "Come naked to Coolangatta and let Bill dress you."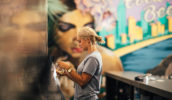 Lightbulb time. Cue the heavenly choir. Bill had his famous slogan – risqué stuff indeed in pre-WW2 Queensland – and like all good businessmen he made it run … and run. This press advertisement photo was shot about two decades later on Kirra Beach – no-one knows the exact year – and at that time it was still a metaphor for all things Gold Coast. Or, in the parlance of the following century … Very GC.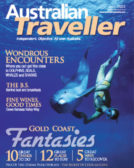 Enjoy this article?
You can find it in Issue 3 along with
loads of other great stories and tips.