A $26 million refurbishment of the Sheraton Mirage on the Gold Coast is now complete.
The extensive work includes upgrades to the hotel's 295 rooms and suites and to its  dining and bar areas: Terraces Restaurant and Pearls Bar.
The five-star resort's new high-end offering is the 'Royal' suite (185m2), said to be inspired by designers Ralph Lauren and Christopher Guy.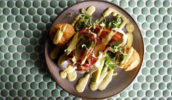 The Sheraton Mirage's Oasis pool area and lagoon have also been transformed with extensive landscaping work.