OLD WOOLSTORE: (03) 6235 5355, www.oldwoolstore.com.au
GRAND CHANCELLOR: (03) 6235 4535, www.ghihotels.com
Entertain them
Can't risk mistakes? Flawless business entertaining ensures The Point (17th floor of Wrest Point's hotel-casino complex) remains popular, serving marvellous food even though the restaurant revolves. Widely-spaced tables facilitate private business huddles. A Mod-Oz spin enhances seafood, steaks and other fare, with prime views of Derwent Estuary. At Mures in downtown's Sullivans Cove port area, the Upper Deck highlights a catch-of-the-day and Tasmania's famed scallops. Similarly lauded for seafood is parkland setting Prossers On the Beach, where grilled stripy trumpeter proves memorable. Less formal for schmoozing associates is The Spice, best among Indian eateries, where I didn't regret ordering chicken Punjabi masala. Even more casual is "Shippies" as locals call the maritime-themed Shipwright's Arms, open since 1846, which highlights its shunning of pokies and TAB. Succulent Barilla Bay oysters are a tasty starter in its seafood-and-steak bistro alongside a bar ideal for Cascade or Boag's with mates.

THE POINT: (03) 6221 1701, www.wrestpoint.com.au
MURES: (03) 6231 1999, www.mures.com.au
PROSSERS ON THE BEACH: (03) 6225 2276, www.prossersonthebeach.com
THE SPICE: (03) 6223 8382, www.thespicetas.com
SHIPWRIGHT'S ARMS: (03) 6223 5551, www.shipwrightsarms.com.au
Entertain you:
Macquarie Street's Hope and Anchor, established in 1807, is among various claimants to be Australia's oldest pub (it depends on definitions). Formerly for sailors and whalers, it retains a nautical decor, with memorabilia-covered walls. Head upstairs to its fusty museum, or take a Pub Tour ($25) to be regaled with rambunctious tavern-of-the-seas history. The Tasmanian Museum and Art Gallery, in linked creaky colonial and modern structures, shows continuous-loop 1933 footage of now-extinct Tasmanian tigers. On Saturday mornings, Salamanca Place – colonial warehouses transformed into trendy shops, pubs and restaurants – becomes Salamanca Markets, attracting crowds buying arts-and-crafts and produce (Laotian Hmong refugees hawk fresh fruit and vegetables), eating and drinking or applauding bands and buskers. Best side-trip: Port Arthur Historic Site, a southeasterly 100min drive or lazy ferry trip. Tasmania's notorious prison colony is now a prime attraction. Coal River Valley's wine trail with 17 vineyards, close to Richmond, is ideal for free half-days. Tasmanian devils and other wildlife star at Bonorong Wildlife Park ($11 entry, 25min drive north).

HOPE AND ANCHOR: (03) 6236 9982, www.hopeandanchor.com.au
PUB TOURS: (03) 6230 8233, www.hobarthistorictours.com.au
TMAG: (03) 6211 4177, www.tmag.tas.gov.au
SALAMANCA MARKETS: 1300 655 145, www.salamanca.com.au
PORT ARTHUR: 1800 659 101, www.portarthur.org.au
COAL RIVER VALLEY: 6230 8233, www.discovertasmania.com
BONORONG WILDLIFE PARK: (03) 6268 1184, www.newnorfolk.org
After hours
The renowned Tasmanian Symphony Orchestra often performs in Federation Hall. The ornate Theatre Royal, Australia's oldest working theatre, anchors Tasmanian drama. Pubs near Salamanca Place showcase music (try Irish Murphy's for pub rock, Irish sounds or karaoke amid a backpacker-heavy multinational throng) but Shippies in Battery Point is better suited to quiet drinking and chatting. Jazz and blues headline at Trout Bar and Cafe in trendy North Hobart. Solo women feel more comfortable nocturnally here and at Shippies than along Salamanca Place. Wrest Point's Birdcage bar has live music most nights, sometimes jazz. But women alone may feel they're "eye candy."

TAS SYMPHONY ORCHESTRA: 1800 001 190, www.tso.com.au
THEATRE ROYAL: (03) 6233 2299, www.theatreroyal.com.au
IRISH MURPHY'S: (03) 6223 1119, www.irishmurphys.com.au
TROUT BAR AND CAFE: (03) 6236 9777, www.northhobart.com
BIRDCAGE: (03) 6211 1750, www.wrestpoint.com.au

Insider tips
1. Stroll (30-45min) from Wrest Point through Battery Point, where 19th Century workers' cottages (epitomised along Arthur's Circus) are now high-rent territory, to downtown's Salamanca Place (also a jogging route).
2. A fascinating purpose-built building at Royal Tasmanian Botanical Gardens [(03) 6236 3050, www.rtbg.tas.gov.au, free entry] replicates howling winds, swirling mists and chilly temperatures to foster sub-Antarctic flora.
3. Locals routinely zip north to Launceston (Tasmania's No.2 city) and its Tamar Valley wine region, only 205km on a good highway. Bolt a holiday weekend to business travel, with partner meeting you. But summer's high season, so book ahead.
Picturesque and quaint, the capital of Australia's compact island state is home to half the Apple Isle's 500,000 residents. With excellent infrastructure, Hobart's vibrant downtown boasts office towers, retail malls, good hotels and fine restaurants. Colonial-era history sits cheek-by-jowl with modernity. Young people still cross Bass Strait searching for better jobs but Tasmania's population decline has been reversed – thanks to lifestyle-oriented mainland newcomers. Property prices are soaring, unemployment is dropping, tourism is booming. Overall, an apple-rosy picture.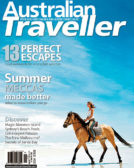 Enjoy this article?
You can find it in Issue 12 along with
loads of other great stories and tips.