If you thought the Adelaide hinterland was all about Devonshire teas and lace doilies, think again. The Hills are alive with art, fine food, great wine and cool, contemporary interiors.
How do you get here?
The Adelaide Hills are in South Australia's Mount Lofty Ranges, a mere half-hour drive up the South Eastern Freeway (M1) from the heart of the Adelaide CBD (or 45 minutes from the airport). You'll drive through the Heysen Tunnels, which are named after respected local landscape painter Sir Hans Heysen (more of him later).
Why are the Adelaide Hills so great?
Because the region is so diverse. It's a little bit country – expect rolling hills, curvy mountain drives, native bushland and heaps of vineyards. It's a little bit suburban, too – you'll spot beautiful heritage homes with landscaped colonial gardens for that could-we-live-here house perv (I don't know what you do on holidays, but that's one of my favourite pastimes!).
It's also an urban satellite – the Adelaide Hills are close enough to the CBD that many city workers choose to live in the area, which means there's a certain amount of affluence. And where there's money, there's generally great food, coffee, shopping and art. Which are all the things that combine to make a great, relaxing holiday.
Of course, there's also the region's colourful cultural heritage, which makes it extra special. Some of the first German settlers in South Australia populated the Hills, and vestiges of the old world survive, such as Lutheran churches, cool-climate orchards and vineyards, boutique brewers and great restaurants. Streetside sausage sizzles in Hahndorf feature bratwurst. Yum!
Things to do:
See some art:
The Cedars (Hans Heysen's House): Speaking of house envy, you'll get it big time on a visit to landscape painter Hans Heysen's home and studio. During his lifetime, he was a prolific and lauded artist famous for his majestic depictions of gum trees, which he used as his "models".
Heysen painted in a custom-built studio, which is still largely as he left it, with unfinished paintings that give insight into his technique. His family home is also as it was. A guided tour through here is both a blast from the past and a lovely tip-of-the-hat to one of Australia's greats. Heysen Rd, Hahndorf. hansheysen.com.au
Aptos Cruz Gallery: This gorgeous gallery is housed in a former church and is packed with beautiful, browsable objects. Indigenous and contemporary art sits side by side, as do 20th-century Modern furniture, oriental antiques, and high-end homewares such as Danish glassware, Finnish crockery and European pendant lights. It's also a retail outlet for art books. If you blow a few hundred dollars here, don't blame me! 147 Mount Barker Rd, Stirling South. aptoscruz.com
Hahndorf Academy: Regional arts, crafts and jewellery, and a heritage museum.
The Visitor Information Centre is also here. 68 Main St, Hahndorf. hahndorfacademy.org.au
Learn to cook:
Sticky Rice Cooking School: Day-long cooking courses with great chefs. I did Cooking Journeys For Food Lovers with travelling chef Genevieve Harris and we made a delicious Cambodian fish and papaya salad, Vietnamese beef and a dry chicken curry. It was yummo, and I'm a terrible cook. The knife skills demo was fantastic – after practice, I can now slice finely. 96 Old Mount Barker Rd. (08) 8339 1314; stickyricecookingschool.com.au
Go for a stroll:
Wandering up and down the main street of Hahndorf is a must. For more history, try:
Oakbank Heritage Walk: An hour-long stroll from building to historic building. There are 40 sites with plaques to give more info. Onkaparinga Valley Rd, Oakbank.
Go for a drive:
Onkaparinga River Scenic Drive: Stretching from the Verdun Interchange to Birdwood (where you'll find the National Motor Museum), it's the quintessential Adelaide Hills touring route – 45km of vineyards, bush, cute towns and antiques stores.
Where to eat:
I'm not a big wine drinker, so to me the Adelaide Hills are all about the food.
The White House: Inexpensive French-style fine-dining in a sweet little café in a colonial house with a white picket fence and streetside seating. Don't believe the place up the road with the sign "Best Coffee in Town" – you'll actually find it here. 90 Mount Barker Rd, Hahndorf.
The Locavore: A great wine and tapas bar that follows the philosophy of the 100-Mile Diet. Sensational regional produce highlighted in hearty dishes. 40 Mount Barker Rd, Stirling. thelocavore.com.au
The Stirling Hotel: A bustling pub bistro and fine-dining option. See Where to Stay.
To get supplies for self-catering, head to:
Woodside Cheese Wrights: Artisan cheeses, including one encrusted in pretty, edible flowers. Heritage Park, 22 Henry St, Woodside. woodsidecheese.com.au
Udder Delights: More artisan cheese – made with local goat's milk. Also conducts cheesemaking classes. 91a Main Rd, Hahndorf. udderdelights.com.au
Harris Smokehouse: Four generations of "smokers" have put their skills into this shopfront, which sells oak-smoked Port Lincoln kingfish, Tasmanian salmon and ocean trout, Queensland Barramundi and more. Check out its "pastry fish" – an ocean trout wrapped in puffed pastry with butter, currants and ginger, approx $60 per fish. 37 Main Rd, Hahndorf. harrissmokehouse.com.au
Beerenberg Strawberry Farm: If, like me, you didn't realise Beerenberg made more than strawberry jam, you'll be amazed. Yes, you can pick strawberries here, but you can also stock up on caramelised onion, red-pepper relish and blue-cheese dressing. Mount Barker Rd, Hahndorf. beerenberg.com.au
Where to drink:
A guide to Adelaide Hills vineyards and cellar doors can be downloaded at adelaidehillswine.com.au. I was only here for a weekend, but still managed to visit two:
The Lane Vineyard and Bistro: OK, so this is also a Where to Eat. You can come to this beautiful hilltop cellar door for wine tastings but you'd be doing yourself a disservice not to order lunch, too.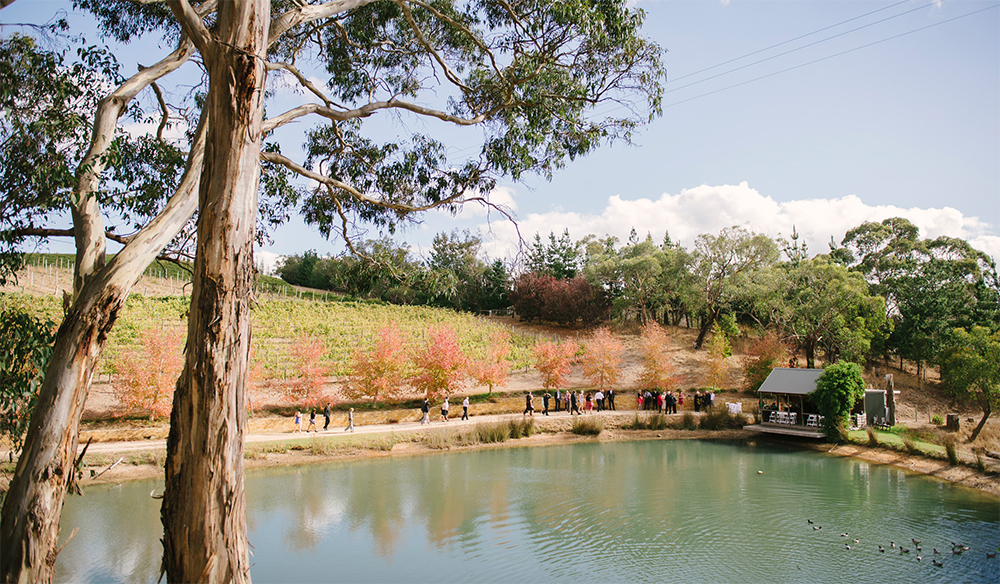 Its pan-seared scallops are light and prettily presented, while the spice-fried whitebait with lemon aioli make terrific nibbles to accompany Lane's Block 10 Sauvignon Blanc. Ravenswood Lane, Hahndorf. www.thelane.com.au
Hahndorf Hill Winery: Visit two stars of the cult book Wine Dogs Australia, and indulge in a wine and chocolate tasting while you look out over the vine rows.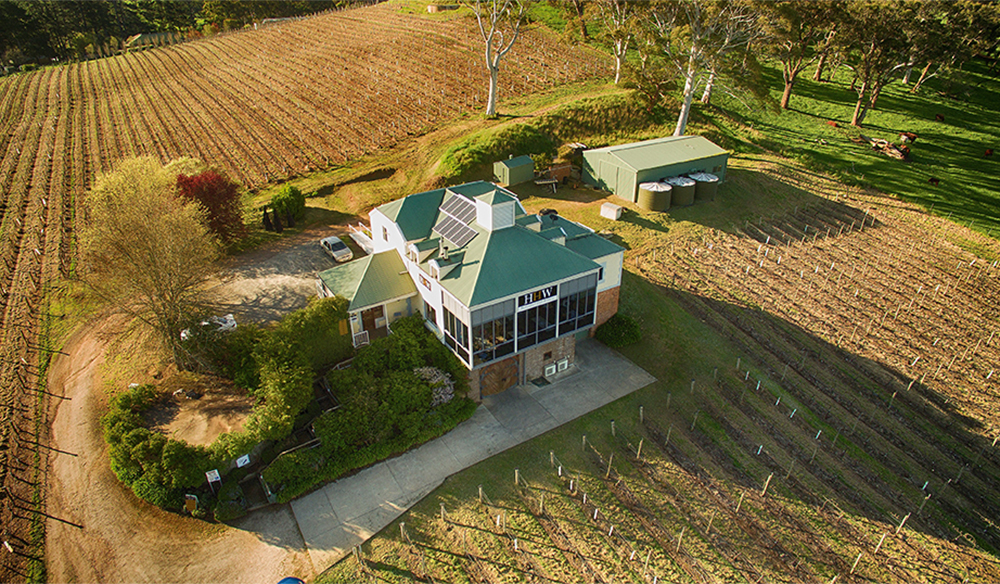 The Chocovino experience costs from $20 per person and includes single-origin chocolate as well as fondants by Adelaide chocolatier Steven ter Horst. 38 Pains Road, Hahndorf. hahndorfhillwinery.com.au
The Adelaide Hills are also home to a smattering of microbreweries. If you have time, check out Lobethal Bierhaus (3a Main St, Lobethal), Grumpy's Brewhaus (115 Mount Barker Rd, Verdun). And see the heritage building housing Johnston's Oakbank Brewery (18 Oakbank Rd, Oakbank), which ceased making beer in 1914 but now does homemade cordial.
Craft ciders are also big in the Hills. Any local restaurant's wine list should include the Hills Cider Company's apple and pear alcoholic ciders. Hot tip: they are delicious!
Where to stay:
You can find affordable motel and B&B-style accommodation options online at adelaidehillsaccommodation.net, but if you don't mind forking out for a really fantastic experience, I stayed at these two places:
MID-RANGE:
Mount Lofty House: Branded Grand Mercure, the interior of this maze-like heritage stay is due for a refurb, but that's probably why it's relatively affordable (from $199 per room per night; the Manor Indulgence Package includes a spa treatment and three-course dinner and costs from $425 per couple).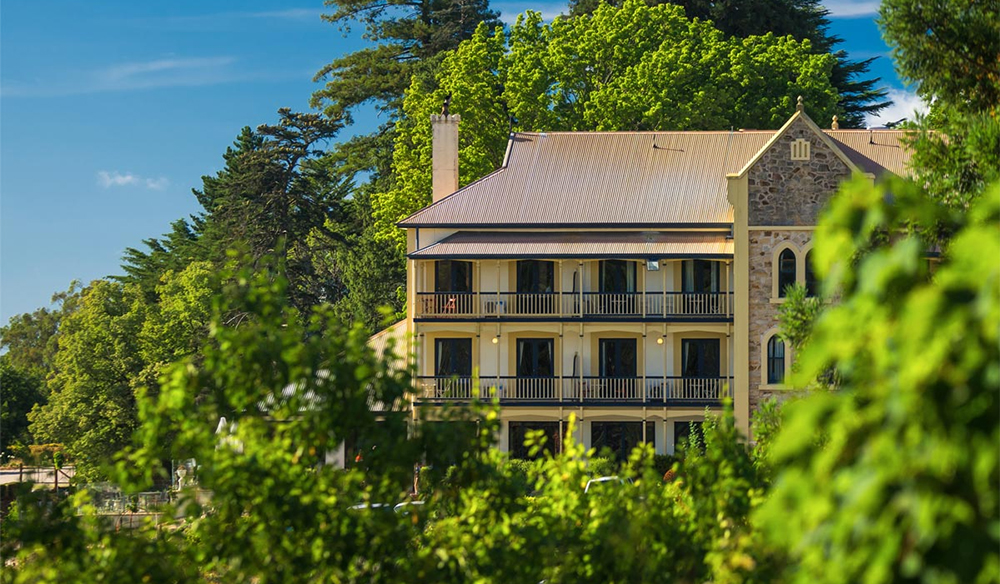 But the grand old house itself, the landscaped gardens, superb fine-dining restaurant (try the King George whiting, which is outstanding) and rural valley views make up for hard, squeaky beds. 74 Mt Lofty Summit Rd, Crafers. (08) 8339 6777; mtloftyhouse.com.au
AFFORDABLE LUXURY:
5 Rooms at the Stirling Hotel: One of the coolest hotels in Australia, let alone the Hills. As stated, there are just five rooms here, all funkily furnished with bold patterns and contemporary Australian art. Think designer decor and a Tom Ford coffee-table book resting on a black velvet ottoman. Hot tip: room 3 has a king-size bath. Rates start from $240 per room per night. 52 Mount Barker Road, Stirling. (08) 8339 9900; stirlinghotel.com.au
I'd recommend the Stirling to couples and style-savvy travellers over 30 and Mount Lofty House for people with more traditional taste.
For more information on what to do in the Adelaide Hills, go to southaustralia.com